Archive for the 'FAIRFAX-to-MILL VALLEY' Category
This image from my recent ride along the Bolinas Ridge captures the specific time of the evening — civil twilight — when ambient light takes on a lovely bluish hue prized by painters and photographers.
Twilight, broadly speaking, refers to the time between sunset and dusk AND the time between sunrise and dawn (the chart below is a helpful tool for visualizing this).
But twilight (both morning and evening) is divided, more scientifically, into civil, nautical, and astronomical segments based upon the number of degrees the center of the sun is below the horizon (6, 6-to-12, and 12-to-18 degrees respectively).
Evening nautical twilight (nautical dusk) is said to end once sea navigation via the horizon line is no longer possible. Evening astronomical twilight (astronomical dusk) ends once the dimmest celestial objects (e.g. galaxies and nebulae) become properly visible to astronomical observation.
Commentary: in the context of the virtual world of Texting, Tweeting, and Tagging (from which I claim no exception) it feels palpably iconoclastic (if not downright subversive) to patiently witness our solar system's sun disappearing ever so gently beyond the planet's watery horizon.
Featured Comment by Shoeless Joe: "There is a biological connection, too, as the rods and cones in our eyes perceive light differently at twilight. It is called the Purkinje Shift (or Purkinje Effect). Wikipedia has a good article on it. One of the beauties of cycling is that it affords many opportunities to "patiently witness" the world around us in a way that is unique to the sport."
I somehow got it into my mind that I needed to see the Pacific Ocean.
The solution was a 25 mile loop — from Fairfax up to and along Bolinas Ridge offering winding roads; steep climbs; fast descents; water and commanding Pacific Ocean views; relatively few cars; redwood forests; oak-studded grasslands; colorful autumn foliage; and, a smattering of wild life (I saw a coyote on top of the ridge and several deer on the way down).
In other words: there's a bit of everything on this ride.
I departed around 3:30 pm (it's getting dark by 5:30 pm) so I attached a headlight that I bought for my Brompton folding bike on the Guerciotti. I packed a persimmon and a wool turtleneck in my handlebar bag and wore a wool t-shirt and wool knickers. The weather, however, was unseasonably warm and I was comfortable for most of the ride in just the t-shirt. (Toward the end of the ride, I draped the sweater around my shoulders and tied the sleeves in a loose knot to keep it from slipping.)
I spent most of this ride chasing the sun. I'd catch it, then it would dip behind a ridge. This continued until I got to the final, long climb with the sun well hidden behind the ridge. But as I slowly pedaled up the road — and the 1000′ vertical feet of switch-backs — I realized that at the very top the sun would make a final appearance.
As the image shows, I caught the sun for the final time as I rode atop the ridge.
So what about the bicyclist in the picture?
I passed him about 6 miles earlier, but since I'm always on-and-off my bike making photographs he caught up with me (think of the tortoise and the hare). When I noticed him climbing up the ridge about 100 yards behind me I set-up for this photo.
As the tortoise passed me, I exclaimed, "That's a beautiful picture!" The tortoise turned briefly toward the sunset and replied, "it's not real".
At first I thought he was referring to the almost hyper-real colors (you know how sometimes nature reveals scenes — especially cloud formations and sunsets — that would be unbelievable had you not witnessed them with your own eyes?).
But on further reflection, maybe he was referring to photography itself and the philosophically problematic nature of attempting to reproduce reality with a machine!
Anyhow, I lingered on the ridge for 10-15 minutes and watched the sun dip below the horizon. Mosquitoes bit my arms and legs. I devoured a persimmon then turned on my headlight and rode home.
Part of the fun of having a bike equipped with a handlebar bag is how easy it becomes to carry whatever strikes your fancy. I'll often pack bread, cheese, nuts — sometimes even a small amount of wine!
For this ride out to the ocean, I brought my handlebar bag basics: a few tools, spare tubes, a camera, a cell phone, and a GPS device.
But the extras for this trip consisted of an extremely light merino wool turtleneck (for after sunset) and a persimmon — a sweet, refreshing bit of energy to consume at the turnaround point.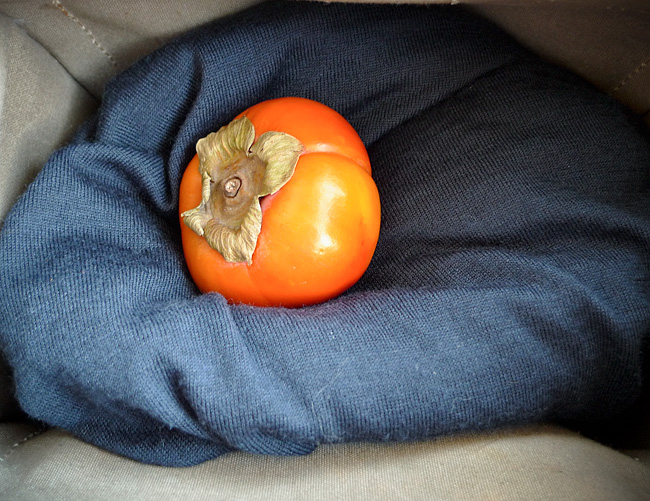 Wool sweater and persimmon — packed and ready for the ride.
Roads like this are a big reason why I always recommend wider tires (28mm and above) at lower pressures (50-80psi).
Riding over rough roads on hard, skinny, racing tires (which 95% of bikes seem to have) doesn't make a lot of sense.
Jan Heine, publisher of Bicycle Quarterly, who I consider an authority on the subject, has done extensive testing of tires at different widths and at different pressures and concluded that wider tires, at lower pressure, can outperform skinny racing tires.
My Guerciotti uses 28mm tires, my Ebisu uses 38mm tires, and I hope to design a future bike around 42mm tires.
(Note: The image was made on the climb through the redwoods up to Ridgecrest Blvd. on way to catch a glimpse of the ocean).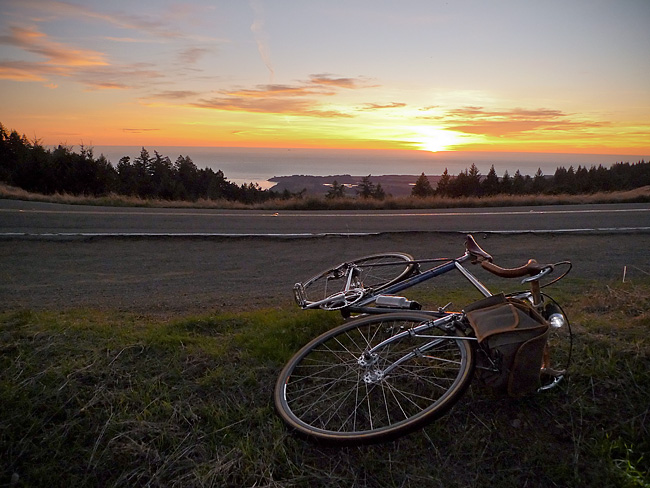 Show on map
Northern California just had a glorious little heat wave. This last gasp of Indian Summer resulted in hot sunny weather with temperatures in the 70's, and even 80's, over the week-end.
And for some reason, I got it into my mind late Sunday afternoon that I had to ride until I could get a view of the Pacific Ocean.
The easiest way to accomplish this goal was a 25 mile round-trip with about 2,600′ of vertical climbing.
Here's a route map and a one-way elevation profile from the ride:
The spit of land in the above image (just past the line of trees) comprises the town of Bolinas and the Pt. Reyes pennisula.
More pictures and a short ride report to follow.
Bay Area on 12/05/09! Got to love the sunshine. And what a picture postcard vista.
You too can find the spot by clicking on the map link under the photo.
In the background are a few of the storied "seven sisters" — a series of beautiful rolling hills. Some are actually quite steep and not so rolling (see also here and here for a few more images of this stretch). I tend to get distracted by the scenery and want to get off my bike and have a little wine, cheese, dried fruit, or whatever else I've stowed in my big, roomy front handlebar bag!
A Prius ad was being shot at the top of Bolinas Road and Ridgecrest.
12/05/09: Current and former New York City Bicycle Club members Tania, John, and Carmen. Tania was in town for a visit. John and Carmen now live in SF. I did my best to keep up with these fast club riders during a very hilly 35-40 mile loop to and from Fairfax via Panoramic Highway and Mill Valley. (Here's a map of the route.)
Just a few miles in and Tania punctured her tire. A new tube and the ol' 'folded dollar bill between the tire and tube' trick to deal with the 1/4 inch tear in the sidewall.
This Friday's ride was a short commute to Mill Valley and since I forgot my camera I'm including a map instead.
There are many possible routes using little side roads and bike paths, but these bike paths are not visible on Google maps, hence the gaps between the red route lines.
I left a little past 8am and rode at a slow, meandering pace for about an hour. My destination was an intensive specialty coffee training workshop with Willem J. Boot of Boot Coffee Consulting, a remarkable fellow with a true mastery of his subject. The state-of-the-art, teaching studio (equipped with numerous roasters and high-tech coffee industry gadgetry) is continuously abuzz with instructional exercises laid out in ritualistic fashion by Willem's able associate, Jodi.
The class was also graced by a special guest, Graciano Cruz, of Los Lajones estates in Panama who spoke of his efforts to raise the quality level of coffee and with it the lives of the region's indigenous farmers (see this description of his world class coffee).
Overall, it was a fantastic course during which I was treated to a cupping of the fabled Gesha coffee from Panama, as well as some delicious Ethiopian, Kenyan, Guatemalan, and Taiwanese (yes Taiwanese) samples. The location of the Boot Coffee school is marked by the southern most of the blue placemarks on the above map.
(Note: The Friday Cyclotouriste's espresso reviews may need a complete overhaul now that my sensory awareness of coffee has been exposed to Mr. Boot and the SCAA and CQI criteria.)
The other placemarks on the map pinpoint two other highlights of this ride: (1) my closest encounter yet with a Red-Tailed Hawk (only about 20′ away sitting in a nearby tree) and (2) a voluminous patch of black berries that I stopped to gorge on during the evening ride home.