Archive for the 'RIDE REPORTS' Category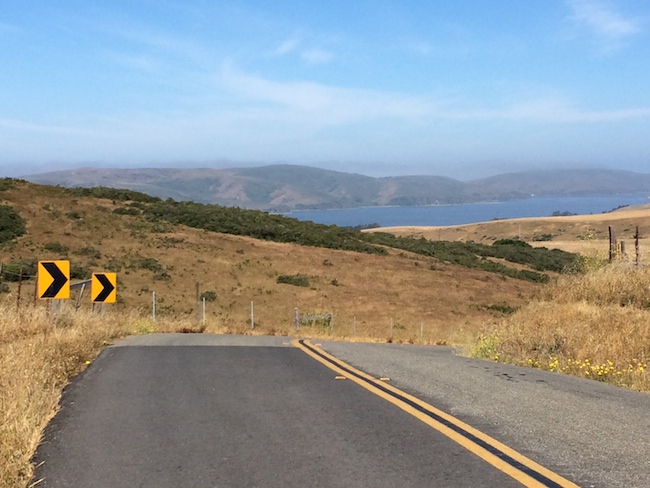 Show on map
Staying out in Marshall, CA for a few nights afforded me the opportunity to try an epic Marin loop ride with two notorious hill climbs — the Marshall Wall and Wilson's Hill. I really didn't know what to expect; I don't have many miles in the saddle this summer.
Here's my impressionistic account of this classic 36-mile Marin ride:
Gear, clothing, and food: wool knickers, merino wool t-shirt, wool ankle socks, bata bikers, TA handlebar bag, basic tool kit, spare tire, single water bottle, small bag of trail mix, one apple, two sticks of string cheese.
Miles 0-3, Marshall Petaluma Rd. heading east: What am I doing? I'm not ready for this. The climb starts so quick! Where's the friggin' bike shoulder? Some rancher in a pick-up truck is going to plow into me from behind on a blind curve. Wait a minute, I actually feel good. There's no one out here but me! I'm standing up on the pedals. I feel strong. F**k yeah. Take that Marshall Wall. Boom! 750 feet of climbing in 3 miles. This ride is going to be a breeze!
Mile 4-10, Descending the Marshall Wall and beyond: A super steep 2-mile descent on pot-holed roads. Should be interesting. Wait! My guardian angel whispered something into my ear. Stop the bike. Check the brake and front tire. What? The front brake was disengaged! The front wheel's quick release skewer was not set! Holy sh*t that was close. One bump and off comes the front wheel going 30 mph on a steep descent. Thank you Guradian Angel. Thank you! 
Mile 11-13, Wilson's Hill: Ok the second big climb of the day. I'm sure glad all this climbing is early in the ride. Wow that looks steep. I'm talking SF real estate prices steep. 10% grade at the top. Alpe d'Huez averages only 8.1. But Ok, this is going fine. Going good. Real good! No, it's actually going quite badly now. This is very, very bad.  How is it even physically possible for my tire to adhere to the road at this angle? Why is the asphalt not rolling off the road's sub-surface and piling in a clump at the bottom of the hill? Why is darkness closing in around me? Who needs food, shelter, love?  Hierarchy of needs dammit! All I need is to get to the top of this darn hill. 
Mile 14-22, Chileno Valley Rd: How I love thee, Chileno Valley Road. Almost no cars. Perfect weather. No wind. Flat or very gently rolling roads. Scenery. Oh the scenery. A hidden gem of a bicycling road!
Mile 23-31, Tomales-Petaluma Rd: Did I make a wrong turn? Why am I going north? I'm getting tired. The wind seems to be picking up. That's a mighty strong headwind. Hmmm. I hope it's not much further.  I'm not really hungry, but 'eat before you're hungry, drink before you're thirsty,' is the bicyclist's motto. I'll eat half a stick of string cheese. Oh my god, this headwind is brutal.  It's some kind of pacific ocean el nino tornado vortex. Why is CNN not covering this? Anderson? Anderson? Am I hallucinating or am I really in my 42×28 hill climbing gear riding on a flat road? I'm really sad now. Maintaining radio silence. Energy levels dropping.
Mile 32-36, Shoreline Highway, Hwy 1:  Food! I have food! Glorious food. No time to stop and eat. Just eat from the handlebar bag like it's a trough. One hand on the bars, the other hand feeds the mouth. Bag of nuts. Done. Remaining string cheese. Done. Apple. Done. No! Not more rolling hills. Good god, these are steep. I thought this stretch was supposed to be flat. These are huge rollers. Up 150 feet. Down 150 feet. Rinse. Repeat. Legs burning. Yikes. Please be the last hill. Yes! Close to home. That's Hog Island up ahead! Tomales Bay swim, hot tub, fresh oysters, and local ground-beef grilled hamburgers await!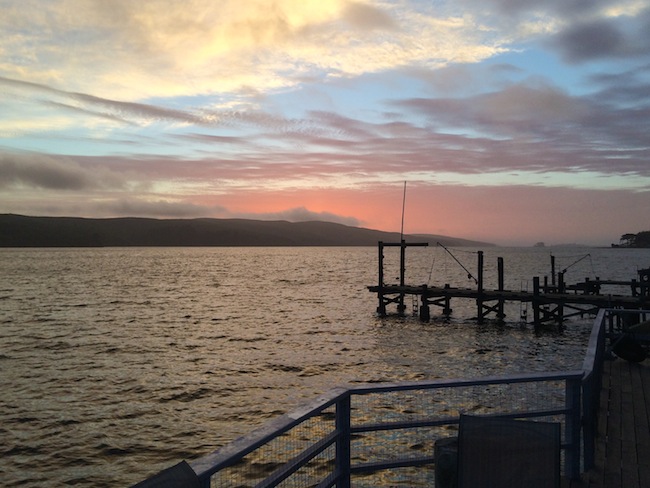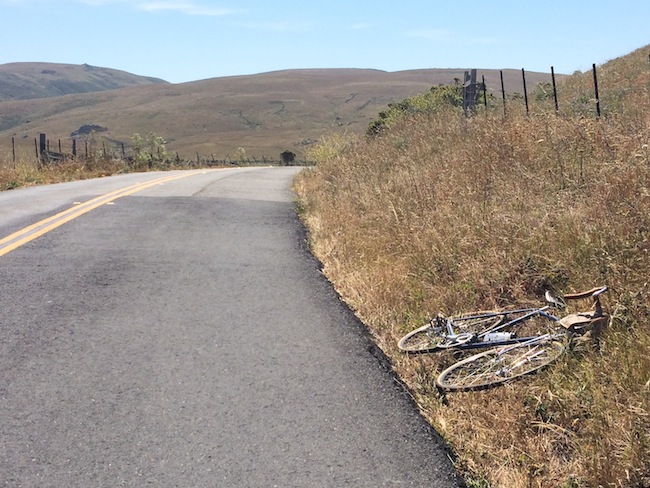 Here's a snapshot from my SOMA to Sausalito ride. I've stopped on the bridge with the Pacific Ocean 692 feet below.
Read on for some further thoughts on this ride from a somewhat finicky, urban commuting perspective.
First off, Steve, owner of the venerable DDB building and architecture boutique and Dave, randonneur and creator of the all-time greatest front handlebar bag asked in the last post how the Brompton handled on the trip.
So at their prompting, I offer a few reflections:
The Brompton is a champ: no complaints at all. I have the 3-speed Brompton and the low gear was just low enough to get up the very steep stretch from the warming hut up to the Bridge. I did have to stand up on the pedals and work hard to turn them over. Climbing too much further would have been a chore. Still, I like the simplicity of the 3-speed and the extra work up the hills seems like a fair trade-off.  However:
Wingtips, not recommended: the ride would have been more comfortable in normal street clothes (and a wool beanie to cover the ears). I won't deny this truth. I tried not to work up a sweat at any point, but it was unavoidable.  This reinforces the idea that:
Holland (or Denmark) this is not: I think covering 11-12 miles one-way, on flat ground, while wearing professional business attire is the extreme limit for a regular daily commute. In actuality, 5-6 miles is a more realistic distance. But this assumes you are pedaling those miles over flat ground.  Factoring in the hill going up Bay Street and the steep hill getting up to the Bridge from Crissy Field, it becomes clear that riding home on the Brompton (on a daily basis) is not an option for me.
Micro-climate is a factor:  I rode on one of the warmest days of the summer, but I still encountered some extreme headwinds riding along parts of this route (but very little wind on other parts). Add micro-climate to the factors that separate San Francisco bicycle commuting from Dutch bicycle commuting.
All in all — a world-class ride, but probably not one I plan to do more than 1-2 times a month.
-Nathan
On my second attempt, I finally made it to the top of Mt. Lemmon! This time, I started earlier in the day (8:30am at the base rather than 12 noon on my first try). Still, the temperatures climbed into the upper 90s during long portions of the ride and I wasn't really in the kind of shape to make the ride carefree and enjoyable.
It helped that I went with a friend (thanks Marc!). He's in good shape and runs 5x a week and described this ride as very, very tough. We took our time. Well, I took my time. I stopped 4-5 times, 10-20 minutes each time to rest, refuel, drink water, and desperately find some tiny patch of shade. And, once again, I still didn't bring enough water. My two bottles were virtually depleted after the first 20 miles of hot, uphill riding.
Plus, the altitude is a factor. I noticed the air above 6,000 feet is palpably thinner. I honestly thought I might abandon midway through the ride. Nonetheless, I soldiered onward and upward.  After 4+ hours of riding and stopping, I had a re-birth and actually began to feel pretty good. But that was when my friend Marc had his trouble spot. He wasn't drinking much water and was eating little if any food (while I had consumed an apple, a little cheese, two small granola bars, some nut bars, and even a power gel). So I found a package of powdered electrolytes in my handlebar bag and poured this in his water.  That seemed to bring him back to life for the final 5-mile climb to the summit, which took us over 8,000 feet in altitude.
At the top, we each savored a pizza at the pizzeria in Summerhaven. Best pizza ever — we both agreed.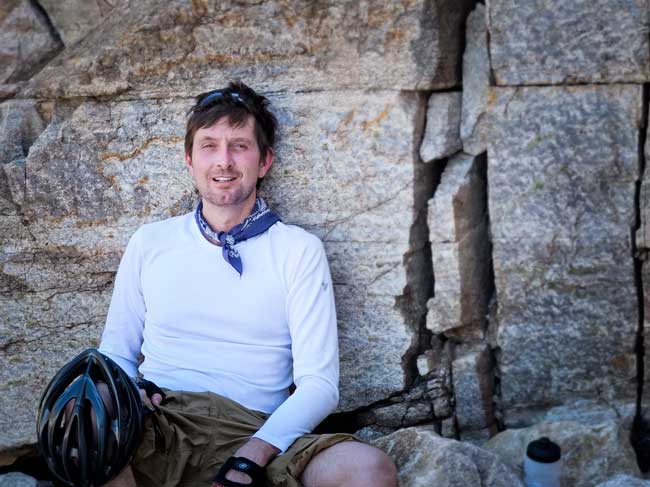 Not feeling too good at this point and appreciating a spot of shade.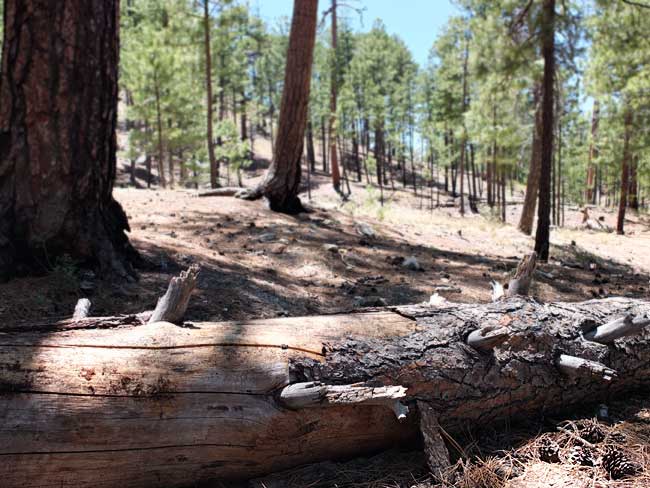 These are Ponderosa pines. When you see this tree species you know you are getting closer to the top. Here we've made the transition from a desert to a forest ecosystem.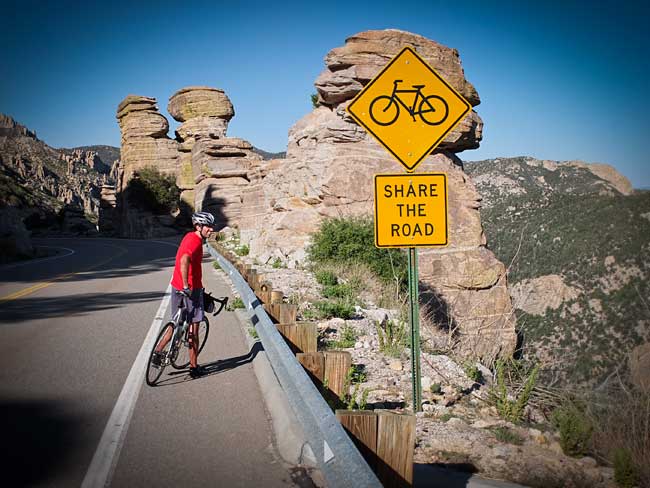 I force a stop on the descent to make this image. The descent is about 60-minutes of pure downhill riding in which the air progressively grows hotter and hotter until, dare I say, it feels as though you are riding through an actual oven.
I'm just now getting around to completing Part II of my ride report covering the scouting trip I made up the Catalina Highway toward Mt. Lemmon a number of weeks ago.
To recap: as I described in Part I, I was only about 6-7 miles and 2500 feet up the mountain before I began to succumb to the high temperatures, lack of water, and gusty winds.
However, as I contemplated ending my ride another bicyclist happened along.  She had abandoned her efforts around the 11-12 mile mark anxious about the high wind and the dangers this could poise during the steep, twisting descent. Since she no longer needed all her liquids she offered me half a bottle, which contained some kind of energy, mineral, or electrolyte-infused water.
To my surprise, drinking this helped me recovery most of my energy and instilled a renewed spirit for pushing onward. As I climbed, I actually began to gain strength. I passed a group of three mountain bikers and settled into a good rhythm, climbing for another 5-6 miles which brought me to about 6,000 feet above sea level.
I pulled into the Bear Canyon picnic area around 3:30pm feeling really good.
I attribute much of these good feelings to the Ponderosa Pines (Pinus ponderosa) now populating the landscape. Seeing this majestic species with its distinctive orange-ish bark  (a common sight when I bicycled in California) thrilled me to no end. Plus, it signified that I was transitioning through one of the many eco-zones along the route.
However, given that I was out of water again (and it would be 8-9 more uphill miles before I could count on finding more) I decided my exploratory ascent would end right here.
Next up: a quick, yet sublime, 16-mile descent to the valley floor.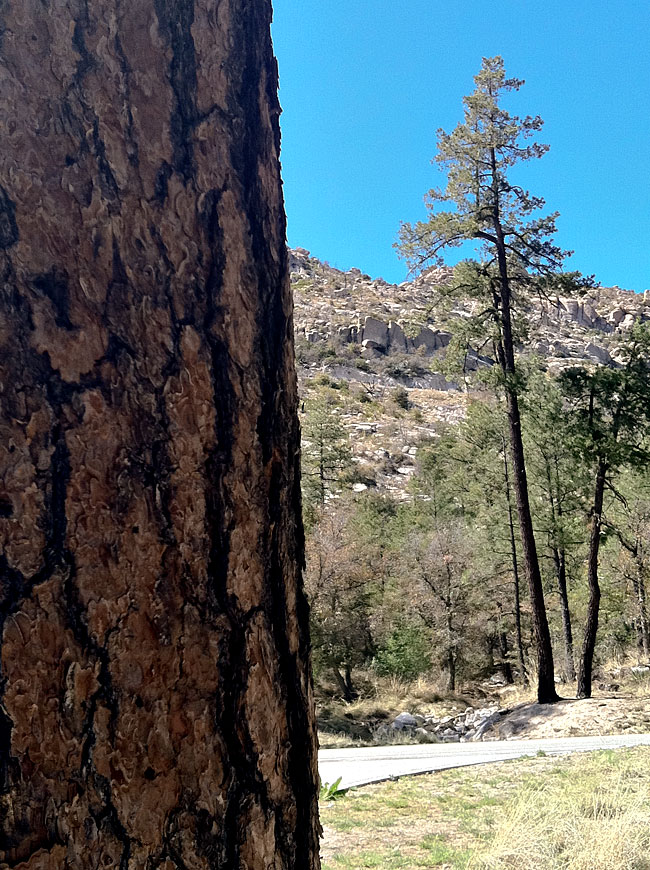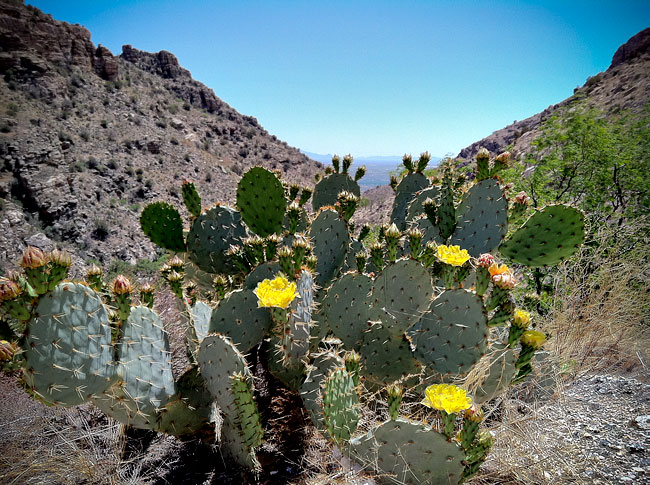 My Mt. Lemmon ride was rather ill-planned, meant only as an exploratory trip to see what this mountain is all about.
It began on a Sunday afternoon, fueled by a morning capuchino and cinnamon roll from Cartel Coffee Lab (which was excellent and made me wish I had snapped a picture for an espresso review — click here for the review archives…but I digress).
Getting off to a late start (about 12:30 with the sun already directly above), I parked at the Safeway on Tanque Verde and Catalina Highway, 2-3 miles away from where the road begins to steepen. I wore wool shorts, some puma shot-putting shoes, a cotton tank-top with a lightweight, long-sleeve polyester shirt over that, a scarf-like buff around my neck, and zinc oxide sun protection on my face. I put a vietnamese-style baguette sandwich in my handlebar bag and a full water bottle in my downtube cage.
I felt great the first 7 miles as I climbed the initial few thousand feet. With each switchback the valley began fading away. I remarked to myself that this was the most comfortable I've felt on a bike since coming to Tucson: few cars, scenic views, and to me, the satisfying rhythm of a long, hard hill climb (which is what I was used to in California).
Just after making the above picture of this prickly pear cactus, the sound of rapid gunshots rang out from a pickup truck directly across the road. I quickly ascertained the pistoleros were not aiming their bullets at me, but I still felt vulnerable. I didn't linger.
As I covered this initial ground,  I guzzled water at a rate that naively assumed I could fill-up at the numerous official campgrounds en-route (e.g. at mile 6, 12, 18 etc.). So I rolled into the Molino Basin Campground — at around 1:30pm and well into the heat of the day — with a nearly empty water bottle. It was only then that I learned there would be no more water until the Palisades ranger station (more than 14 miles ahead and 4,000 feet above me).
I gamely rode another mile or so, but began to tire. The hot and extremely windy conditions made for tough riding. At times, it felt as though I was barely moving at all as I hammered my lowest gear into 30-mph gusting headwinds.
The opportunity to take a rest and eat something arrived in the form of the Gordon Hirabayashi recreation site. My energy was mostly spent and I was out of H2O. I ate half a sandwich and thought that this would be the end of my climb….
…TO BE CONTINUED in PART II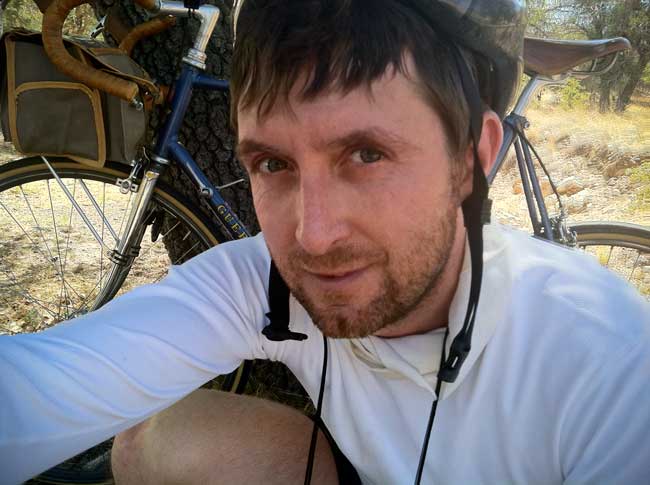 Tired, thirsty, and hunkered down in a small patch of shade.
I somehow got it into my mind that I needed to see the Pacific Ocean.
The solution was a 25 mile loop — from Fairfax up to and along Bolinas Ridge offering winding roads; steep climbs; fast descents; water and commanding Pacific Ocean views; relatively few cars; redwood forests; oak-studded grasslands; colorful autumn foliage; and, a smattering of wild life (I saw a coyote on top of the ridge and several deer on the way down).
In other words: there's a bit of everything on this ride.
I departed around 3:30 pm (it's getting dark by 5:30 pm) so I attached a headlight that I bought for my Brompton folding bike on the Guerciotti. I packed a persimmon and a wool turtleneck in my handlebar bag and wore a wool t-shirt and wool knickers. The weather, however, was unseasonably warm and I was comfortable for most of the ride in just the t-shirt. (Toward the end of the ride, I draped the sweater around my shoulders and tied the sleeves in a loose knot to keep it from slipping.)
I spent most of this ride chasing the sun. I'd catch it, then it would dip behind a ridge. This continued until I got to the final, long climb with the sun well hidden behind the ridge. But as I slowly pedaled up the road — and the 1000′ vertical feet of switch-backs — I realized that at the very top the sun would make a final appearance.
As the image shows, I caught the sun for the final time as I rode atop the ridge.
So what about the bicyclist in the picture?
I passed him about 6 miles earlier, but since I'm always on-and-off my bike making photographs he caught up with me (think of the tortoise and the hare). When I noticed him climbing up the ridge about 100 yards behind me I set-up for this photo.
As the tortoise passed me, I exclaimed, "That's a beautiful picture!" The tortoise turned briefly toward the sunset and replied, "it's not real".
At first I thought he was referring to the almost hyper-real colors (you know how sometimes nature reveals scenes — especially cloud formations and sunsets — that would be unbelievable had you not witnessed them with your own eyes?).
But on further reflection, maybe he was referring to photography itself and the philosophically problematic nature of attempting to reproduce reality with a machine!
Anyhow, I lingered on the ridge for 10-15 minutes and watched the sun dip below the horizon. Mosquitoes bit my arms and legs. I devoured a persimmon then turned on my headlight and rode home.
Having a goal or purpose is important in life and in cycling.
That doesn't mean you always need a purpose — sometimes it's okay to allow spontaneity and impulse be your guide.
But on this ride, having the goal of riding to, and circumambulating, Angel Island was critical. Without that goal I would have turned around after 30 minutes because of the extreme gusty wind and fog.
The ride was about 40 miles round trip. I carried water and one PB&J (I ate a hearty late breakfast and didn't require much else). I wore cotton pants, a cotton t-shirt, a cotton long-sleeve collared shirt. I also brought a thinly-insulated zip-up hoodie for extra layering (but my big regret was not bringing a beanie or cap).
It was sunny and warm when I left Fairfax at about 12:15pm, and the first part of the ride was spent meandering through central Marin towns and cities: the little bike path on the canal behind College of Marin and the path along Corte Madera Creek.
But as I approached the marsh near the Village Shopping Center the winds picked up — probably 15-20 mph head and cross winds with gusts to 25-30 mph on certain straightaways. Gusts flared around nearly every bend of Paradise Drive as I rode the long serpentine back road, past the Romberg Tiburon Center for Environmental Studies, to downtown Tiburon and the Angel Island ferry.
A mile from downtown, the fog and wind let up. The azure sky and stately homes along Marin's gold coast (Belvedere and Tiburon) stood gloriously against the choppy Bay and the San Francisco skyline. I suddenly felt happy after more than an hour of not-so-happy pedaling.
I had to wait about 20-25 minutes and then caught the 3:00pm ferry across the Raccoon Strait to Angel Island.
When I arrived on the island the fog and wind picked up again and I made a head-down, very earnest turning-of-the-cranks circumambulation of the island. The initial plan was to follow the high fire road, which is the closest a bicycle can get to the top of Mt. Livermore (741′ EL). But the signage was poor and I somehow missed the turn.
Truth be told, I was kind of glad I missed my turn. This way I could follow the more popular (and gentler) Perimeter Road loop and get back to the quay a bit before the 4:20pm return ferry (since I was initially expecting to return on the last ferryboat of the day leaving an hour later.)
Of course, I couldn't resist stopping for an espresso and a tira misu at Caffe Acri (review to come) once I was back on the mainland. Now, sufficiently energized, I rode furiously home while getting slammed by head winds for most of the trip (but also catching a few miles of tremendous tailwinds — for which I thank the spirit of St. Velocio).
A bit past 6pm, I arrived home to a memorable hot shower.
All in all, it was a frustratingly beautiful day on the bicycle, and well worth the effort!
On Saturday, my friends Forest and Ingrid invited me out to their place in Port Costa — a quirky, Bay Area town (that almost no one has heard of) along the Carquinez strait, surrounded by parks, open space, rolling hills, ravines, pastures, and water views.
I brought my Guerciotti along so I might sneak in a bike ride. I didn't have a specific route in mind, but the weather was ideal and I anticipated the area would have some great roads.
Ingrid is from Romania and she prepared a delightful tray of appetizers: home-made bread, thinly sliced daikon radish, country cheese, raw milk, strawberries, olives, honey, and sun-dried tomato tapenade. I washed it down with a refreshing Pilsener and then we took a walk down to the old railroad tracks and the shoreline.
Standing near the water, I realized a grand loop around the Carquinez Strait was possible — provided the two bridges accommodated bikes. A neighbor confirmed they do and so I printed out some Google bicycling directions and set out for a ride.
I departed Port Costa around 4:40pm with just a small bottle of water and the food in my belly.  I wore my regular clothes: corduroy pants and a lightweight, long sleeve collared shirt over a cotton t-shirt, cotton socks, a baseball cap, Adidas Sambas, and a lightweight hoodie (which I stowed in my handlebar bag should it get cold around sundown).
TO BE CONTINUED…in Part II
A visit to the Civic Center farmer's market in San Rafael (open every Thursday and Sunday year-round) makes for an enjoyable little 13 mile loop ride starting from Fairfax. Bring a bike with a large front basket for all your market goodies.
Riding to San Rafael (via San Anselmo) is straightforward. But upon entering San Rafael you must pick your way through downtown to Lincoln Ave. without the benefit of a dedicated bike lane. I usually cruise down 4th St. to Lincoln, which leads to a path that goes under Highway 101 and provides access to the Frank Lloyd Wright designed Civic Center.
The fun part of this ride is making it into a loop — something impossible in a car because there's no road connecting the Terra Linda neighborhood of San Rafael with San Anselmo/Fairfax.  But a narrow paved trail (at the end of Freitas Parkway) connects to the Sleepy Hollow neighborhood making this loop possible, provided you're traveling by foot or bike.
This short-cut which starts around the 10-mile point is very steep (as you can see in the elevation profile), but relatively short (and I'm often tempted to walk the bike.)
The Bay Area is having a great Indian Summer. Temperatures nearing 70 degrees, negligible wind, and no fog.
A great excuse to ride out to the ocean: Fairfax to Bolinas (check out the route and elevation profile).
The summary:
The ride is about 35 miles round trip with roughly 4,000 feet of hills to climb. The first eight miles cover the route to Alpine Lake, but by continuing up and over Bolinas ridge down to the ocean you add another 2400′ of climbing (and 20 additional hard miles) to that round trip.
I left the house around 12:15pm, but turned around just after leaving to fetch my cheap, plastic windbreaker. For most of the day I wore just a lightweight merino wool t-shirt and a pair of wool knickers (from Bicycle Fixation) with a heavier long-sleeve wool pullover and the windbreaker in reserve.
Loaded for the day, the Ebisu is no lightweight and my largest rear cog has only 27 teeth. Suffice to say I suffered greatly climbing the 1500′ Bolinas ridge on the way back. The truth is, I'm just not in top cycling shape this season and these kind of climbs are serious work.
In terms of food I brought: 2 PB&Js, a honey crisp apple, a couple slices of Havarti cheese, and two water bottles. In hindsight, this was a bare minimum; I should have brought more.
On the way out to the ocean, I stopped briefly at Ridgecrest Blvd, but otherwise rode straight to the coast in less than two hours. Now quite hungry, I ate one of my sandwiches and the cheese. It was good I didn't eat more, because I would need every remaining morsel for the return trip.
Climbing back up to Ridgecrest (after relaxing at the beach in downtown Bolinas for 20-30 minutes), I starting losing all my power and I could hear Velocio's words inside my head (never ride to the point of exhaustion; eat before you are hungry, etc., etc.).
Discouraged, as I was within a mile of the top, I nevertheless got off my bike to avoid bonking. Dizzy and seeing spots (at this pullout), I ate an apple and half of my last PB&J (saving the final half a sandwich for the energy boost I'd need to climb the last hill of the ride before descending home into Fairfax). Within five minutes, I felt good enough to continue.
I was super stoked, however, that I brought that plastic windbreaker, because as I flew down Bolinas Rd. in total shade I was amazed how cold my body had become (despite the day starting off so sunny and  warm). With the sun getting low, around 4:30pm, I slipped the plastic windbreaker over both wool layers on the final steep descent (which is 4 miles long and where speeds can exceed 35 mph) and was very, very happy…and when I arrived home: very, very tired.
Because it's so close to my house, this is my "3x a week, and it still never gets old" ride. It's usually what I do when I don't have a destination in mind, but am itching to get out on the bike.
The route can also be incorporated into other rides (a long loop out to the coast and Highway 1 or a Panoramic Highway-Central Marin loop)
If I want to build strength and go fast I'll ride my Guerciotti. If I'm feeling a little lazy, I'll load the Ebisu's big handlebar bag full of snacks (some olives, maybe a little salami and cheese, some watered down red wine, and an apple) and go at a more leisurely pace, adding mileage by exploring some of the fire roads around the lake.
What makes it so interesting is the variation and scenic beauty. During the roughly 17 mile round trip you're almost always climbing or descending; it's rarely flat. In fact, in the first 3 miles there's nearly 1,000 feet of elevation gain. This is followed by a long descent and then several more (yet easier) climbs and descents all the way to the lake.
The road curves its way through the foothills of Mt. Tamalpais with only 2 or 3 straight stretches and the terrain you pass through includes Redwood forests, scenic overlooks, and lots of water at the end. Plus, there are few cars to contend with even on week-ends.
What's not to love?
Check out here, here, here, and here for some images made along this roadway.
The route was prety straightforward. If you're not familiar with the Bay Area you should print out some maps, but we basically made our way from memory.
The trip breaks down roughly into three sections.
Mile 0-35: a mix of urban and suburban roads and bike paths which wind through Marin cities such as San Anselmo, Ross, Corte Madera, and Sausalito.  You cross the Golden Gate Bridge and head west toward the coast and climb Skyline Blvd. before enjoying a nice descent into the city of Pacifica.
Mile 35-50: the long climb outside of Pacifica past Devil's Slide offers some spectacular coastal views on the descent. Then it's mostly flat or gentle low rolling hills to Half Moon Bay (which is a good place to remember to eat something or at least stock up on food).
Mile 50-100: a lot of short steep hills in this section makes it difficult to maintain much momentum. Also there's no running water at the numerous coastal campsites, but Pigeon Point Lighthouse will let you use their hose spigot to refill water bottles. A few miles past the lighthouse is Gazos Grill in Pescadero, which will serve you a meal. Then there's Davenport (see my espresso review).  Finally, in the last 14 miles or so, the hilliness decreases as you roll past fields planted with brussel sprouts and begin to hit the outskirts of Santa Cruz. We crossed town, mostly on bike paths, to arrive at our friend's house near the boardwalk where we would stay for the night.
Note: the picture above is of my brother along the climb outside of Pacifica. It's steeper than it looks, the shoulder is quite narrow, and there's lots of truck traffic heading up to the construction project where a massive new tunnel is being built.
Read Part I here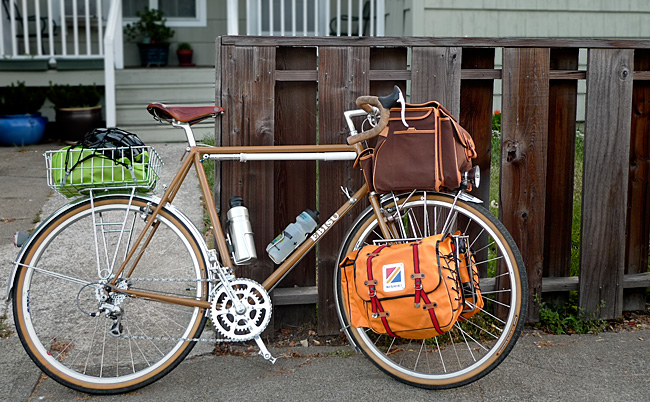 A hastily arranged portrait of my fully-loaded Ebisu just before setting out (around 6:30am) for the trip to Santa Cruz.
From Fairfax it is almost exactly 100 miles, one way. My brother and I decided to make the trip in a day.
A few years ago, I covered the same distance, but took two days stopping to camp on the beach near Half Moon Bay. This time there would no camping and I would either pedal back after a rest day or catch a ride back to the Bay Area from our friend in Santa Cruz.
Despite it being just a long day ride, I attached pannier racks to my existing front rack and packed like it was a short tour. For clothes, I had wool riding pants, an extra pair of pants and a short-sleeved collared shirt for my day off the bike, a wool t-shirt, a wool pullover, 2 pair of wool socks, a rain/wind layer, a wool beanie, a baseball cap, and (non-wool) underwear. I pedaled in Adidas Sambas and also packed a pair of Rainbow flip flops and a swim suit for the Santa Cruz boardwalk.
As far as equipment, I brought a miner's headlamp, two spare tire tubes, plastic tire irons, a bunch of zip ties, a bicycle multi-tool as well as a small selection of allen and other wrenches (to help with roadside repairs that might otherwise be difficult with just the multi-tool), a small digital camera, and a cell-phone and charger. I also brought a few toiletries in a small pouch: shampoo, sunscreen, and tooth brush.
For food, I packed 4 PB&J's, 4 hard-boiled eggs, a mango, 2 apples, and 2 oranges. Plus, two water bottles.
Fully-loaded, the bike weighed in at around 55 lbs. I think the bike itself (with full fenders, racks, rear basket, lighting, and a handlebar bag) weighed around 30 lbs., which means I was carrying 25 lbs of STUFF. That seems like a lot of weight considering there would be no camping.
Think how heavy my bike would get if I added cooking, cleaning, and eating gear, extra food, a tent, and a sleeping bag!
Read Part II here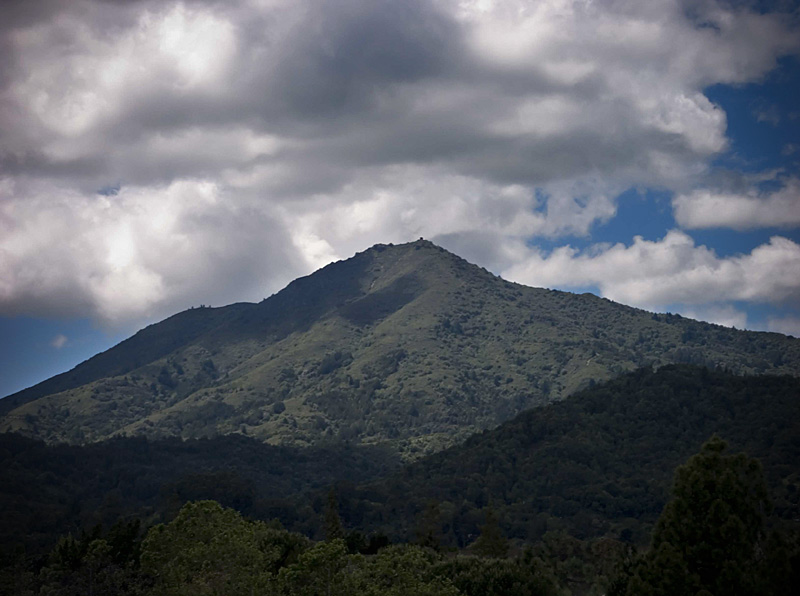 The recent post about Paul De Vivie inspired me to do something I'd never done before: bicycle from my house in Fairfax to the summit of Mt. Tamalpais. (Velocio's seventh bicycling commandment, or one interpretation thereof, is to never ride without a purpose — see Velosophy.)
So today, I gave myself this purpose.
I left about 12:30pm and returned about 5:30pm. A three hour climb to the summit; half-an-hour at the top; and an hour-and-a-half to ride back. The summit is about 2,500′ in elevation, but starting from Fairfax you gain and give up (and gain again) much more elevation over the 35 mile round trip. Roughly 6,000 feet of total climbing is actually involved.
I carried two water bottles, two peanut butter and jelly sandwiches, and a few ounces of cheese and salami, which provided for three food stops.
The weather was partly sunny with an occasional breeze, some light rain, and pockets of dense fog. I had wool knickers, a wool tee-shirt, a long-sleeve wool pull-over, a rain jacket, a neckerchief, a baseball cap, and a wool beanie to counter the variable weather.
It's mid-June but my cycling season is still young and I am not in great cycling shape yet so today —  I suffered. I also forgot to re-fill my water bottles at the summit forcing me to conserve less than half a bottle on the return.
At two points — the steepest section right before the summit and the last major climb on the return — I was assisted by, of all things, a strong tailwind giving me just enough of a boost to get me up and over.
I could not help but wonder if this beneficence was the work of Saint Velocio watching over me.