Archive for July, 2009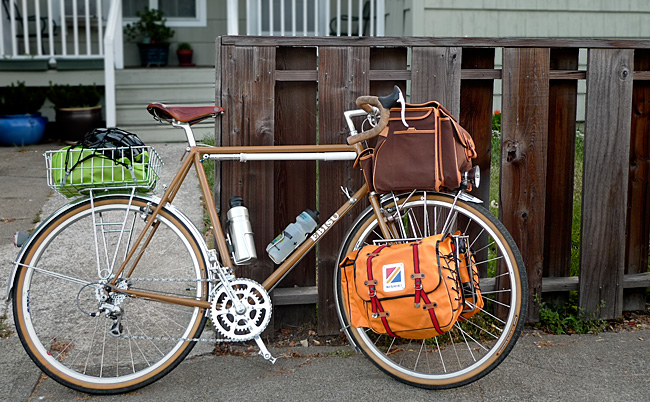 A hastily arranged portrait of my fully-loaded Ebisu just before setting out (around 6:30am) for the trip to Santa Cruz.
From Fairfax it is almost exactly 100 miles, one way. My brother and I decided to make the trip in a day.
A few years ago, I covered the same distance, but took two days stopping to camp on the beach near Half Moon Bay. This time there would no camping and I would either pedal back after a rest day or catch a ride back to the Bay Area from our friend in Santa Cruz.
Despite it being just a long day ride, I attached pannier racks to my existing front rack and packed like it was a short tour. For clothes, I had wool riding pants, an extra pair of pants and a short-sleeved collared shirt for my day off the bike, a wool t-shirt, a wool pullover, 2 pair of wool socks, a rain/wind layer, a wool beanie, a baseball cap, and (non-wool) underwear. I pedaled in Adidas Sambas and also packed a pair of Rainbow flip flops and a swim suit for the Santa Cruz boardwalk.
As far as equipment, I brought a miner's headlamp, two spare tire tubes, plastic tire irons, a bunch of zip ties, a bicycle multi-tool as well as a small selection of allen and other wrenches (to help with roadside repairs that might otherwise be difficult with just the multi-tool), a small digital camera, and a cell-phone and charger. I also brought a few toiletries in a small pouch: shampoo, sunscreen, and tooth brush.
For food, I packed 4 PB&J's, 4 hard-boiled eggs, a mango, 2 apples, and 2 oranges. Plus, two water bottles.
Fully-loaded, the bike weighed in at around 55 lbs. I think the bike itself (with full fenders, racks, rear basket, lighting, and a handlebar bag) weighed around 30 lbs., which means I was carrying 25 lbs of STUFF. That seems like a lot of weight considering there would be no camping.
Think how heavy my bike would get if I added cooking, cleaning, and eating gear, extra food, a tent, and a sleeping bag!
Read Part II here
Long overdue, here is the official introduction to the companion to my Guerciotti.  Heavily influenced by the designed of French cyclotouring machines of the 1940s, 50s and 60s, I commissioned this 59cm bike from Jitensha Studio in Berkeley.
I told Hiroshi, the proprietor, I wanted a versatile bike for light touring and brevets; I wanted the option of carrying 10-20 lbs. upfront on low-riding front racks; and, I wanted the frame based around the 650B wheel size (and 38mm tire width).
The build included both new and vintage parts including a SON front generator hub powering the headlight, integrated front and rear racks (including detachable low-rider pannier racks) and Honjo fenders, Brooks Team Pro TI saddle, Simplex retrofriction downtube shifters, TA cyclotouriste cranks, and Shimano Ultegra derailers. A Berthoud decaleur is used with the front handlebar bag, which was custom ordered from the Guu-Watanabe in Tokyo. I believe I was their first customer from outside Japan (more on that story here).
Now that I've been riding the bike for some time there are inevitably small tweaks I would consider: slightly more geometric trail so it handles better unloaded thereby making it more of an all-around bike (this would require a new fork), indexed shifters (to go with the 8-speed Shimano cassette) or a 6-speed freewheel (to go with the current Simplex shifters), and maybe some slight changes to the gear ratios (currently 47×34 front and 13-27 rear). I'm also eagerly awaiting a true 38mm wide tire from Grand Bois as a replacement for the Panaracer Col de la Via which actually measure 2mm less than 38mm.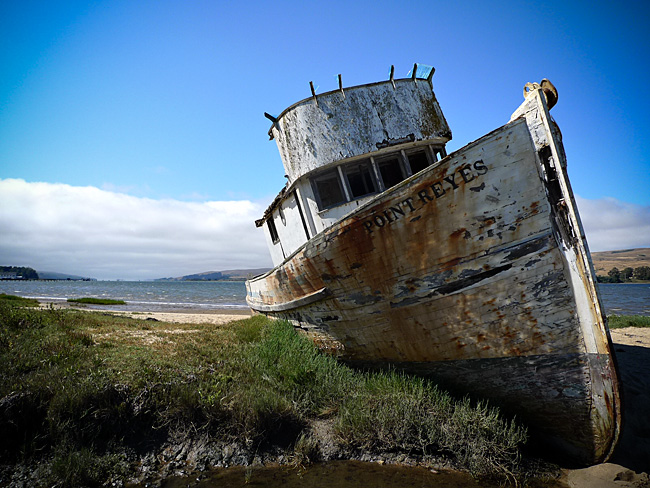 Show on map
I'm sure everyone who passes by this old wreck makes a picture; it's hard to resist.
The mouth of Tomales Bay and the mighty Pacific Ocean is identifiable by the small gap between land masses on the left side of the horizon.
SUMMARY (64 out of 100 points): Priscilla's espresso is sort of the mirror image of the Station House Cafe in Pt. Reyes where the crema was great, but the espresso was overly voluminous. Here, I was served a perfectly-sized cup (drinkable in 5-10 sips) just like one gets at the counter of a French brasserie. Yet the crema was nearly non-existent; a cup of thin, black liquid…Alas, my quest for the perfect espresso continues.
On a positive note, like a lot of the places I've reviewed there is some great outdoor seating and the food looked delicioso. Lots of people were chowing down on good looking pizza and fresh local oysters (from Hog Island or Drake's Bay).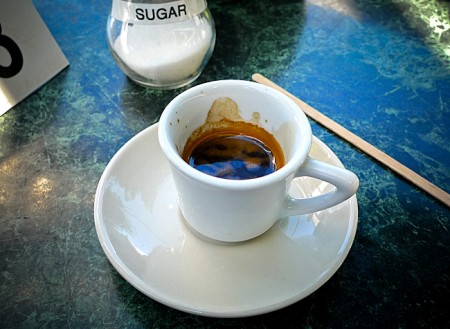 Show on map
Taste (3/5)
Crema (0/5);
Serving size  (5/5);

Presentation (4/5);
Eco-friendliness (4/4)
Click below for the rest of the review:
Read the rest of this entry »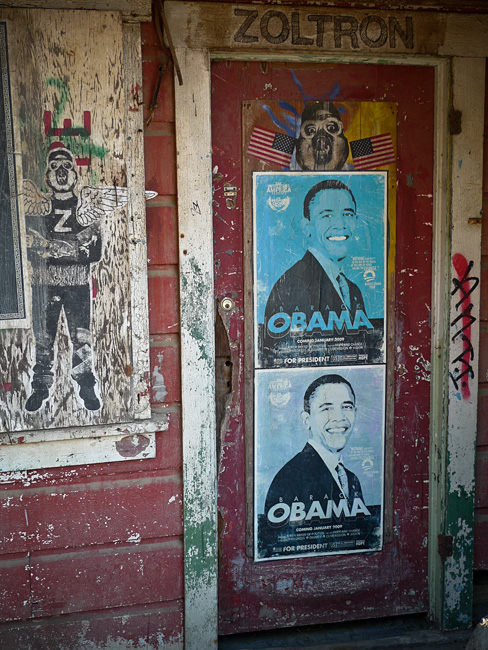 Show on map
Noticed this passing through Woodacre on the back roads returning from Tomales Bay and Inverness. Woodacre is home to Zoltron, a local graphic art studio.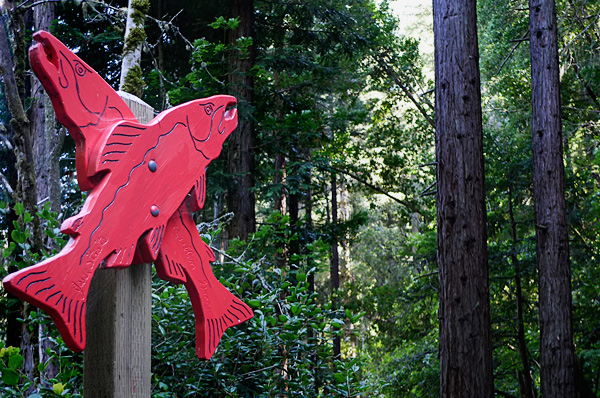 Here's a 'salmon crossing' sign along Lagunitas Creek. The creek meanders its way along the bike path shown here and out Tomales Bay to the Pacific Ocean.  The watershed is home to the largest remaining population of endangered Coho Salmon (Oncorhynchus kisutch) on the central California coast.  The fish spend 1-1/2 years out in the ocean growing to about 2 feet in length before returning to fresh water to spawn.  I've done some work in the past for a local non-profit that's trying to maintain what's left of this population (the group is aptly named: SPAWN). There are salmon in other Marin creeks (such as in Redwood Creek in Muir Woods), but these arrive via San Francisco Bay (passing under the Golden Gate Bridge) rather than via Tomales Bay.

Show on map

Show on map
I think this is a Shasta Daisy.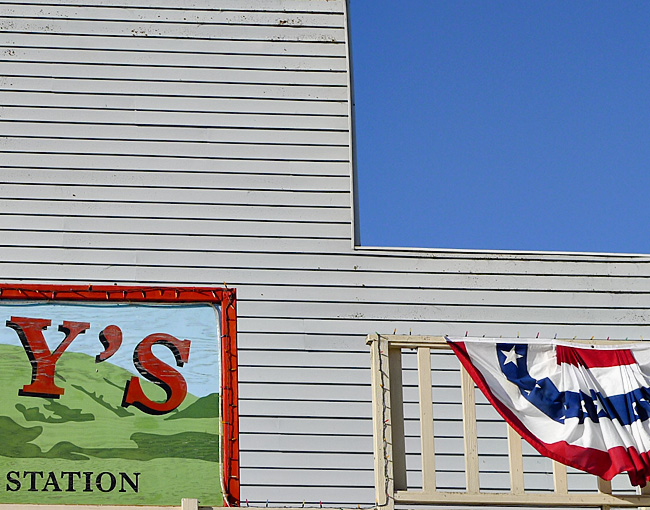 Here's a slightly abstract image for a change: July 3rd, Toby's Feed Barn (and sky), downtown Pt. Reyes Station.

Show on map


Are you getting bored with panoramas yet?
The novelty is starting to wear off for me, but they do give a pretty good sense of the landscape so I'll keep composing these whenever the inspiration strikes (and I'm still quite thrilled with my first try at this format, originally posted here).

Show on map
SUMMARY (64 out of 100 points): If only the Station House knew the proper size of a single espresso (a full shot glass is about right) they could have something here because the crema was very good (check out the color and the bubbles!) and the presentation was great. But the volume of espresso was so gigantic that all balance and harmony was lost.
Since the wind was howling, I took shelter indoors, but there's a very appealing outdoor patio with space to park bikes. So even if the espresso is flawed this place is still a natural stop if you're passing through Pt. Reyes Station and want a sit-down, restaurant experience.
Taste (4/5);
Crema (4/5);
Serving size  (1/5);

Presentation (3/5);
Eco-friendliness (4/5)
Click below for the Full Review: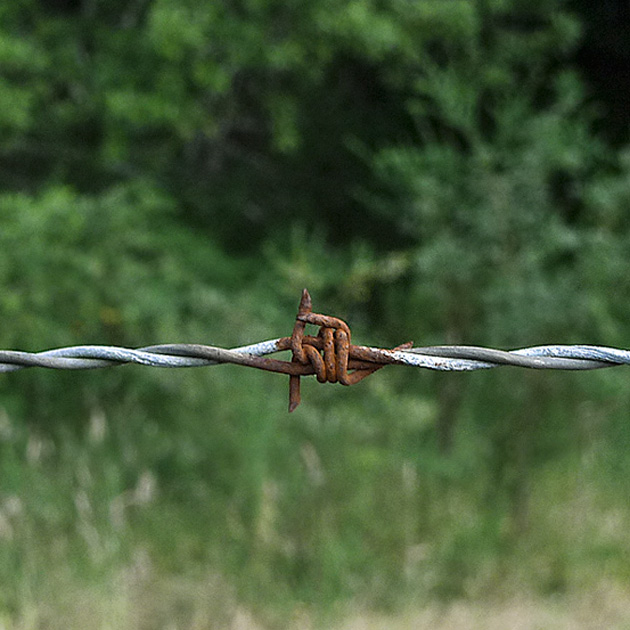 Lots of barbed wire fencing in West Marin. This particular barb was captured during a short rest before the final hill on the way home from Pt. Reyes.

Show on map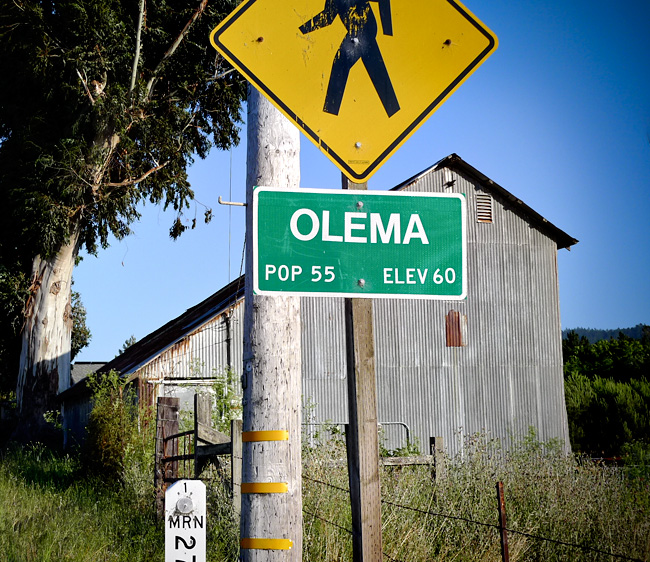 Olema is said to mean "Coyote" in the native coastal Miwok language. Long thought to be the epicenter of the 1906 San Francisco earthquake, the Olema Valley is where the Pacific and North American tectonic plates meet. So, geologically speaking, everything on the east side of the valley is in North America and everything on the west side is not (such as the Bishop Pine forest, behind and to the right of this barn).

Show on map