Archive for January, 2010
Changing a freewheel is about a 2-3 minute job — if you have the correct tool!
To mount the Suntour 13-28t I needed a special Suntour four-prong extractor. So I rode down to The Bicycle Works and found one in their tool collection.
They're located at Yolanda Station along the east-west bike route in San Anselmo. If you're not yet a member consider joining.
From The Bicycle Works website:
The Bicycle Works is Marin's non-profit do-it-yourself community bicycle tool workshop empowering our community with knowledge, skills, tools, and materials for bicycle related activity with open workshops, classes and a space for creative collaboration. Directors Jelani Bertoni and Spokey Godfrey, have launched this hub of community in San Anselmo to inspire the people and the planet to live more active, sustainable lives.
That's Jelani in the background of the above picture. He showed me the neat trick of securing the extractor in the bench vice and then turning the wheel with downward pressure to unscrew it (normally, I would brace the wheel on the ground and turn the extractor with a long wrench — a much worse way to go about it).
Thanks Jelani!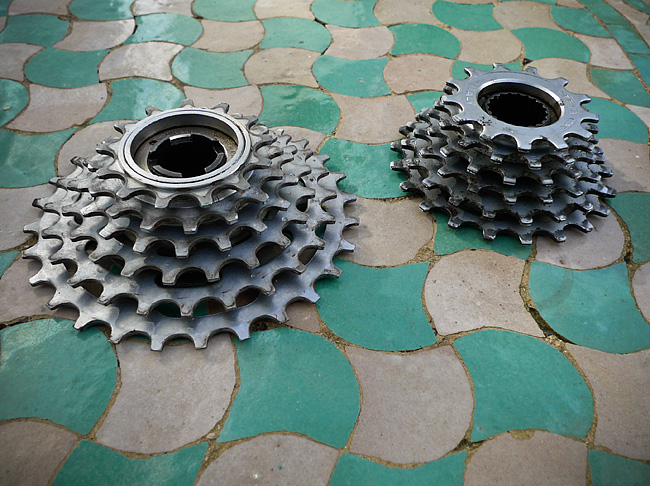 I once avoided anything having to do with gear ratios as the subject would make my eyes glaze over, but they're obviously really important. The late Sheldon Brown — expert on everything bicycle related — created a simple and useful gear calculator which helped reduce my fear of the arcane subject.
My Guerciotti originally had a rear cluster of cogs ranging from 13-23 teeth, as seen on the freewheel on the right, which is a good set-up for racing on mostly flat or rolling terrain.
But here's the problem: this gear range — coupled with 42t and 52t chain rings in front — is horribly suited for Marin County's mountainous terrain (remember: the more teeth, the bigger the cog, and the easier it is to pedal. For the front chain rings — the opposite is true).

The solution: ditch this set-up and replace it with a cluster with a 25t as the largest cog. This worked much better, but I still yearned to spin an easier gear up Bolinas ridge and other tough climbs. I discovered that some 6-speed freewheels were made with a 28t cog, which seemed just perfect and wouldn't require a special long-cage rear derailer (necessary for rear cogs above 28t).
A Suntour freewheel with a 28t cog is pictured on the left.
I can't wait to install it!
Technical Note: According to Sheldon's calculator, with the new Suntour freewheel my drive wheel has an equivalent diameter of 40.1 inches (i.e. gear inches) compared to 48.9 inches using the original 23t freewheel, resulting in about a 20% improvement. Still, the low gear of a typical mountain or touring bike is another 50% or so lower, at around  20-25 gear inches.
In between rain showers I went for a little ride around downtown Fairfax today. I spied this cruiser, parked under an awning to keep it dry, I guess. Not even a lock! It's all good.
It's cold and rainy and not much bike riding going on, but I'm thrilled with a newly discovered bread making method guaranteed to produce the finest, rustic loaf you can imagine — perfectly developed crumb structure on the inside and a light outside crust — with very little effort and no special ingredients required.
Below is my first attempt. I'm amazed! See how simple it is here (the recipe link is half-way down the page in the left column).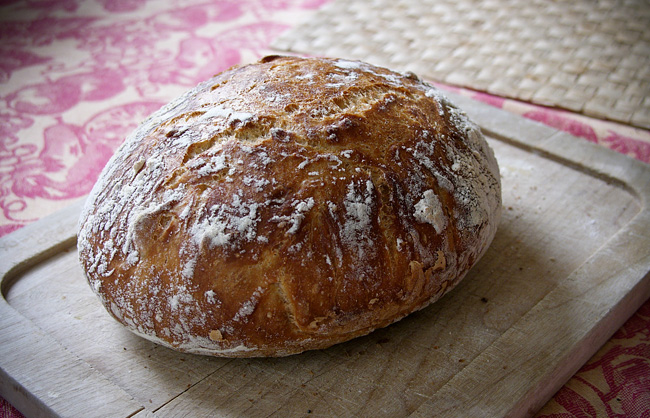 Most people riding out to West Marin keep on Sir Francis Drake Blvd. staying focused on prizes like Pt. Reyes Station or Chileno Valley Rd.
However, if you're not in a hurry the short detour (see geotag link under image) down San Geronimo Valley Drive offers less cars and more shade on those hot summer days.
Plus, this takes you past the Woodacre market (that serves up a typical thin espresso in an oversized cup. But hey, you can't be too picky about your coffee when you're in the hinterlands!).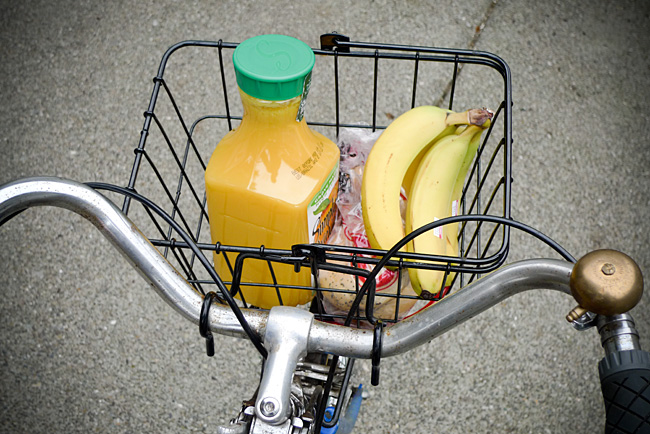 Mini-Review: This is Wald's model 114 basket attached to my Nishiki. There is no fork or brake bolt hardware to deal with; it stays attached with curved pressure points resting below the headset and with hooks around the handlebars. So for around $20 and two minutes of work you've got a basket (granted it's not particularly elegant or permanent). Still, I've severely overloaded mine and it performed really well.
A standard grocery sack will almost fit, but not quite (If that matters the model 133 may be the better choice) so it's not good for big hauls — a six-pack, a carton of eggs and some bread, that sort of thing works best. The other day it was overflowing with veggies — leeks, cauliflower, broccoli, carrots, cabbage, some shallots — for making a blended Portugese-style soup. This photo was made after a morning breakfast run.
A lift-up handle releases the basket from the its mount so you can carry it into the store or around the market.
This image was buried in my cleaning house 2009 posting. On second viewing, it deserves full-size treatment. A few others from that gallery will probably show up full size as well, if they deserve it.
I've bought and sold a few bikes, a pick-up truck, camera equipment and all kinds of other stuff on Craigslist.
There was often a faint fragrance of humor in many of these transactions, but it took the mad-genius behind this video to fully reveal the sweet perfume of an unconsumated Craigslist sale.
Warning: the video may not be appropriate for viewing at work, due to minor bits of colorful language.
Original video and credits can be found here.
The Friday Cyclotouriste wishes everyone a happy New Year's Day, 2010.  As you spread the joy and benefits of riding bicycles this year may you suffer few flats, encounter many interesting people, consume delicious food and drink, and experience only tailwinds during all your rides!