Archive for April, 2010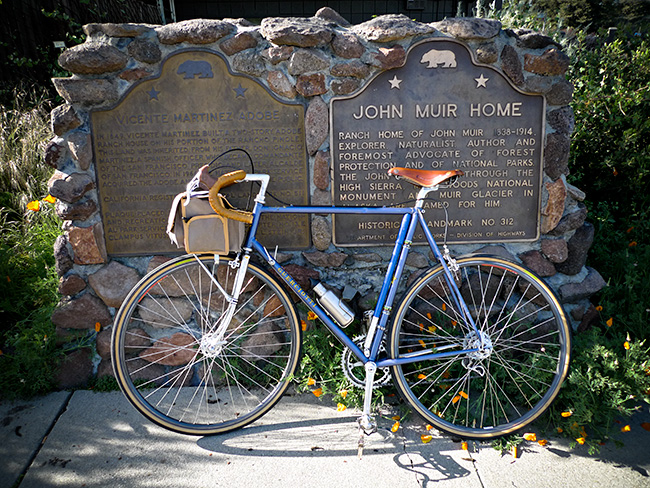 You can see from the little squiggle on the Port Costa route map that I made a slight detour from my planned loop.
Here's what happened:
Noticing the sign "Martinez" as I entered town caused a little voice deep inside my head to say clearly:  "Martinez is known for something...?"
It took a few blocks of me pondering, "Martinez, Martinez" and then it struck me — John Muir's House is in Martinez!
I stopped to ask directions and it was easy enough to find. I went a few miles south on Alhambra Avenue toward Highway 4 and there it was on the right, just past a Vietnamese nail salon and a Subway sandwich shop.
John Muir is one of my all-time heroes. He's up there with Bodhidharma, Gandhi, Emerson, Thoreau, Gary Snyder, Wendell Berry, Ed Abbey, Aldo Leopold, Cabeza de Vaca, Charlie Chaplin, Walt Whitman, Muhammad Ali, and Velocio.
So I was a little disappointed the historic landmark was closed for the day when I arrived.  I just peered in, past the parking lot gate. The place felt a bit sad and ironic, surrounded by its suburban infrastructure.
Even in his day, Muir was not entirely happy in Martinez, so far from the cheerful water ouzel and his beloved High Sierra.

Show on map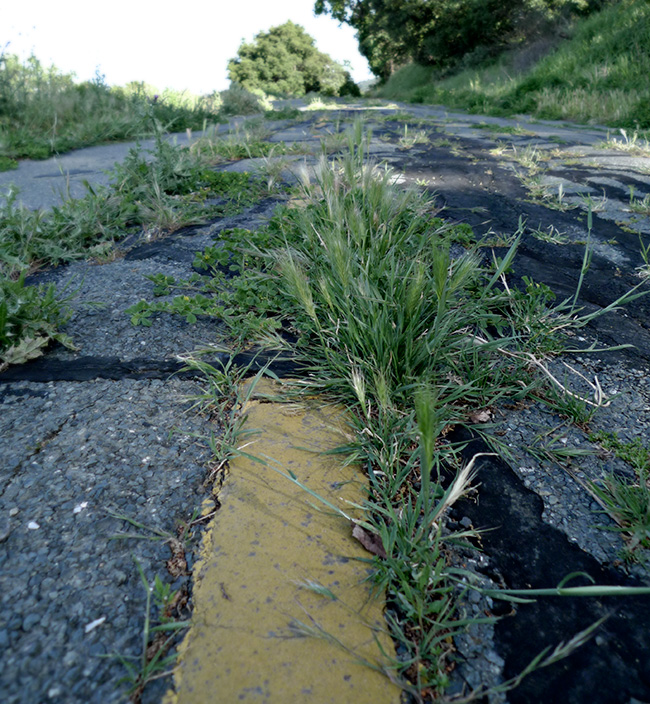 Show on map
Heading east for Martinez on the old highway from Port Costa, I was treated to a rare stretch without any car traffic. This old road is now closed to vehicles and it's starting to break apart in places — reclaimed by the forces of wild nature!
On Saturday, my friends Forest and Ingrid invited me out to their place in Port Costa — a quirky, Bay Area town (that almost no one has heard of) along the Carquinez strait, surrounded by parks, open space, rolling hills, ravines, pastures, and water views.
I brought my Guerciotti along so I might sneak in a bike ride. I didn't have a specific route in mind, but the weather was ideal and I anticipated the area would have some great roads.
Ingrid is from Romania and she prepared a delightful tray of appetizers: home-made bread, thinly sliced daikon radish, country cheese, raw milk, strawberries, olives, honey, and sun-dried tomato tapenade. I washed it down with a refreshing Pilsener and then we took a walk down to the old railroad tracks and the shoreline.
Standing near the water, I realized a grand loop around the Carquinez Strait was possible — provided the two bridges accommodated bikes. A neighbor confirmed they do and so I printed out some Google bicycling directions and set out for a ride.
I departed Port Costa around 4:40pm with just a small bottle of water and the food in my belly.  I wore my regular clothes: corduroy pants and a lightweight, long sleeve collared shirt over a cotton t-shirt, cotton socks, a baseball cap, Adidas Sambas, and a lightweight hoodie (which I stowed in my handlebar bag should it get cold around sundown).
TO BE CONTINUED…in Part II
This past Friday I intended to ride to Alpine Lake and back, one of the top 10 short bicycle rides known to humankind IMHO.
But I got distracted by all the wildflowers and only made it to the top of Azalea Hill.
Last time up here I made this photo. I thought I'd share an alternative version highlighting my flashy yellow wind breaker.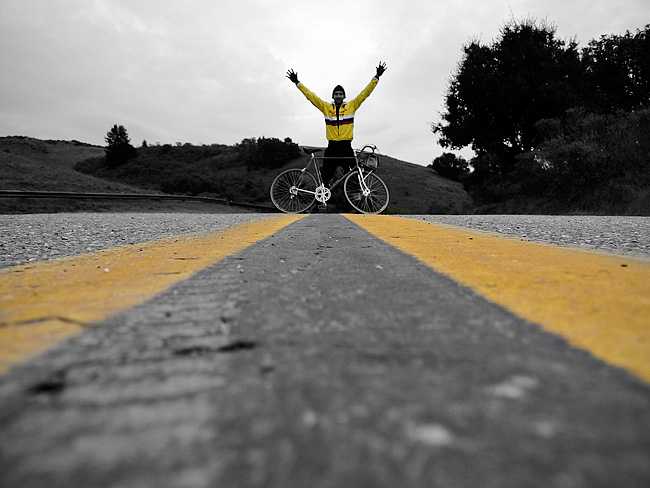 And here's a clumsy attempt to make another 10-second timed exposure at the nearby trail head. (The ground is super saturated and muddy. I had trouble getting set before the shutter released.)

Show on map
The short, steep climb followed by the exhilarating descent always clears my head.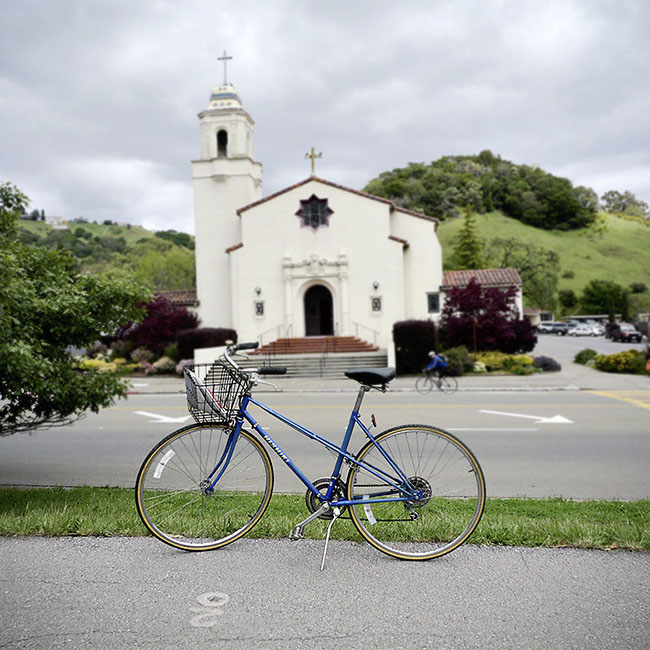 Show on map
April 13th. I can't put off doing my taxes any longer. So I take a quick ride to my local library to pick up some tax forms.
After I get my forms, I'm suddenly struck by the view looking across the street at St. Rita's Church.
Time to make a quick portrait of the Nishiki Mixte, I think.
For better or for worse, this pretty much sums up the way most of my photos come about: spontaneously and a quite randomly.
I recently discovered Brooklyn artist Kevin Cyr and his delightful Camper Bike.
From the artist's website:
Camper Bike, a functioning sculptural piece, built in April 2008. A stand alone piece and the subject of a series of paintings.
Here's what he said about the Camper Bike's origins in an article on a companion piece, Camper Kart.
"I was eating breakfast in a village outside Beijing when I suddenly had this bizarre feeling like I was camping," remembers Cyr. That feeling, combined with China's robust cycling culture, was the genesis for the creation of Cyr's first vehicle, "Camper Bike," in which he attached a fully functional 3-by-9-foot camper to a three-wheeled Chinese flatbed bike.
The iPad is here. What does this mean for bicyclists? Not much, actually. The image below is from a fake news story.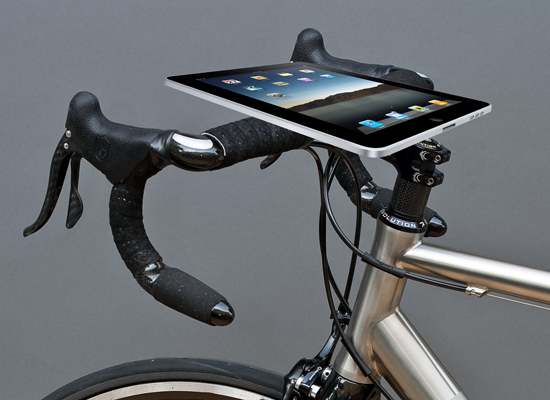 But here's a real iPhone app called Brakelights, which turns your iPhone into a rear light. Point the screen behind you (strapped to your backpack or saddlebag) and you're set. The app even knows when you stop moving and the screen then goes from solid to blinking red.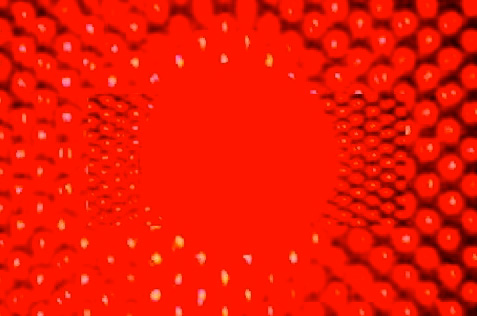 Sausalito's houseboat community — and the dock Otis Redding sat upon while writing, "(Sittin' On) The Dock of the Bay"
March showers bring April flowers…just down the street from the dog park!
Not sure the species, don't think they're native.
Cape Daisies, originally from the South Africa, according to my botanist friend, Laura.