Archive for June, 2010
Being a camera nerd, I've begun to notice a proliferation of videos featuring a distinctive photo processing technique using implied tilt-shift camera movements and time lapse photography. The results are videos like these which appear to show itty-bitty scale models of cities. Here's a tilt-shift tutorial for the uber tech-savvy and the website of Ken Loutit, who helped popularize the genre with his bathtub series.
The above video was featured in an interesting academic article on bicycling advocacy by the blogger and randonneur extraordinaire Esteban.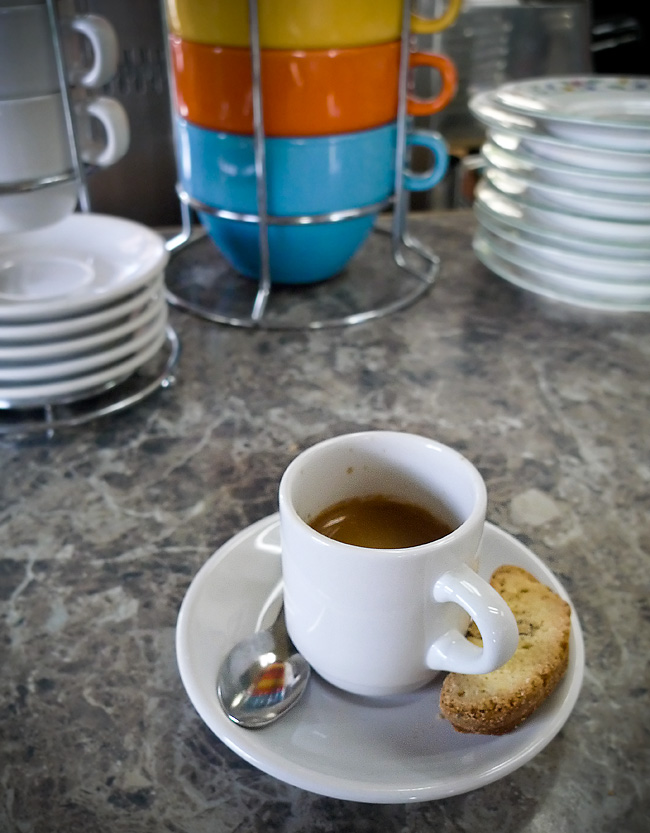 Formerly known as Shaky Grounds, this cafe has a new name so I decided to stop in for a visit. The place is now run by espresso drinkers (and World Cup futbol fans) so I immediately took a liking to the atmosphere.
Mojay's Cafe is on the 4th St. bike route so it's a convenient place to stop if you're riding east-west through San Rafael. The menu seems to have a little bit of everything, including Italian Panini. The tenant next door also happens to be a bike shop: Summit Bicycles.
Okay, okay, so how's the espresso experience you ask? Well, I give it very high marks:
The presentation is excellent: my espresso was served in an elegant and appropriately sized cup and saucer. On my first visit, the espresso even came with a mini-biscotti and a small spoon (all without having to ask). This was a nice touch and shows a better understanding of espresso culture than one normally finds around here.
The 100% organic espresso tasted just right and had very good crema.
Fresh drinking water is available from a self serve station and Wi-Fi is free.
Now, we'll see if Mojay's can deliver all this consistently. If so, I may have found my new favorite espresso stop.
To celebrate the Summer Solstice (the longest day of the year and the exact moment — 11:28am PST yesterday — when the earth's axial tilt is most inclined to the Sun) a gallery of images of Spring flora made on various bicycle rides over the last couple months: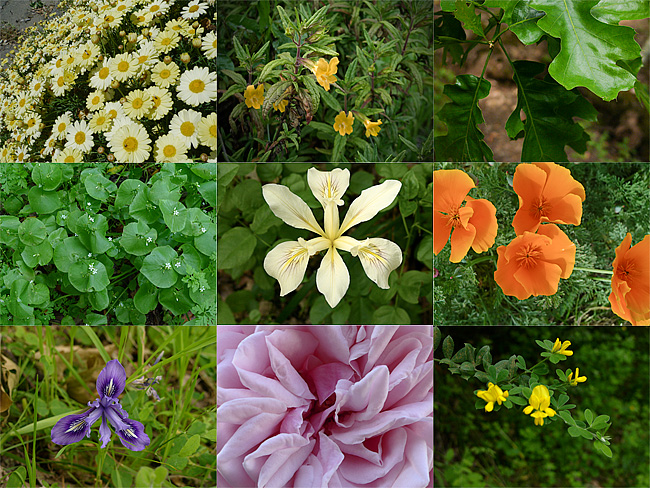 From upper left-to-right and from top-to-bottom:
Daisies of some kind;
Sticky Monkey Flower (Mimulus aurantiacus);
native California Black Oak (Quercus kellogii);
native Miner's Lettuce (Claytonia perfoliata);
a native Pacific Coast Iris;
native California Poppy (Eschscholzia californica);
another Pacific Coast Iris,
a Rose; and finally,
Scotch Broom (Cytisus scoparius) a troublesome invasive species supposedly wreaking havoc upon on native wildlife ecosystems.
I've only experienced classic Italian-made Silca pumps. Maybe some other manufacturer makes a better, easier to use, more effective, or lighter model, but these are solidly made and do the job just fine.
My Silca Pista floor model is more than 25 years old (and spare parts are still available!).  I replaced the hose, clamps and washers about 5 years ago and have a few different pump heads (one brass, one plastic).
On the Silca frame model, I like Campagnolo's steel pump head as an upgrade to Silca's original plastic pump head, but these are hard to find and often run $50 or more on ebay.
I always carry a pump.
Well, not always. I don't carry a pump on my city bike when I'm riding 0-3 miles around town. But on any other kind of ride I carry a pump, two spare tubes, and a few tools. (I began carrying two tubes after receiving two flat tires on one ride.)
It can be argued that mechanical self-sufficiency is less critical in the era of cell phones. Still, if you ride a lot something will eventually come loose or break and you're sure to get flat tires every now and then.
And in my experience, even having a tiny bit of self-reliance adds to the joy of riding.
For the first time in my life, I was pulled over by the police while riding a bicycle (during my morning commute).
I'll explain in a moment, but first a short digression:
I usually go out of my way to ride conservatively because I see so many bicyclists riding recklessly, which only invites motorists' anger. (Of course, it's equally true that many, if not most, motorists drive irrationally, impatiently, and aggressively in terms of how they interact with bicyclists).
I like to think I see the folly of both sides and so whether I'm piloting a car or a bike, I try to keep the other in mind and set a good example.
Nonetheless, on this day, I rolled through a stop sign fairly quickly after seeing no on-coming cars. Local law enforcement was hiding on a nearby side street. I didn't see the squad car, but I heard the siren from behind a few blocks later and knew I was busted.
I gave my best Idaho Stop defense and after producing my driver's license was mercifully only given a short lecture and let go with a warning.
If you've never heard of the Idaho Stop law here's an elegant little video.
I recently discovered a fantastic blog, Tokyo Green Space, which examines ways that biodiversity and urban form coexist in Tokyo. It inspired me to take a closer look at the dialogue between nature and urban design in my own backyard.
On a lunch time bike ride to the Civic Center, I made these pictures of the ground floor garden inside Wright's famous architectural commission.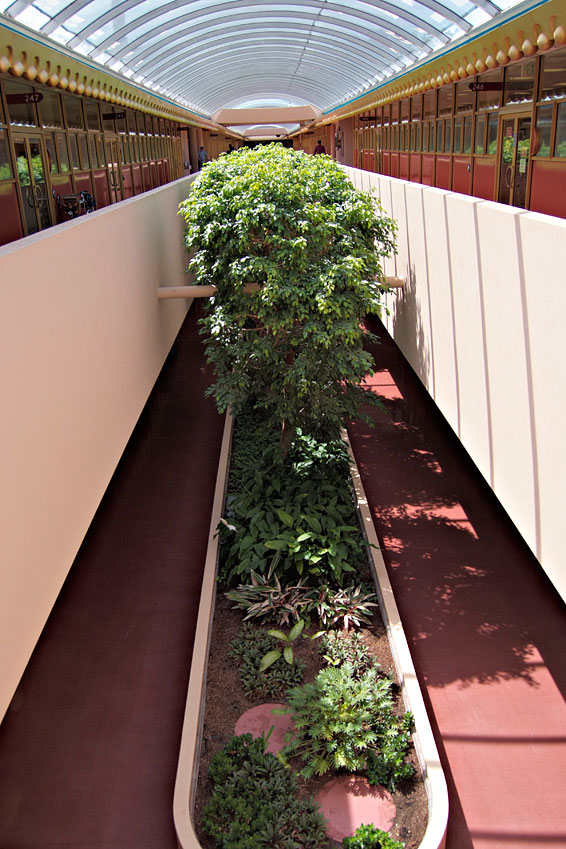 An earlier post included images of the outside of the building.

Show on map
After cruising north to the Civic Center during a week-day lunch break and finding no bike parking out front, I brought the Ebisu inside and, of course, made a quick picture. Here are a few more: