Archive for January, 2011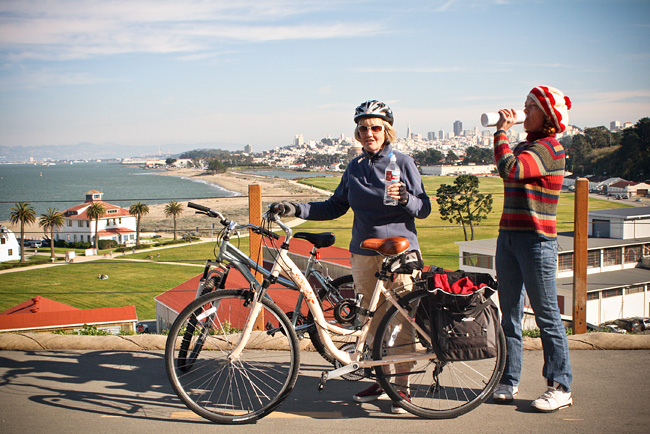 It's been really warm this past week (70s in some spots) and it's only January! Many trees are starting to flower if you can believe it. Great for cycling, not so great for the fruit trees (presuming it gets cold again).
Anyhow, the above image was made from the bike path on Lincoln Ave. above Crissy Field. The image below is from the same spot, but looking north.
…and below is a close-up of what was happening down on Crissy Field (I made this with a very long telephoto lens). All three are archival images that I produced as a photography volunteer for the National Park Service/Golden Gate National Recreation Area. I'm grateful to be able to share the images and for the chance to volunteer in the GGNRA. Here's a link to all their volunteer opportunities in case you're interested.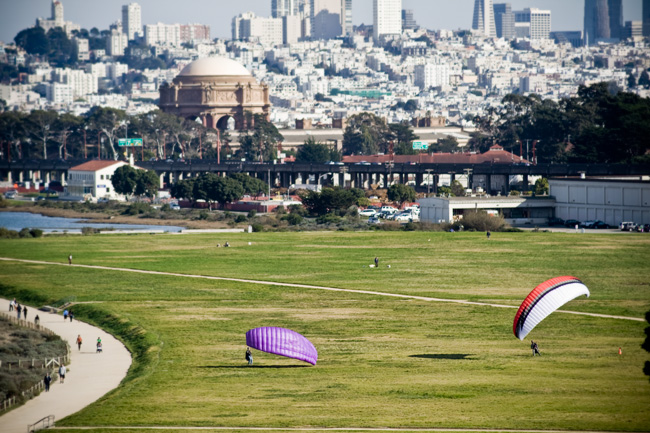 This may not look that steep, but it often feels it (as it's part of a fairly long climb that eventually crests at the top of the Bolinas ridge).
This rider is almost to the Lake Lagunitas turn.
A Ken Burns-style mockumentary, which hits pretty close to home.

Show on map
Why is it that Blue Bottle, Ritual, and Four Barrel get most of the street cred in these parts, when northern California's Equator Coffee pioneered artisan coffee roasting's renaissance more than 15 years ago?
Recently, I was lucky enough to have an opportunity to drop by and chat about this and other topics with Helen Russell, a co-founder of Equator Coffee — one of the country's top artisan coffee roasteries — which happens to be headquartered right here in Marin County (San Rafael).
Everyone on the staff (from Maureen in operations to David in coffee buying) is passionate about coffee and extremely generous with their time.
So if you have a chance to try Equator's coffee, I recommend starting with their organic Ethiopian Amaro Gayo — I tasted the distinctive flavor and aroma of ripe blueberries when I brewed this at home using my portable Hario grinder and a french press. And it received a score of 92 at CoffeeReview.
Equator Coffee: Highly Recommended!
I drove from the Bay Area to Tucson, AZ the day after Xmas for a quick 2-day visit with my dad.
I brought my bike hoping to try the famous Mt. Lemmon ride, but a combination of insufficient time and snowy weather prevented me from giving it a go. (I'm in pretty poor bicycling shape so it's 50-50 whether I even could have made the 25-mile climb up to 8,000 feet.)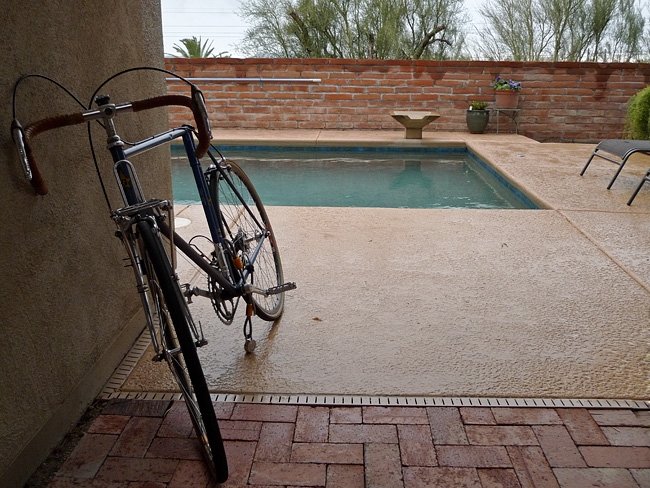 A sad bicycle sitting idle, poolside.