Archive for February, 2011
Sad, but true. I'm relocating to Tucson, AZ and (at least for now) leaving the Bay Area.
The truck, my Honda, and the bikes in tow, make for a pretty long rig! Rolling into and out of gas stations (see picture below) was not easy. And I was always concerned about pulling in some place and not being able to get out again.
Anyhow, Tucson is supposed to be a great biking city so once things settle down I hope to continue dispatching bike-related rides and photos from the Southwest.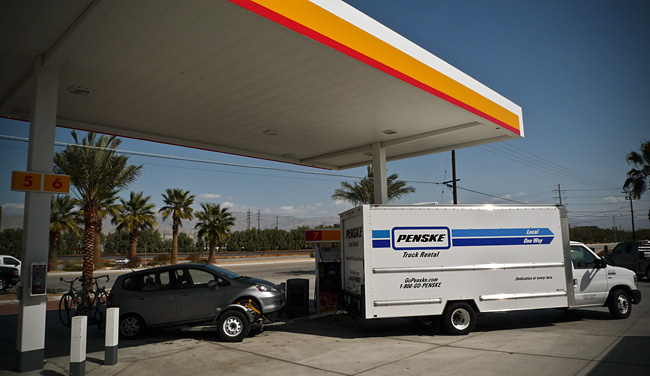 It's not obvious from the picture, but this fellow is chatting away on his mobile phone while taking in this awesome view.
To get to this spot I went through an old WWII tunnel off of Conzelman Rd. heading toward the southwestern tip of Pt. Reyes. Then, I scampered up a ridge going to the summit of Hawk Hill (where volunteer bird watchers tally an average of more than 9,000 turkey vulture, 9,000 red-tailed hawk, and 4 bald eagle sightings each year). But before the ridge turns toward the summit, through a stand of trees, there's this awesome view looking toward the lighthouse.
In the middle of the tunnel, on the way up to this spot, is some graffiti suggestive of the famous cave art of Lascaux. Lightning was awful (about 80 percent darkness), but I used a tripod and a 25-second exposure to make this image.
Finally, here's an example of some of the new road work on the way to the lighthouse (the view is looking back to the east — with the guardrail shielding a precipitous drop-off to the ocean).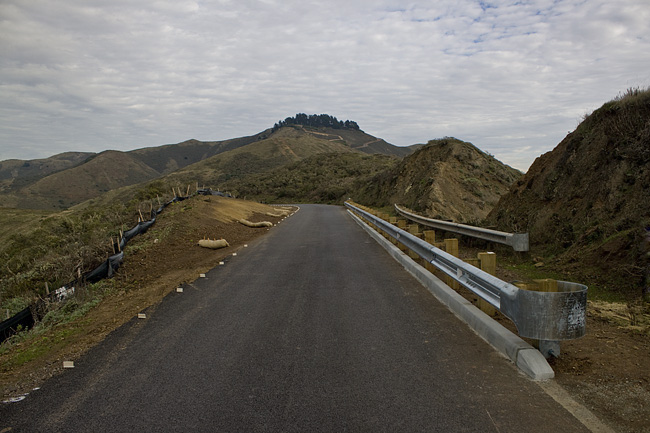 I'm taking a leave from my National Park Service (NPS) photography duties. So these three images will likely be the last I'll post from this gig.