Archive for June, 2011
After turning around at the Bear Canyon picnic spot it was all downhill (literally not metaphorically speaking) — 16 miles of pure descending.
I had to touch the brakes in a few tight curves, but otherwise I modulated my speed by raising or lowering my upper body relative to my bike's top tube (thereby increasing or decreasing my wind resistance).
I'm just now getting around to completing Part II of my ride report covering the scouting trip I made up the Catalina Highway toward Mt. Lemmon a number of weeks ago.
To recap: as I described in Part I, I was only about 6-7 miles and 2500 feet up the mountain before I began to succumb to the high temperatures, lack of water, and gusty winds.
However, as I contemplated ending my ride another bicyclist happened along.  She had abandoned her efforts around the 11-12 mile mark anxious about the high wind and the dangers this could poise during the steep, twisting descent. Since she no longer needed all her liquids she offered me half a bottle, which contained some kind of energy, mineral, or electrolyte-infused water.
To my surprise, drinking this helped me recovery most of my energy and instilled a renewed spirit for pushing onward. As I climbed, I actually began to gain strength. I passed a group of three mountain bikers and settled into a good rhythm, climbing for another 5-6 miles which brought me to about 6,000 feet above sea level.
I pulled into the Bear Canyon picnic area around 3:30pm feeling really good.
I attribute much of these good feelings to the Ponderosa Pines (Pinus ponderosa) now populating the landscape. Seeing this majestic species with its distinctive orange-ish bark  (a common sight when I bicycled in California) thrilled me to no end. Plus, it signified that I was transitioning through one of the many eco-zones along the route.
However, given that I was out of water again (and it would be 8-9 more uphill miles before I could count on finding more) I decided my exploratory ascent would end right here.
Next up: a quick, yet sublime, 16-mile descent to the valley floor.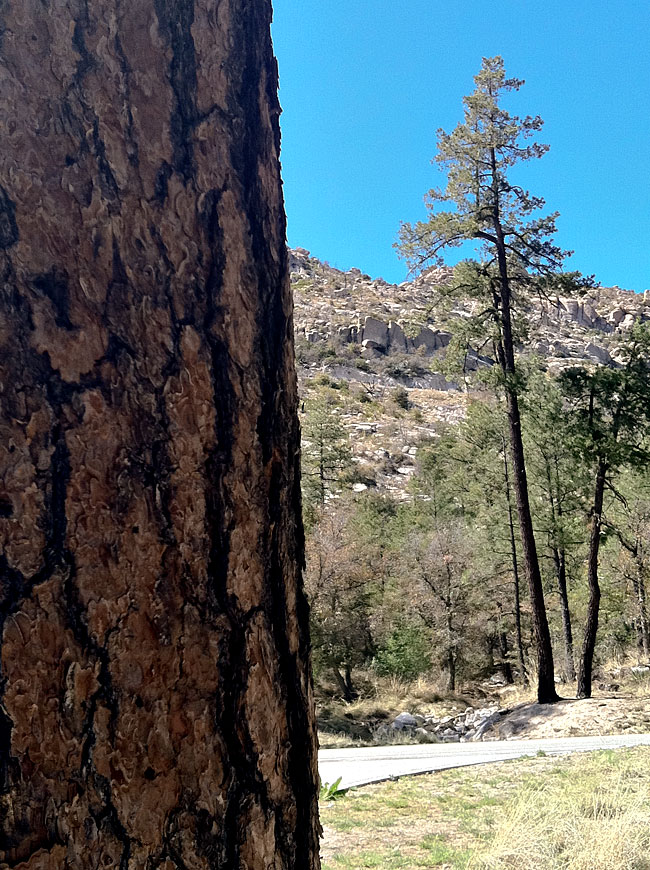 A bicycling quote from the famous, socialist, pacifist, and sci-fi writer, H.G. Wells:
"When I see an adult on a bicycle, I do not despair for the future of the human race."