Archive for September, 2011
Since I was unavailable to attend, The Friday Cyclotouriste sent its Sr. bicycle and beer correspondent to last week-end's Biketoberfest — a biking and brewing hootenanny in my hometown of Fairfax (here's a link to my coverage of the event from 2010).
My intrepid correspondent (seen here) does have other interests besides bicycles and beer. He can often be found at MIXTAPES and Hurqalya when he's not teaching middle school religion classes in Marin County.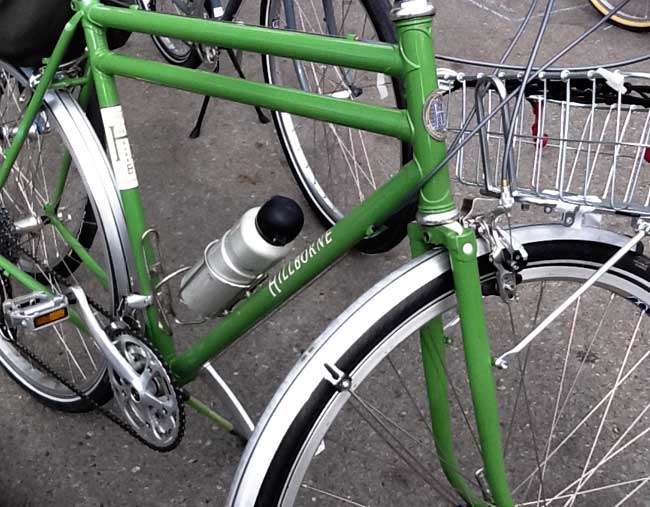 From the Rivendell stall at Biketoberfest. This is the unorthodox Sam Hilborne frameset with the double top tube.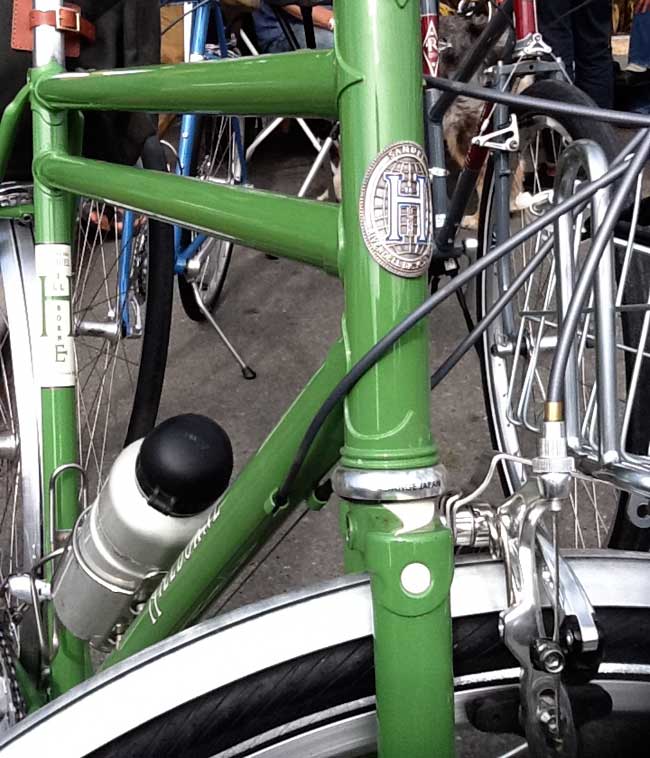 I love the bakfiet design. If I had kids or had lots of stuff to routinely lug around this would be the design I'd chose.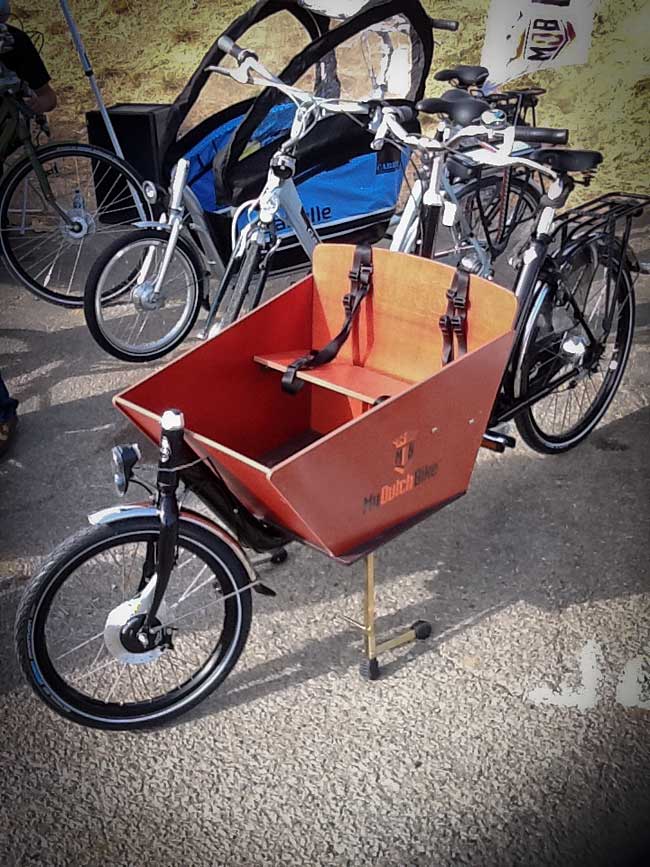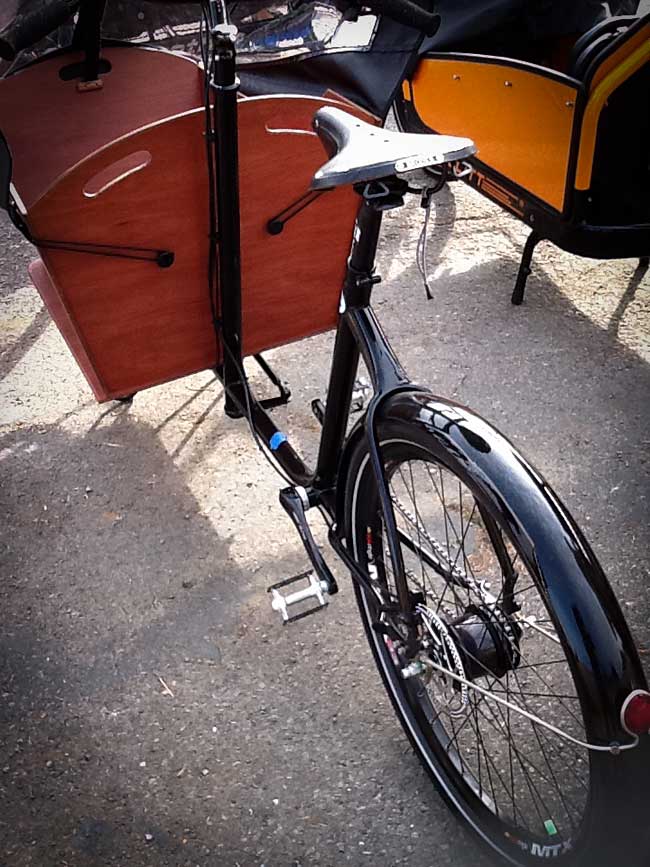 Wikipedia's architecture notes:
Outside, San Xavier has a white, Moorish-inspired design, elegant and simple, with an ornately decorated entrance. No records of the architect, builders, craftsmen and artisans responsible for creating and decorating it are known. Most of the labor was provided by the local Indians, and many believe they provided most or all of the artisans as well. Visitors entering the massive, carved mesquite-wood doors of San Xavier are often struck by the coolness of the interior, and the dazzling colors of the paintings, carvings, frescoes and statues. The interior is richly decorated with ornaments showing a mixture of New Spain and Native American artistic motifs.

The floor plan of the church resembles the classic Latin Cross. The main aisle is separated from the sanctuary by the transept or cross aisle, with chapels at either end. The dome above the transept is 52 feet (16 m) high supported by arches and squinches.



Featured Comment by Laura: "My grandmother Dorothy, who lived near Tucson for many years, was a devout Catholic, had her children educated by the Jesuits, and especially loved San Xavier. After she died, I made a pilgrimage and fell in love myself. She would have so enjoyed these photos! I especially like your St. Francis statue picture. Also, the word "squinches."
Nathan replies: Yes, squinches. This was a new word for me. All I could think of to relate them to were the flying buttresses used in Gothic cathedrals, but apparently they serve a different function.

Show on map
Courtyard statue.
Detail of an interior wall fresco.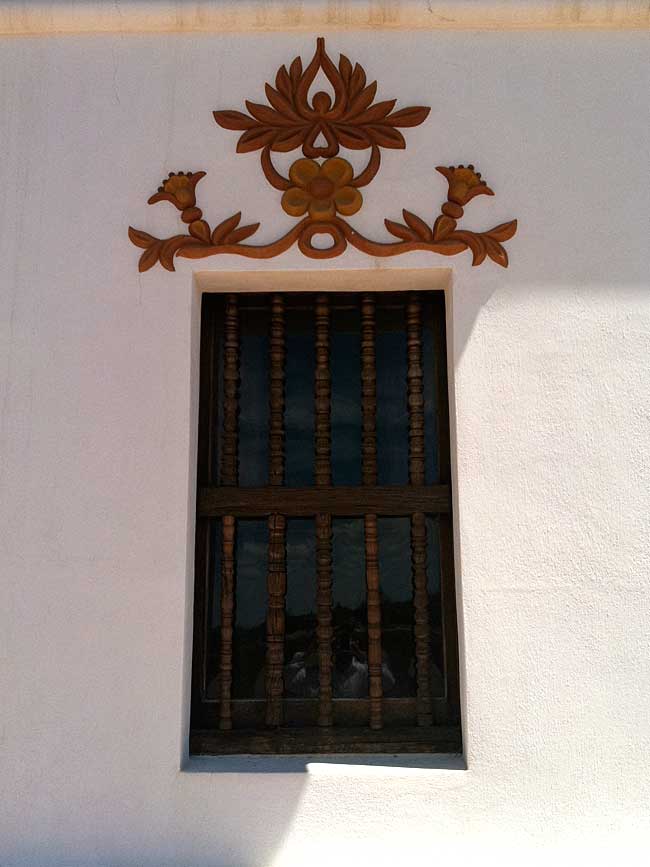 Exterior window, left of front entrance.
On a recent bike ride, I ended up at perhaps the finest example of Spanish mission architecture in the United States.
Constructed in 1692 (under the auspices of the Jesuits);
Raided continuously, then finally destroyed by Apaches in 1770;
Turned over to the Franciscans and re-built from 1783-1797.
Above, the obligatory bike portrait (with more pictures to come).
Even if style and fashion don't hold much interest for you, the quality of The Sartorialist's spontaneous portrait photography is consistently excellent.
Plus, the site's creator, Scott Schuman, seems to be on the lookout for interesting people — mostly street chic woman — using bicycles for their everyday transportation. For that reason alone its worth a look.
(Note: I believe Copanhagen Cycle Chic was the first to popularize the-girl-riding-a-bike genre. UPDATE: a couple more interesting sites along the same line have been pointed out to me– Bike Fancy and bikes + babes)
Finally, a beach cruiser bicycle used for what it's intended for: cruising the beach!
The original post can be found here.
This is not a model, just a regular New Yorker spotted by The Sartorialist.
The bicycle, however, doesn't seem appropriate for the task at hand (where's the basket to hold those groceries and there's water in the street, but no fenders to stay dry?).
The original post can be found here.
Trying to lock-up your bike without getting your semi-transparent skirt dirty…I've been there, haven't we all, lol?
The original post can be found here.
This posting (and my next one) highlight blogs/websites that — while not focusing on bicycling per se — post intriguing images relating to bicycles every now and then.
A favorite, and one I've mentioned before, is Tokyo Green Space.
The author, Jarad Braiterman, is a design anthropologist (what a cool job!).  He documents all the bits of biodiversity emerging from the sidewalk cracks, street medians, balconies, and store fronts around Tokyo.
His larger project is to investigate how our urban areas can evolve into richer, healthier places for humans and the rest of nature.
If it hasn't already done so, the site will hopefully spawn imitators in other cities: New York Green Space, San Francisco Green Space. Heck, I'm inspired to start a Tucson Green Space.
There's something utilitarian and magnificent about this row of hundreds of commuter bikes lined up outside JR Tokyo's Ryogoku station on a hot summer afternoon. The sun bakes in this concrete canyon, and even the salary men are wearing short sleeves. — original posting: tokyogreenspace.com
Umbrellas on parked bicycles during rainy season. — original posting: tokyogreenspace.com
Landscape deadzone in posh Omotesando: Why is this major intersection so ugly? Pedestrians deserve better. — original posting: tokyogreenspace.com
I took a nasty spill this past week-end when my front wheel got lodged in a curved section of Tucson's downtown street car tracks.
I went down hard with my left shoulder and elbow absorbing the initial impact, leaving some raw, painful road rash. Both my knees and the tip of my right thumb were also bloodied. My head had nothing except a cotton riding cap protecting it, but luckily it survived unscathed.
Frankly, I'm surprised there aren't some warnings about these trolley tracks (although maybe there are and I missed them!).
The accident occurred just as I was finishing a 30-mile ride to the San Javier Mission, about 3 miles from home.
I was a great day for a ride. The mission is beautiful! I hope to post some pictures soon.
I took a leisurely ride on my Nishiki city bike around the Reid Park Bike Path in Central Tucson this past Saturday. I intended to visit Kobe the polar bear (at the Reid Park Zoo) to see how she's adjusting to life in the Sonoran desert and to see if she had any advice for me.
But dark clouds and lightning were quickly building and I decided not to linger outside too long.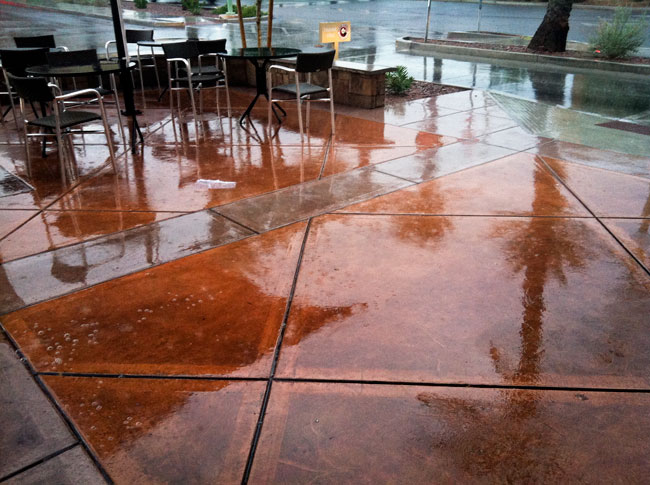 I got caught in the deluge anyhow so I was mighty soaked when I arrived home (reminding me that I really need to get some narrow honjo fenders for this bike).
In total, 1.25 inches of rain fell Saturday. Temperatures have cooled considerably ever since, especially the evening temperatures which have dropped below 70 degrees the last few nights!
Life…Love…Justice…Peace.
Nogales Highway, I-10 overpass, September 11, 2011
Nathan
Artist: Ian Huebert
"The Golden Spoke: Fog" and "The Golden Spoke: To Market"
Art on Market Street Poster Series
Courtesy of the San Francisco Arts Commission.
Re-posted from Copanhagenize
I need some help from my botanist friends to identify this flowering shrub.
Since I see these planted everywhere around Tucson, I've temporarily named it: flora omnipresenta.
I first noticed these around the start of the monsoon season when the flowers began to bloom. The plants are starting to get leggy and tired looking, but they've been in bloom for a couple months now!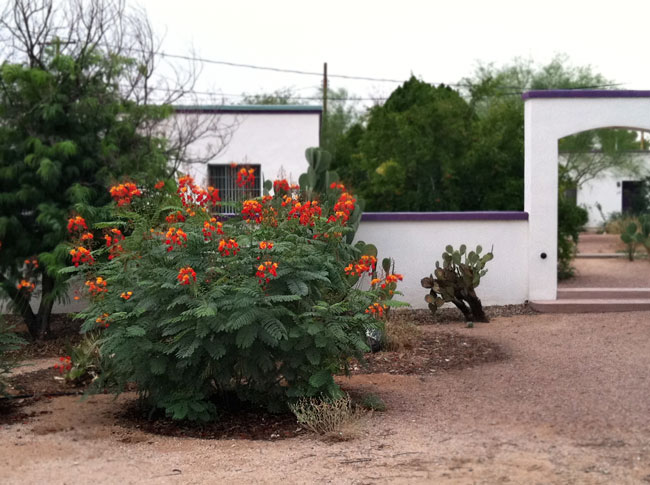 Below is yet another specimen.
The picture was made mid-afternoon, on a very hot, sunny day.
These are tough conditions to photograph in. Avoiding harsh light and shadows can be difficult on a day like this. In contrast, the first image was made on a cloudy day, which accounts for the much more muted and subtle colors.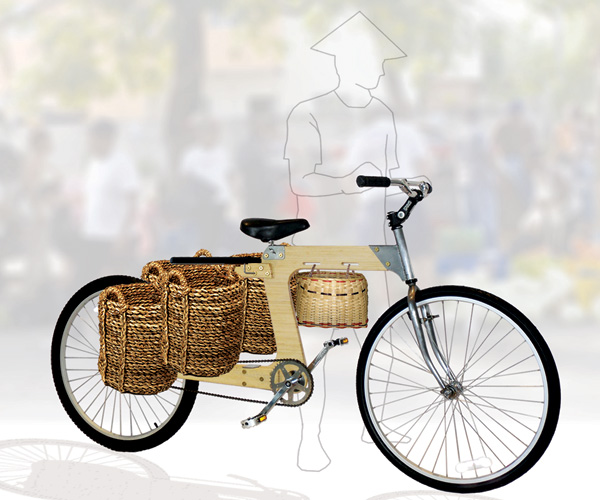 I discovered this project at the modern industrial design site, Yanko Design.
I can't speak to the practicality of doing away with the downtube — as far as riding stability and structural integrity are concerned — but this is a pretty cool concept.
The designer is Paulus Maringka, Auckland Institute of Technology. Read his academic abstract and/or download his entire 372 page trans-disciplinary design thesis or visit the Yanko Design site to see more pictures of the Greencycle.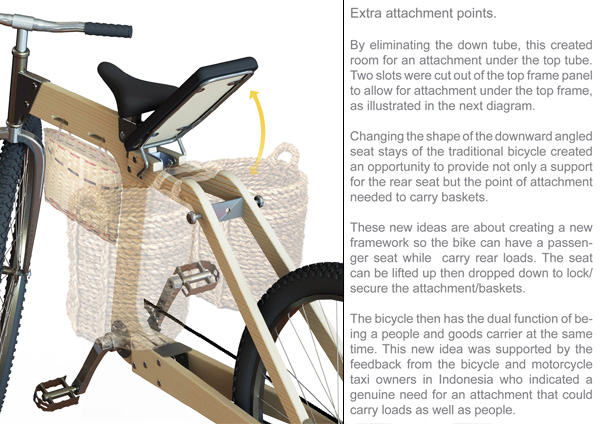 I attached my camera (and a big fisheye lens) to my new handlebar mount and made a short trip down the block to test the system.
Below is the video, with a Soloman Burke music bed added in Apple's iMovie to make it a little more interesting!
From the wikipedia article on Soloman Burke:
Solomon Burke (March 21, 1940 – October 10, 2010) was an American singer-songwriter, entrepreneur, mortician, and an archbishop of the United House of Prayer For All People. Burke was known as "King Solomon", the "King of Rock 'n' Soul", and as the "Bishop of Soul", and described as "the Muhammad Ali of soul", and as "the most unfairly overlooked singer of soul's golden age"…

Burke was "a singer whose smooth, powerful articulation and mingling of sacred and profane themes helped define soul music in the early 1960s"…Described as both "Rabelaisian" and also as a "spiritual enigma", "Perhaps more than any other artist, the ample figure of Solomon Burke symbolized the ways that spirituality and commerce, ecstasy and entertainment, sex and salvation, individualism and brotherhood, could blend in the world of 1960s soul music."