Archive for April, 2013
My Honda Fit needed some repairs (valve adjustment, transmission fluid and oil change, tire rotation, driver side mirror wiring harness, and visor clip) so I had to figure out how to get to and from the dealership twice this past week.
I decided the most efficient solution was to drive to the Honda shop after work and bring my bicycle along. Then I could drop off my car and use the bike as transportation to get back home. When my car was ready for pick-up later in the week, I would repeat this in reverse, i.e., ride my bike back to the dealership, then drive the car and bicycle back home together.
Since I would be making essentially the same trip by both car and bike several times I jotted down some numbers:
by car it was a 9.1 mile one-way trip (mostly on highway 101) and took me all of 13 minutes.
by bicycle it was a 10.6 mile one-way trip (mostly on bike paths and back roads) and took me 46 minutes.
Adjusting for the mileage difference, the bike ride was almost exactly three times less efficient in getting me from point A to point B. But it's probably more accurate to just say the bicycle was three times more time consuming.
Examining the bike's efficiency (in isolation) is problematic. One can argue that all the time and energy spent riding the bike should count against the car. If one expands the boundary conditions of this hypothetical efficiency equation, you realize my bicycle riding was only necessary because of the needed automotive repairs!
However, in the process of bicycling this route twice in one week, I enjoyed myself quite a bit, got some needed post-work exercise, and became more acquainted with Marin bike paths and the new bicycle and pedestrian tunnel that opened last year, connecting Larkspur and San Rafael.
So what now? Do I register this joy and satisfaction on the bike's or the automobile's side of the ledger?
Now I'm really confused.
Anyhow, the picture above is in Mill Valley. Gotta love the classic VW bus.
The Central Park Effect.
This quote from the film (starting at 1:01 on the video clip below) addresses a frequent stereotype aimed at those who enjoy this pastime.
"There's really no way to look cool. You've got your binoculars up. You're looking at something that nobody else is looking at. And everyone else is looking at you and thinking, you know, 'what a dweeb'."
The Big Year. It got poor reviews, but I really loved it. (I hear most real birders hated it).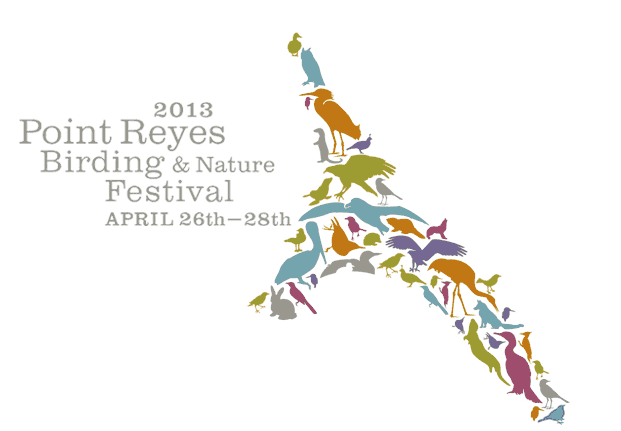 The 4th annual Pt. Reyes Birding and Nature Festival is going on this weekend.
As a novice birder, I settled on a beginner's 3-hour bird walk through the meadows and forests near the Pt. Reyes visitor center off of Bear Valley Road. Rich Cimino, with 45-years of birding experience, lead the walk. (Rich also runs a company, Yellowbilled Birding, specializing in small group, birding trips, in the western US.)
The most exciting sightings for me were the Purple Finch and Winter Wren. The latter has one of the most complex songs of any bird (listen on this page). The Winter Wren can be quite elusive and difficult to spot. Rich said it takes some California birders many years before they see one!
Here's my list of the birds I spotted:
California Quail
Turkey Vulture
Red-tailed Hawk
Nuttall's Woodpecker
Great Horned Owl (heard, not seen)
Stellar's Jay
Western Scrub Jay
American Crow
Common Raven
Winter Wren
American Robin
Wilson's Warbler (heard, not seen)
The previous day's schedule had a workshop called Birding by Bike at Bolinas. Here's an excerpt from the on-line class description.
Whether you are a beginning birder or have been at it for decades, bicycling adds a whole new dimension to the pursuit and study of birds…Bolinas has a rich diversity of habitats and there is no better way to experience those qualities than by bicycle. As we move through the landscape we will be birding by ear, listening for the voices of returning migrant breeding and resident species alike…With so many habitats all mashed together, participants will take advantage of the opportunity to visit at least seven distinct habitat types and learn a bit about the plant communities therein. Being the height of spring, bird birdsong and bird detectability will be at their peak. As it happens, bird diversity is also at its spring peak during this period. The group will make frequent stops on our "migration" to search out as many species as possible.
I'm not completely on-board with mixing these two activities. I feel the same about SUP yoga — each one (yoga and stand-up paddle-boarding) already seems whole and complete on its own.  Combining the two risks lessening the other, don't you think?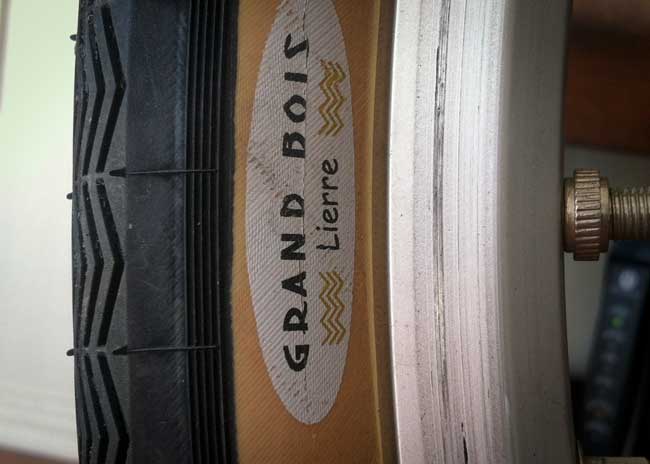 I finally upgraded my tires from the Panaracer Col de la Vie to these: the Grand Bois Lierre.
You may not think 2mm makes much of a difference, but on my first ride the 38mm-wide Lierre felt much cushier and seemed to move more effortlessly over broken, chipped pavement than my old 36mm-wide Col de la Vie tires did.
So if you have 650B-sized wheels — this upgrade is a no-brainer.
Of course, if my bike could fit them, I would love to be riding the even cushier (but still fast) 42mm-wide Grand Bois Hetre. The brownish-red tread is very cool (downright sexy some would say — if it's possible for a bicycle tire to be sexy.)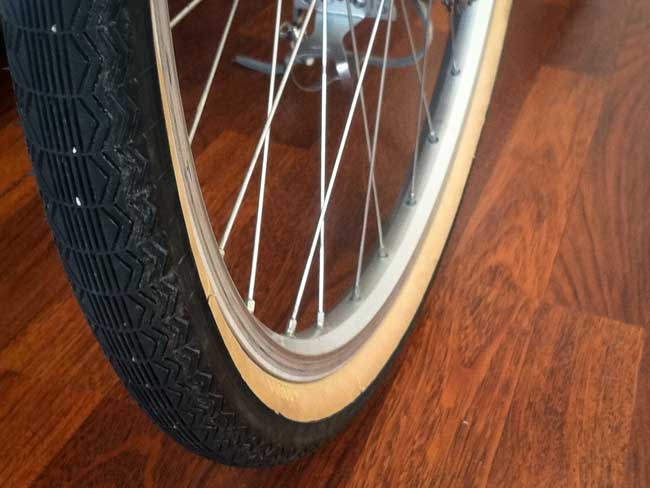 Here's one more image taken by Rodeo Lagoon. This was my first time riding on a new set of Grand Bois tires (I'll write more about these tires later).
On a side note: I'm so grateful to be living in a place as beautiful as the Bay Area. I hope I don't ever take living here for granted.
In light of yesterday's post, here's some calla lilies (Zantedeschia aethiopica) that I photographed several weeks ago growing along Highway 1 in Marshall, CA.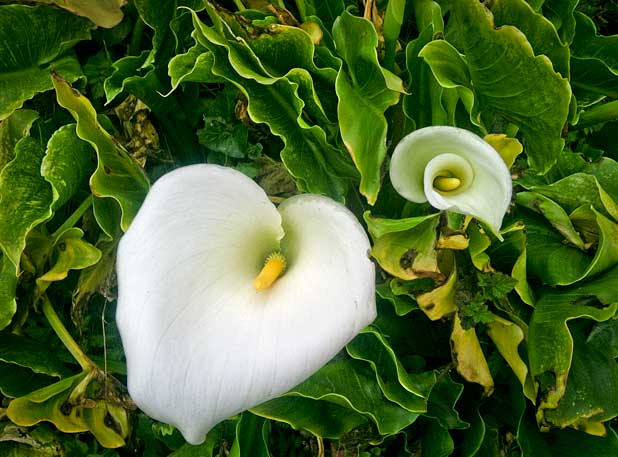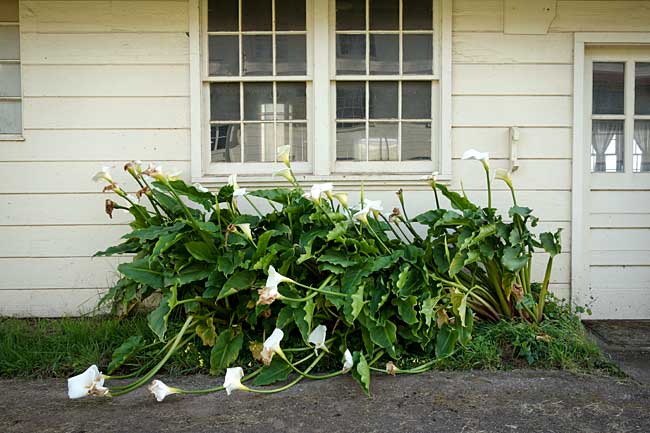 I find the calla lily (Zantedeschia aethiopica) a very elegant and photogenic specimen. They're native to southern Africa, but have made their way around the world to places such as California and Australia. Australia classifies them as pests and toxic weeds. Hey Australia, that's no way to treat a visitor!
This bunch of lilies is growing against one of the old, military buildings in Fort Baker. (Note the red-roof: it's a signature architectural feature of the structures inside this park).
Sometimes when you're exploring by bicycle you discover little things you never noticed before. On Saturday, I discovered this section of the Coastal Trail.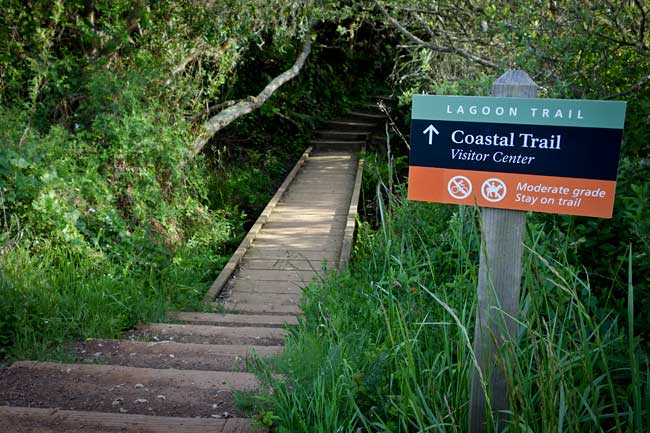 The wind settled down for my ride home, but approaching Rodeo Beach it was gusty!
This body of water is Rodeo Lagoon and on the other side of that massive sand bar is the Pacific Ocean. For the most part, the two bodies remain separate. But on occasion (usually in winter) tidal storm surges let in ocean water, which keeps the lagoon rather brackish.
This "lake" is a productive ecosystem that supports endangered species like the brown pelican and a family of river otters that feed on them!
Check out this graphic that details: How otters take down pelicans.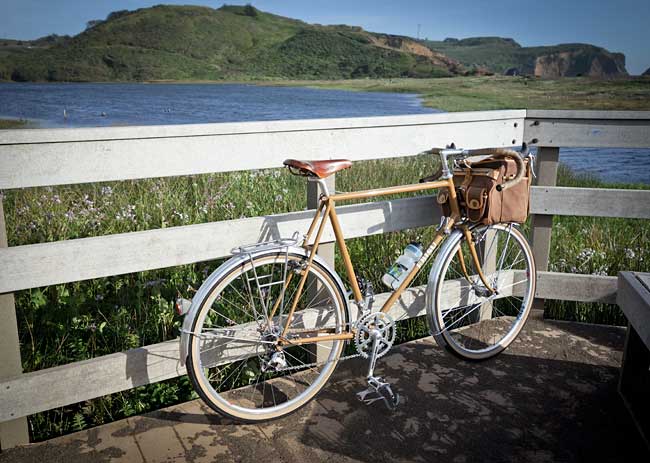 Is it sacrilege (or fickleness) to doubt my relationship toward my two primary bicycles: the Guerciotti and the Ebisu because each has something the other lacks?
I made some tweaks to my Guerciotti's set-up about seven years ago and ever since I've been pretending it's a randonneuring-style bike and the truth is it's really not. The Guerciotti is a racing bike with classic Italian geometry. It doesn't hold a front handlebar bag that well and although I've shoe-horned 28-29mm wide Grand Bois tires onto it, the bike's narrow clearances will not except fenders.
The bottom line: it's fast and really fun to ride, although a bit twitchy like an Alfa Romeo.
But most importantly the bike's super light tubing allows it to "plane" — an elusive (some say phantom) sensation whereby the frame's flexibility works in a sort of mysterious, mechanical harmony with the rider. Jan Heine, the publisher of Bicycle Quarterly, coined the term "planing" as it pertains to bicycle performance and has written about these subjects extensively.
My Ebisu, on the other hand, was purposely built to carry a loaded handlebar bag (it can even be set up with front panniers for a short tour) along with wide tires (up to 38mm wide) and fenders. But if I'm honest, the Ebisu is not quite as responsive and fun as my Italian racing bike. Continuing the car analogy, if the Guerciotti is an Alfa, the Ebisu is a Subaru Forrester.
So what are the underlying causes of these differences? I've pinpointed two:
Responsive shifts: the 9-speed cassette on the Ebisu makes manual friction shifting a fine, delicate operation. On the other hand, the Guerciotti drivetrain is based around a more direct, positive feeling, 6-speed freewheel. The difference is significant.
Planing: my Ebisu frame feels stiffer than the Guerciottti and it does not noticeably plane while riding. Understandably so. The Ebisu was constructed by master builder Hiroshi Iimura as more of an all-around bike capable of mid-to-light weight touring. But I do miss the feeling of riding my racing bike when I ride something else. The joy of pedaling hard and covering varied terrain is related — at least for me — to the stiffness of a bicycle's frame.
It took time, but I discovered my preference for a more flexible frame through trial and error after pedaling different kinds of frames many miles over northern California's hilly roads (and from reading Jan Heine's articles in Bicycle Quarterly).
My Ebisu is perfectly designed for its purpose and performs more the way I like when it's carrying extra weight. It seems that the additional weight (since I'm only 150-55 lbs.) causes the Ebisu frame to flex more than normal thus making the frame more responsive and lively when fully-loaded (as opposed to when it is ridden un-loaded).
Where does this leave me?
It means I need to find a bike close in design to the Ebisu, but with light, flexible, tubing like the Guerciotti. The only question is whether to base it around a 700cc 32mm tire or the highly-reviewed 650B 42mm Hetre tire?
Below are some images of bikes and makers which include the option of using super lightweight tubing in their designs.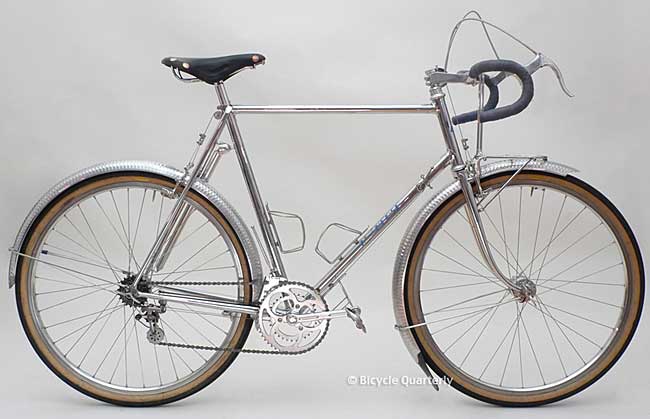 Jan Heine's custom Rene Herse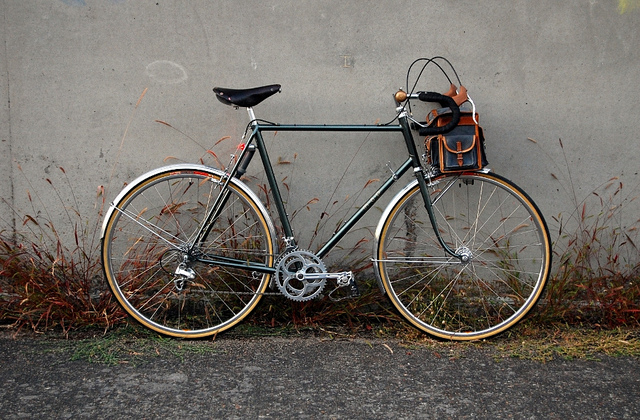 MAP bicycle in 700cc wheel size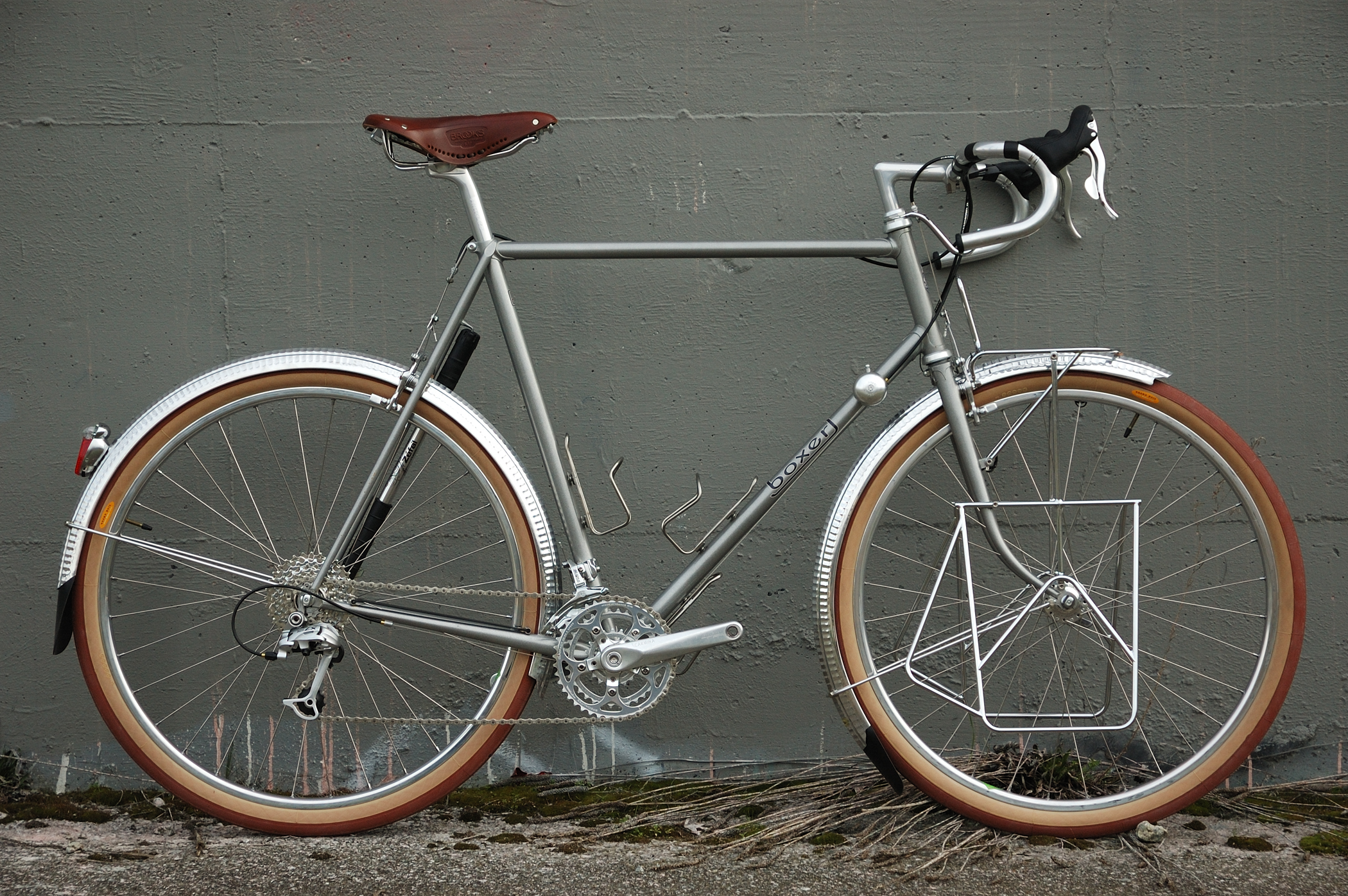 Boxer Bicycles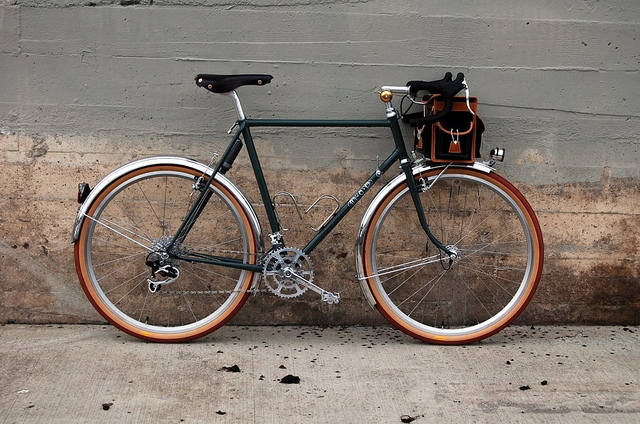 MAP bicycle in 650B wheel size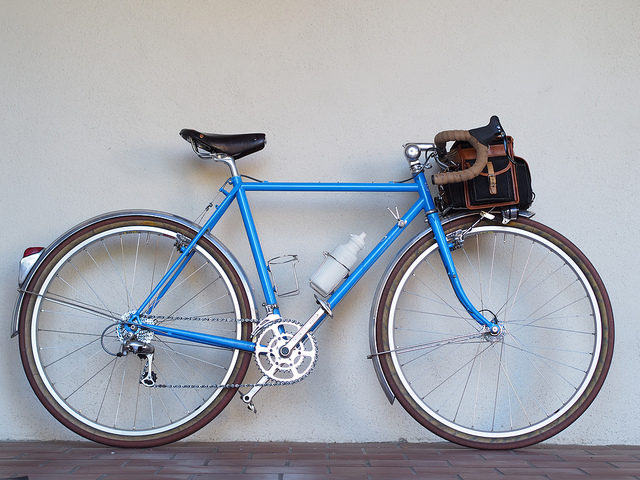 Box Dog's Pelican (a local Bay Area company).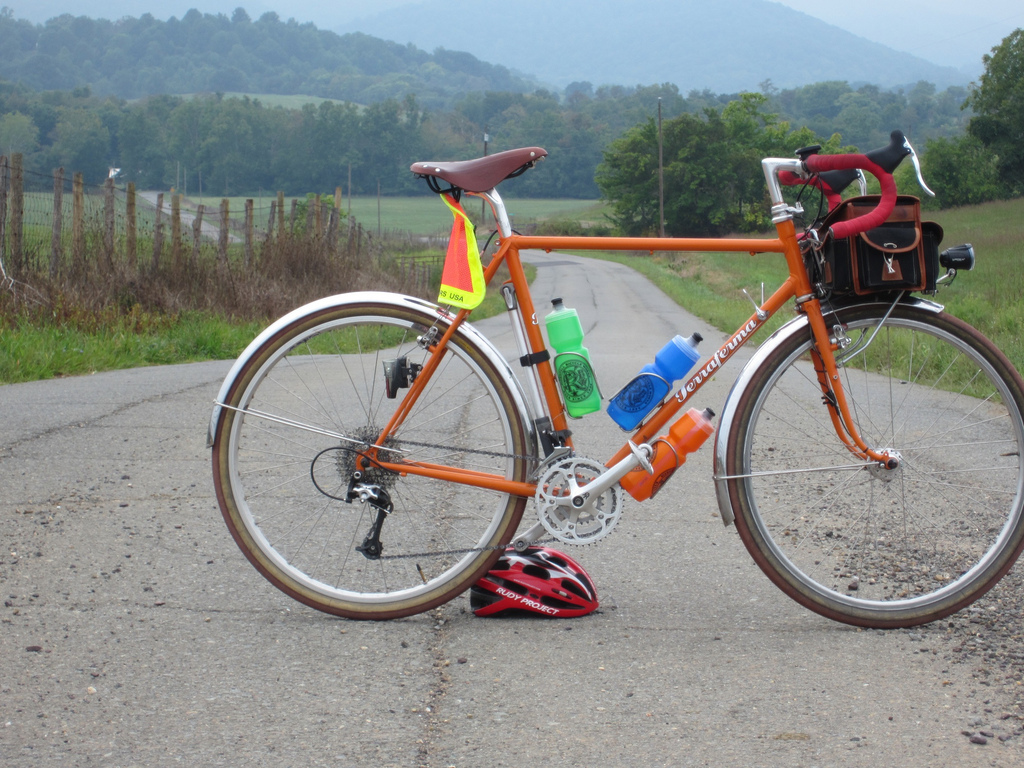 Terraferma Cycles (courtesy chasingmailboxes)
This little sandy beach is within easy walking distance from my place in Sausalito.
Here you can rent SUPs (i.e. stand-up paddle boards) or a sea kayak or just kick-back on the sand. La Garage the french bistro is nearby too.
That's appropriate because this view — with the sunshine and yachts — made me think of Marseilles or Saint Tropez; Jean-Luc Goddard; and French Ye-ye music such as this song by Francoise Hardy (which was prominently featured in Wes Anderson's film Moonrise Kingdom).