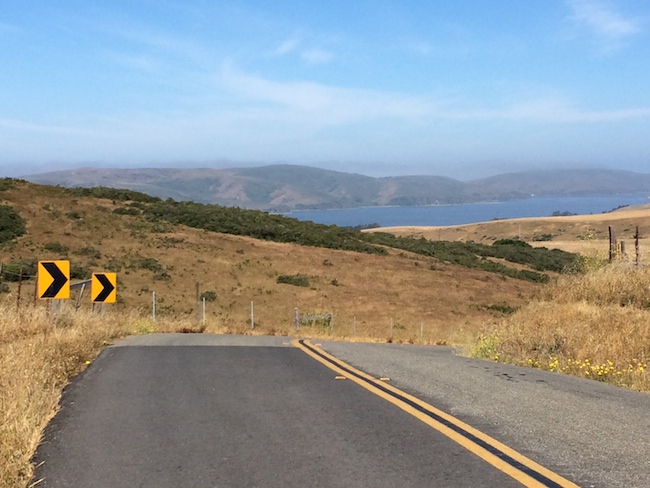 Show on map
Staying out in Marshall, CA for a few nights afforded me the opportunity to try an epic Marin loop ride with two notorious hill climbs — the Marshall Wall and Wilson's Hill. I really didn't know what to expect; I don't have many miles in the saddle this summer.
Here's my impressionistic account of this classic 36-mile Marin ride:
Gear, clothing, and food: wool knickers, merino wool t-shirt, wool ankle socks, bata bikers, TA handlebar bag, basic tool kit, spare tire, single water bottle, small bag of trail mix, one apple, two sticks of string cheese.
Miles 0-3, Marshall Petaluma Rd. heading east: What am I doing? I'm not ready for this. The climb starts so quick! Where's the friggin' bike shoulder? Some rancher in a pick-up truck is going to plow into me from behind on a blind curve. Wait a minute, I actually feel good. There's no one out here but me! I'm standing up on the pedals. I feel strong. F**k yeah. Take that Marshall Wall. Boom! 750 feet of climbing in 3 miles. This ride is going to be a breeze!
Mile 4-10, Descending the Marshall Wall and beyond: A super steep 2-mile descent on pot-holed roads. Should be interesting. Wait! My guardian angel whispered something into my ear. Stop the bike. Check the brake and front tire. What? The front brake was disengaged! The front wheel's quick release skewer was not set! Holy sh*t that was close. One bump and off comes the front wheel going 30 mph on a steep descent. Thank you Guradian Angel. Thank you! 
Mile 11-13, Wilson's Hill: Ok the second big climb of the day. I'm sure glad all this climbing is early in the ride. Wow that looks steep. I'm talking SF real estate prices steep. 10% grade at the top. Alpe d'Huez averages only 8.1. But Ok, this is going fine. Going good. Real good! No, it's actually going quite badly now. This is very, very bad.  How is it even physically possible for my tire to adhere to the road at this angle? Why is the asphalt not rolling off the road's sub-surface and piling in a clump at the bottom of the hill? Why is darkness closing in around me? Who needs food, shelter, love?  Hierarchy of needs dammit! All I need is to get to the top of this darn hill. 
Mile 14-22, Chileno Valley Rd: How I love thee, Chileno Valley Road. Almost no cars. Perfect weather. No wind. Flat or very gently rolling roads. Scenery. Oh the scenery. A hidden gem of a bicycling road!
Mile 23-31, Tomales-Petaluma Rd: Did I make a wrong turn? Why am I going north? I'm getting tired. The wind seems to be picking up. That's a mighty strong headwind. Hmmm. I hope it's not much further.  I'm not really hungry, but 'eat before you're hungry, drink before you're thirsty,' is the bicyclist's motto. I'll eat half a stick of string cheese. Oh my god, this headwind is brutal.  It's some kind of pacific ocean el nino tornado vortex. Why is CNN not covering this? Anderson? Anderson? Am I hallucinating or am I really in my 42×28 hill climbing gear riding on a flat road? I'm really sad now. Maintaining radio silence. Energy levels dropping.
Mile 32-36, Shoreline Highway, Hwy 1:  Food! I have food! Glorious food. No time to stop and eat. Just eat from the handlebar bag like it's a trough. One hand on the bars, the other hand feeds the mouth. Bag of nuts. Done. Remaining string cheese. Done. Apple. Done. No! Not more rolling hills. Good god, these are steep. I thought this stretch was supposed to be flat. These are huge rollers. Up 150 feet. Down 150 feet. Rinse. Repeat. Legs burning. Yikes. Please be the last hill. Yes! Close to home. That's Hog Island up ahead! Tomales Bay swim, hot tub, fresh oysters, and local ground-beef grilled hamburgers await!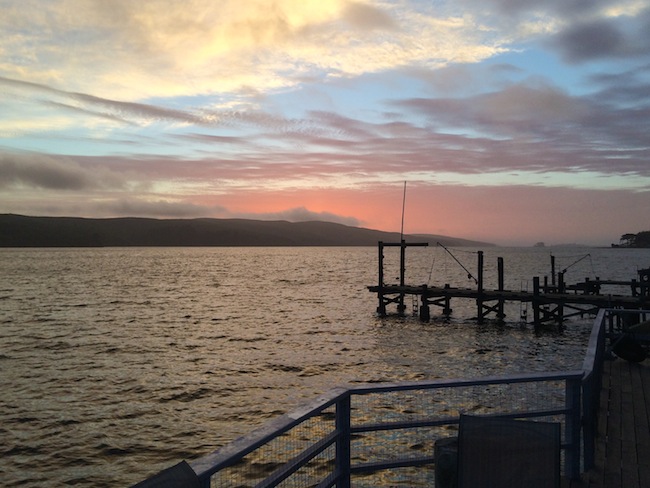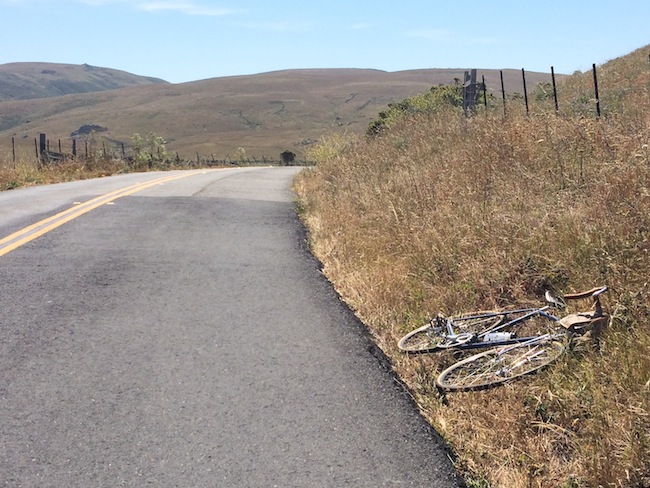 2 Responses to 'On the Road……Marshall Wall–Tomales Bay Loop'
Leave a Reply