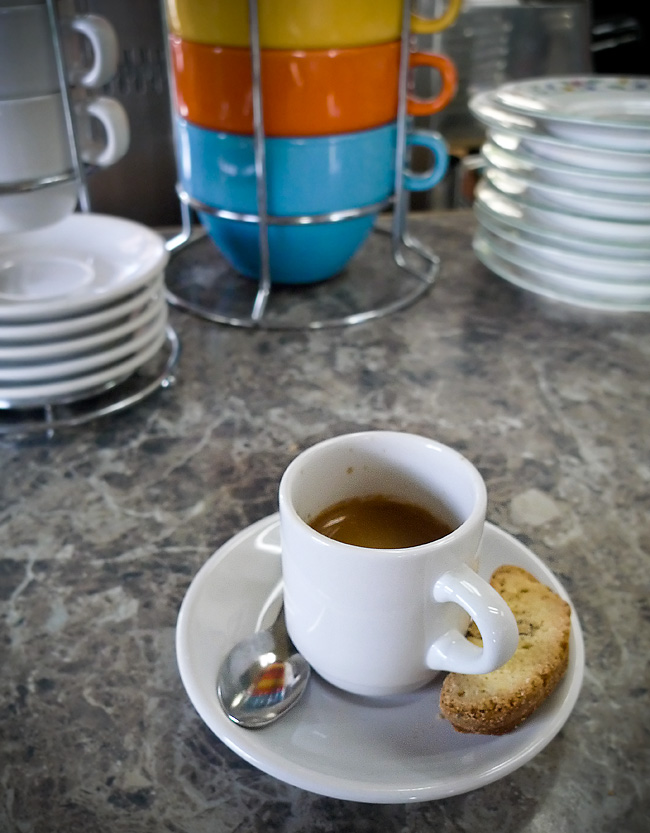 Formerly known as Shaky Grounds, this cafe has a new name so I decided to stop in for a visit. The place is now run by espresso drinkers (and World Cup futbol fans) so I immediately took a liking to the atmosphere.
Mojay's Cafe is on the 4th St. bike route so it's a convenient place to stop if you're riding east-west through San Rafael. The menu seems to have a little bit of everything, including Italian Panini. The tenant next door also happens to be a bike shop: Summit Bicycles.
Okay, okay, so how's the espresso experience you ask? Well, I give it very high marks:
The presentation is excellent: my espresso was served in an elegant and appropriately sized cup and saucer. On my first visit, the espresso even came with a mini-biscotti and a small spoon (all without having to ask). This was a nice touch and shows a better understanding of espresso culture than one normally finds around here.
The 100% organic espresso tasted just right and had very good crema.
Fresh drinking water is available from a self serve station and Wi-Fi is free.
Now, we'll see if Mojay's can deliver all this consistently. If so, I may have found my new favorite espresso stop.
2 Responses to 'Espresso Review……Mojay's Cafe, San Rafael'
Leave a Reply