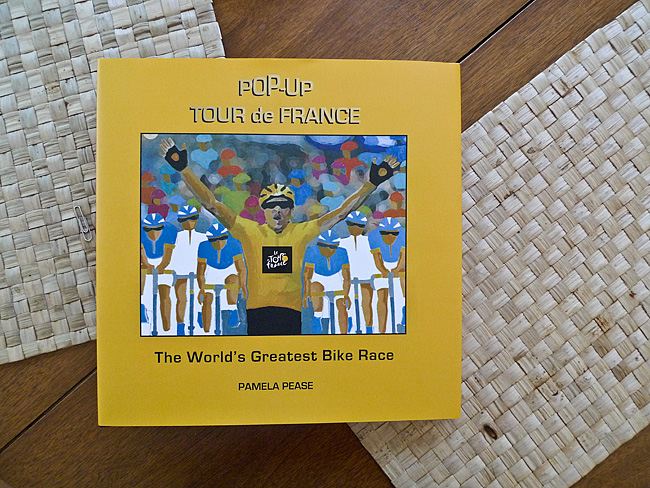 With the Tour de France underway, I'm rising early to catch the end of each day's stage. The race seems wide open this year, although defending Champion from Spain, Alberto Contador, looks well-positioned with the important mountain stages coming up.
Anyhow, I recently came across this book (actually, the publisher sent it to me to review). It's quite charming. I really like the glossary which includes some phrases that were new to me (e.g. lanterne rouge or red lantern refers to the rider who finishes in last place for the whole race).
I also really like the complete list of Tour winners going back to 1903 with the teams and countries they raced for juxtaposed to a pop-up map of central Paris with the Champs-Elysees, Place de la Concorde, and Rue de Rivoli all on display.
The text also includes insights like these:
More than any other sport the Tour de France has its own culture. In the midst of fierce competition, the Tour follows some unofficial rules of etiquette that are not found in other sports. For instance:

If a rider loses time because of a fall or collision, it is unacceptable for other cyclists to use that misfortune to gain an advantage for themselves.
Attacking during a meal break is taboo.
If the race passes through a riser's home village, as a sign of respect he is permitted to ride ahead to greet family and friends.

In celebration of Bastille Day…it is considered polite to allow a French rider to win the stage — as long as it does not affect the overall outcome of the race.
Leave a Reply