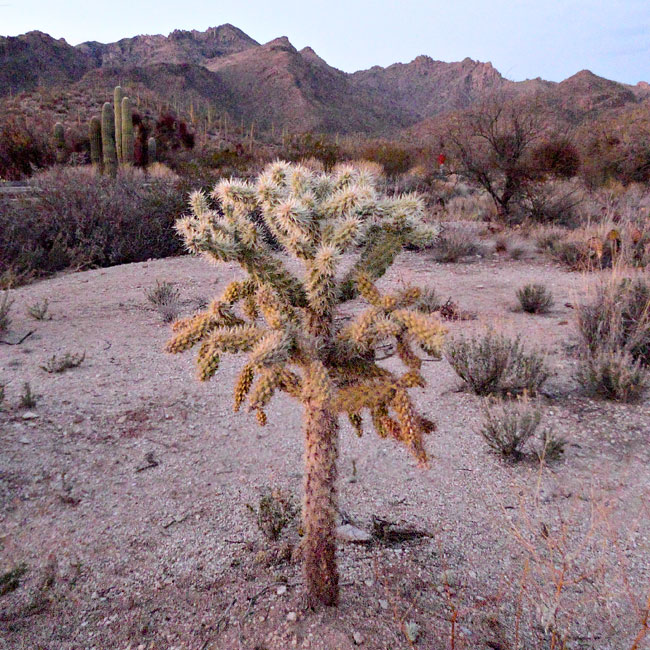 Show on map
I'm still getting settled here in Tucson, but I'm making an effort to sustain my 11-mile, round trip, bicycle commute to work (at least before the temperatures reach the triple digits).
Tucson's beautiful Sabino Canyon is open to bicyclists after 5:00pm, which is where this image was made.
The subject seen here is my current favorite cactus: the Opuntia bigelovii or Teddy Bear Cholla.
Nathan
Featured Comment by Laura: "It looks like it was a hard dry winter for that area, so not much of a spring bloom.  It's one of the great joys of the desert to see it in bloom, so if you're there next year I hope it's a good one! This site is useful for checking out what's happening with the fleurs. http://www.desertusa.com/wildflo/wildupdates.html (lots of ads, but the info is good.) I have indeed removed teddy bear cactus spines with pliers. Not from my own calf, I'm happy to say–it weren't pretty."
Nathan replies: What a great website. It confirmed the two other blooming plants I've been seeing around Tucson. One is the Hedgehog (Echinocereus) and the other is the Ocotillo (Fouquieria splendens), which is my new, new favorite cactus — but it turns out it is not actually a cactus! (P.S. Laura is a talented botanist pursuing her PhD in Ecology and Evolutionary Biology at Brown University. I always appreciate her comments when I attempt to write about the plant kingdom).

4 Responses to 'On the Road……The Teddy Bear Chollo of Sabino Canyon'
Leave a Reply