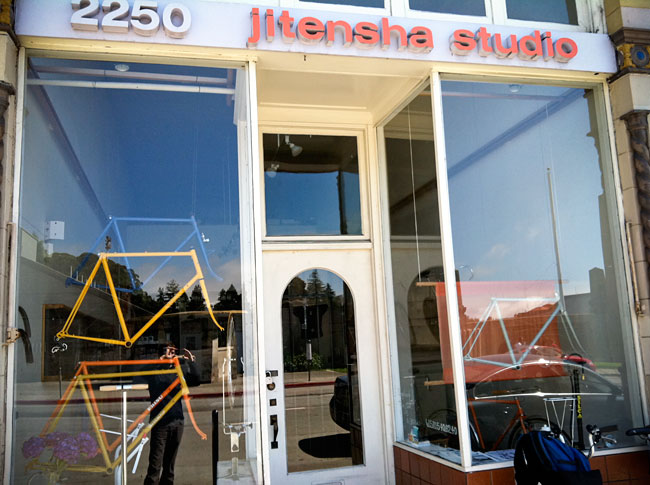 Jitensha Studio projects a humble store front, yet inside Hiroshi Iimura — a modern bicycle constructeur — creates some of the most beautiful, functional, and harmoniously integrated bicycles I've ever seen.
A constructeur (as opposed to a framebuilder) assumes a holistic approach to bicycle creation. The constructeur integrates lighting, fenders, racks, and pannier bags; and, simultaneously, balances the bicycle's intended use with its frame geometry, tire size, clearances, and a myriad of other choices, e.g., stem length, handlebar width, chain ring sizes, saddle and peddle type, etc., etc.
The most famous constructeurs of the 20th century were Rene Herse and Alex Singer, both from France. Hiroshi Iimura reflects this tradition.
I love this quote from Hiroshi published in a 2006 New York Times profile: "If a customer wants a component that is not to my taste, I refuse…I have to satisfy my own tastes first."
Unfortunately, Hiroshi's shop was closed the afternoon I was in Berkeley so I missed the chance to say hello. Although, I suspect he gets tired of people dropping by to say hello since he always seems to have a bicycle project or three in the works.

Show on map
[Full disclosure: I own one of Hiroshi"s production Ebisu 650B models]
Leave a Reply