Winter in southern Arizona this is not.
This is Copenhagen, Denmark. A city where bicycling is just another way for everyone — young and old; fashionable and unfashionable; working class and upper-class — to get from here to there whatever the weather is like outside.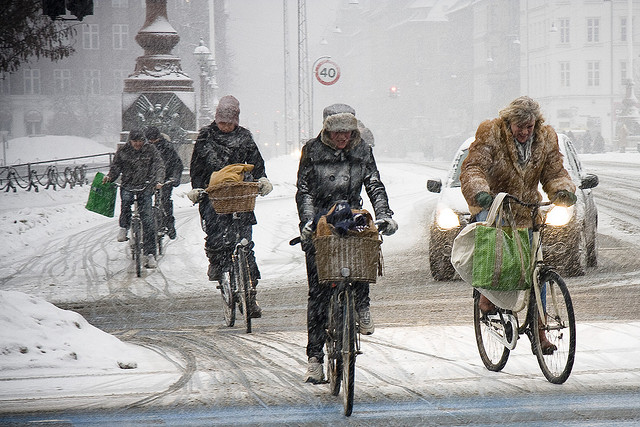 The photo is from an article at Copenhagenzine.com reflecting on the foolishness of overly specialized bicycling subcultures (in this case, enthusiasts proclaiming the imperative for high-tech winter cycling gear). It reads, in part:
"When sub-cultural groups start trying to indoctrinate and convert the public, it rarely ever succeeds. For the better part of a century, people all over the planet rode bicycles because they were quick, easy, convenient and enjoyable. In hilly cities. In hot cities. In snowy cities.

After the bicycle largely disappeared from the urban landscape because urban planning started revolving around the car and the automobile industry began their dreadfully effective marketing after the Second World War, many regions in the world have been left suffering in a bicycle vacuum.

The result is that an entire generation has been given the impression that cycling is something that a few people do for sport or recreation and not much else…"
The point is if you live in a cold climate, you probably already have all the clothes you need (in your normal wardrobe) to bicycle in cold weather.
Does the same principle apply to our hot (very hot!) AZ summers?
Nathan
Leave a Reply