I spent most of the long holiday weekend in bike-friendly Fairfax (with my mother, brother, nephews and my brother's extended family). Taking advantage of one splendid sunny day, I went for a short ride up into the surrounding hills — the same hills where legend has it the "mountain bike" was invented.
Make of this account what you will:
'Twas the day before Christmas, when all thro' the land,
not a storm cloud was in sight, not even in San Fran.

I set out on my ride with an Italian holiday treat;
'tis called Panettone, 'tis all I had with me to eat.

'Twas packed with a thermos filled with hot tea;
but where to stop and enjoy I must wait and see.

My handlebar bag deftly handled the load,
as I pedaled my way up Bolinas-Fairfax Rd.


The summit was sunny, 'twas a true joy to be there;
yet riding down 'twas cold, so I descended with care.


Then who should I see — why it happened so quick.
But if I'm not mistaken it was good ol' St. Nick!


I heard him exclaim, as his lugged, steel-framed bike disappeared out of sight —
Merry Christmas to all, and to all a good night!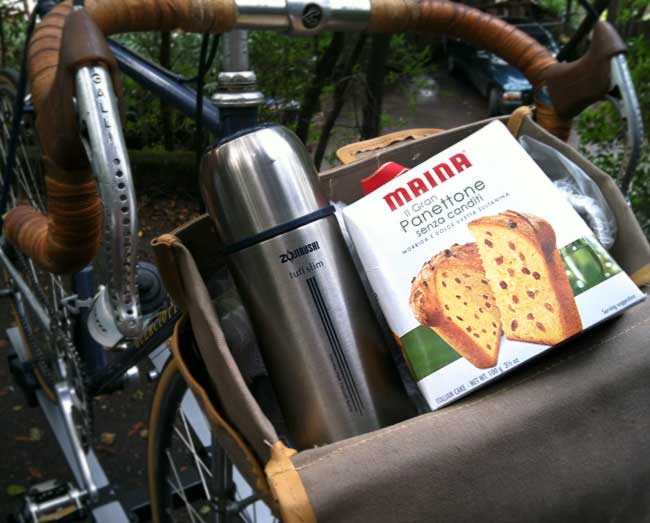 And one of the creation legends surrounding Panettone, according to Wikipedia:
"…a 15th-century legend from Milan gives the invention to the nobleman falconer Ughetto Atellani, who loved Adalgisa, the daughter of a poor baker named Toni. To help her, the nobleman disguised himself as a baker and invented a rich cake to which he added flour and yeast, butter, eggs, dried raisins, and candied lemon and orange peel.


The duke of Milan, Luduvico il Moro Sforza (1452–1508), agreed to the marriage, which was held in the presence of Leonardo da Vinci, and encouraged the launch of the new cake-like bread: Pan de Toni (or Toni's cake)."
-Nathan

Leave a Reply