Archive for the 'Alta Planning + Design' tag
This bike share demo was my first experience with San Francisco's Sunday Streets. (Whereby I also discovered — and highly recommend — the mobile food cart, Chairman Bao.)
Closing down streets to auto traffic began with Bogota's Ciclovia. Here's some of the history from SF Sunday Street's website:
Ciclovía, literally "bike path" in Spanish, is a ground-breaking event that started in Bogotá, Colombia. This weekly event draws more than 1.5 million people to walk, bike, skate and enjoy more than 70 miles of streets opened to people – and closed to automobile traffic – every week.

Nearly 20% of this city's population turns out every Sunday and holiday to participate in the 7 am to 2 pm event, which includes unparalleled free recreation and social opportunities, including dance and yoga lessons in the city's streets and local parks.

"A quality city is not one that has great roads but one where a child can safely go anywhere on a bicycle." Enrique Peñalosa, Former Mayor of Bogotá, Colombia.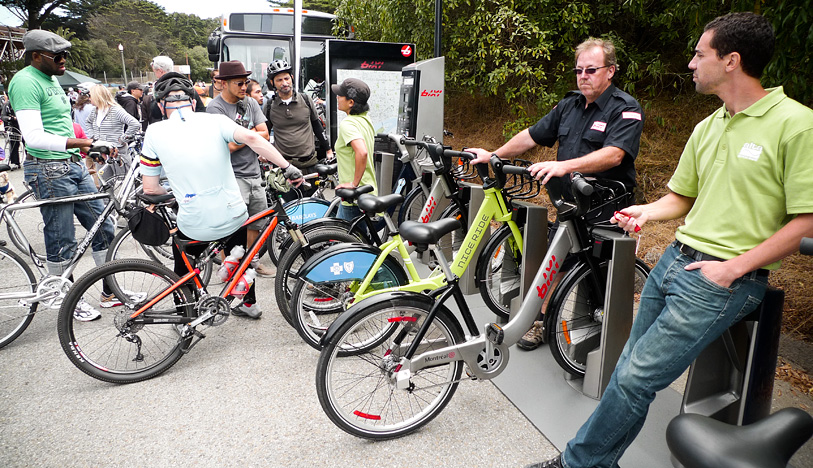 John (navy-blue uniform and shades) is the Bixi installation wizard from Montreal.  Brodie (light green shirt on the right) manages operations for Alta Bike Share. Sylvia (cap and light green shirt) was, like me, helping out for the day with public information and outreach.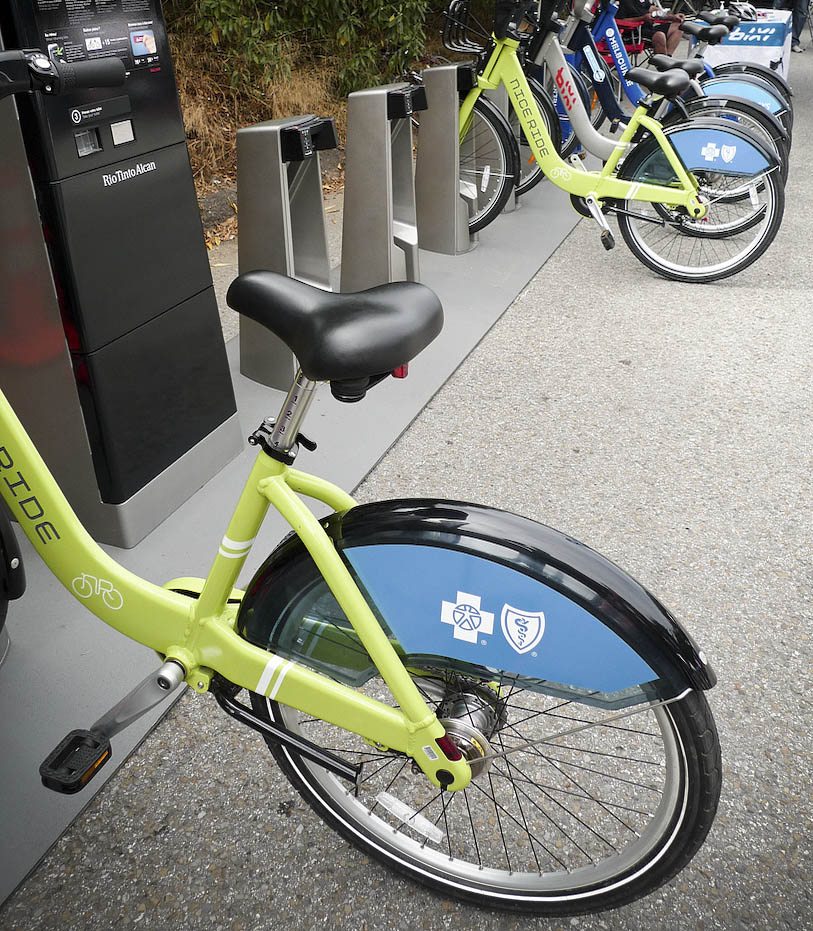 The bikes themselves have lots of useful features: built-in generator hubs to power front and rear lights; internal frame-routed cables; height adjustable seats (yet non-removeable, and thus theft-proof); chain and skirt guards; three-speed internal gear-hubs; and, a front basket-like purse/brief case carrier with bungee cord.

Show on map
The company I'm working with this summer, Alta Planning + Design, is deeply involved as a consultant in a $25 million federal pilot project to test the effectiveness of using federal funds to increase the modal share of bicycling and walking. The mechanism to accomplish these goals is infrastructure improvements and public education.
So I spent a day at the Marin County Fair sharing information about the program with fair goers.
Here's a link to a comprehensive list of bicycle projects underway in Marin and, just for fun, here's a few comparative statistics (from Alliance for Walking and Biking):
The Netherlands invests about $39/resident on bicycling and walking compared to $1.50/resident for the U.S.
Their share of bicycling trips is 27%; ours is 1%.