Archive for the 'B&W' tag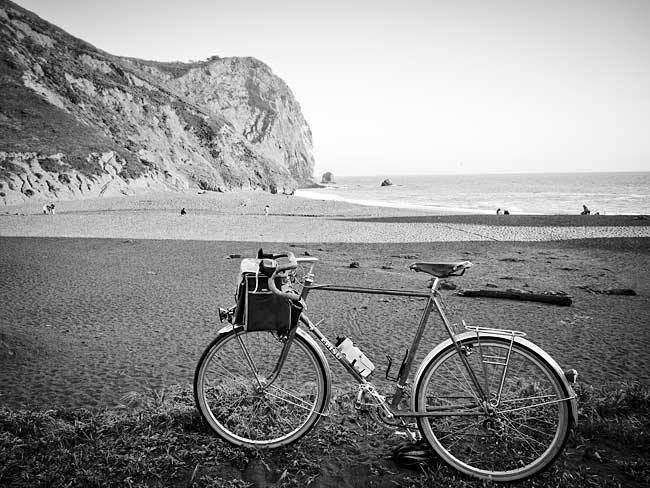 Show on map
In the dream,

we till the loamy soil

and work the byways and flyways

of pacific salmon

and monarch butterflies.

Days flow like cycling migration patterns of hummingbirds and

humpback whales.

— nourished by seal pup carrion and wildflowers.

Lew is right. There is no place else to go,

but remember that rascal Chuang Tzu.

Waking up he says,

"Maybe my life is only a butterfly's dream."
-Nathan, May 9, 2013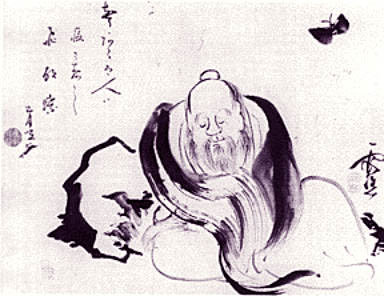 As a follow-up to the previous post, here's one final traditional B&W darkroom variation called a duotone (For an in-depth, but slightly outdated photoshop tutorial and explanation of dutones see this article on the Luminous Landscape website.)
The highlights (i.e. the brightest areas of the tonal range) receive the sepia tint and the shadows (the darkest areas) receive the blue tint.
Actually, this may be my favorite version so far.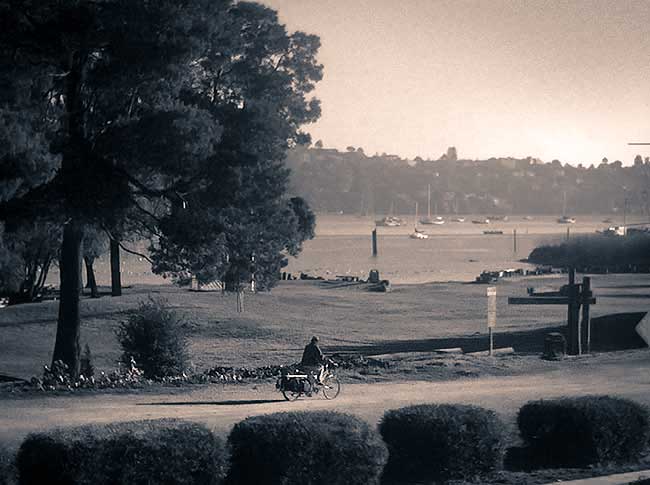 Happy MLK day!
Since today was a day off from work, I spent a leisurely morning luxuriating over breakfast and a cup of PJ Tips tea.
Here's the idyllic view — from this morning — from my apartment's dining nook.
I thought I'd use the image to demonstrate different types of traditional black and white tinting techniques — techniques that are now regularly applied digitally, but which photographers originated in old fashioned, physical darkrooms.
For example, here it is as a neutral, black and white image: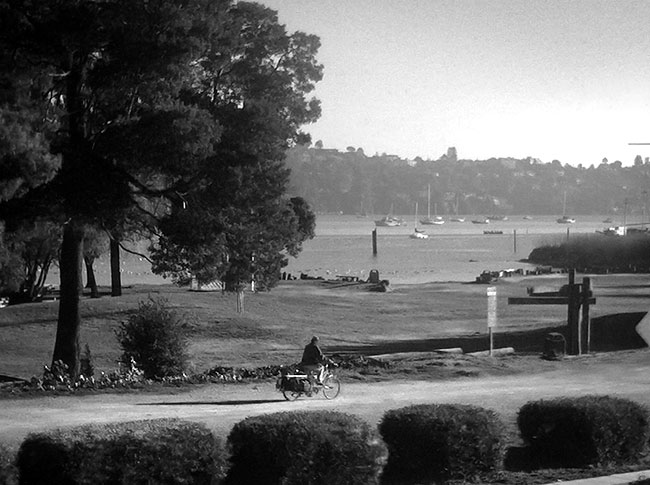 Here it is as a warm sepia-toned image: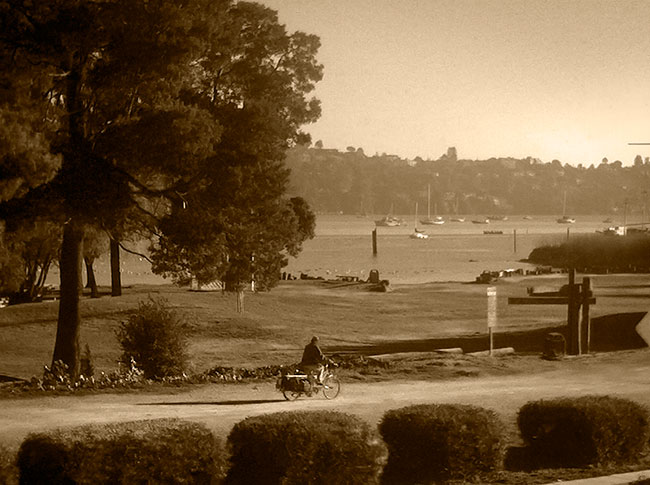 Here it is as a cool blue-toned image: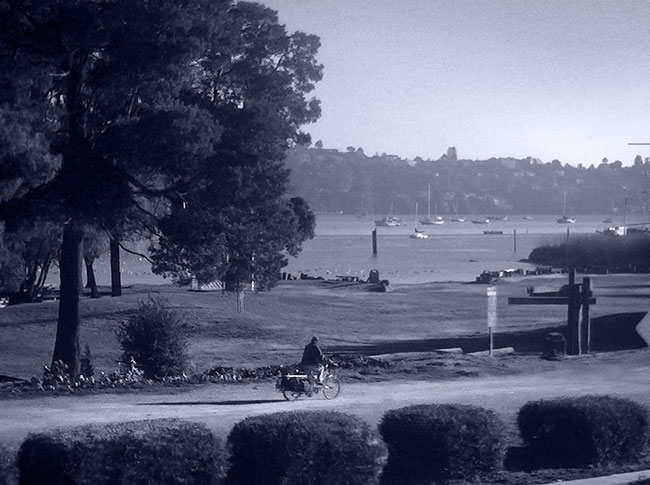 Click this link to view the original image in color.
-Nathan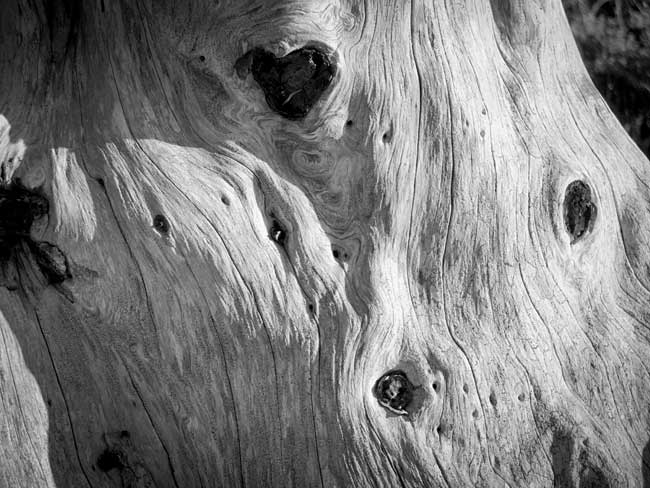 I think this was once a Monterey Cyprus (Cupressus macrocarpa). It's located near Battery Wallace, a former armed outpost (from 1918 to 1948) meant to defend SF bay from marauding seafaring types.
Since my previous post highlighted this marsh, I thought I'd share a B&W image made with an old Fuji S2 digital camera. The view is from deep in the marsh looking west toward Mt. Tam across tussocks of Pampas Grass (Cortaderia selloana). Over the course of a couple weeks, I made a series of images in this area last spring. This was one of my favorites.
I wanted to give credit to the photographer; but, try as I did, I couldn't track down the individual's name.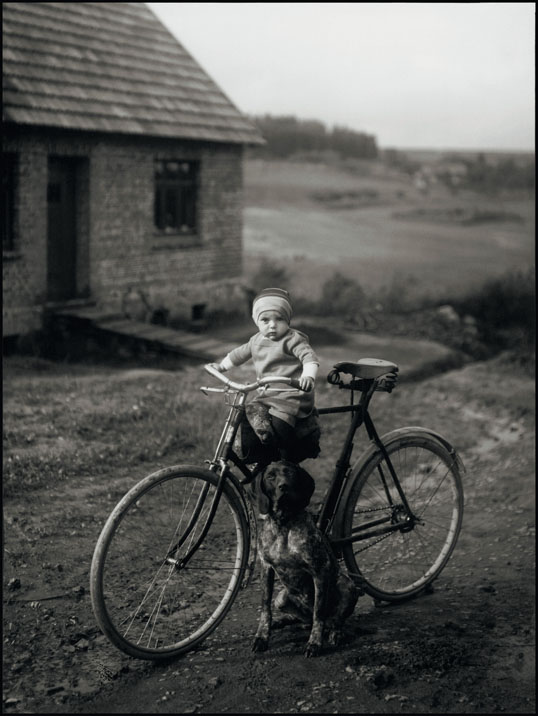 Show on map
August Sander, Forester's Child, Westerwald, 1931. Gelatin silver print, 10-3/16 x 7-1/2 inches. Copyright © SK-Stiftung Kultur – August Sander Archiv VG-Bild Kunst, Bonn.  Deborah Bell Photographs
August Sander is one of the most esteemed portrait photographers the medium has produced. I did not know of this image, however, until discovering it in the current issue of The New Yorker magazine.
The geo-link below the photo is only accurate at the level of the town (it would be interesting to track down the exact location).
Since I've already digressed so greatly from the Angel Island ride report and photos I keep wanting to post, I may as well list some other (mostly contemporary) photographers that interest me (in no particular order):
And then there's my current favorite photographer, Laura Mcphee.
This past Friday I intended to ride to Alpine Lake and back, one of the top 10 short bicycle rides known to humankind IMHO.
But I got distracted by all the wildflowers and only made it to the top of Azalea Hill.
Last time up here I made this photo. I thought I'd share an alternative version highlighting my flashy yellow wind breaker.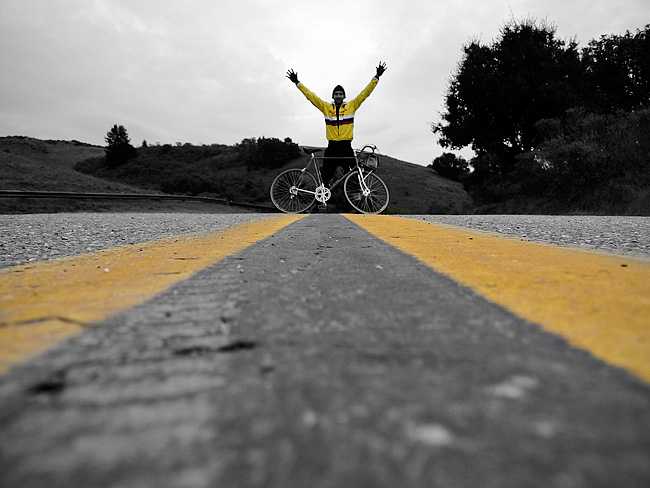 And here's a clumsy attempt to make another 10-second timed exposure at the nearby trail head. (The ground is super saturated and muddy. I had trouble getting set before the shutter released.)

Show on map

Show on map
There's a lot of cloud cover, but the East Bay is just visible on the far horizon. Mt. Tamalpais is the third peak from the right with Bon Tempe Lake right below.
(I combined five images to capture the whole panorama. Here's my favorite example of this technique: Nicasio reservoir.)
The making of this photo:  (1) place camera directly on road (2) set the 10 second timer (3) grab bike (4) run into the frame and hope to hit a good mark to optimize composition and hope for no cars (5) wait for shutter to fire — still hoping for no cars to come up from behind (6) get the camera and myself off the road as quickly as possible.
I tried this twice (this was the first). It worked just as I had hoped!

Show on map
This is an important spot  — the intersection of Bolinas-Fairfax and Pine Mountain (fire) roads. Mountain bikers and hikers will often drive here to start at the trail head; road bicyclists will often rest and take water here.
By all means, make the short 10 minute hike from this pass to the top of Azalea Hill (EL 1,217′). You'll be rewarded with a 360 degree vista including a great view of Mt. Tamalpais and Bon Tempe lake and sight lines extending across the bay to the Campanile on the UC Berkeley campus and continuing on to Mt. Diablo.