Archive for the 'dahon' tag
I narrowed it down to two folding bikes. What follows is a mini-review.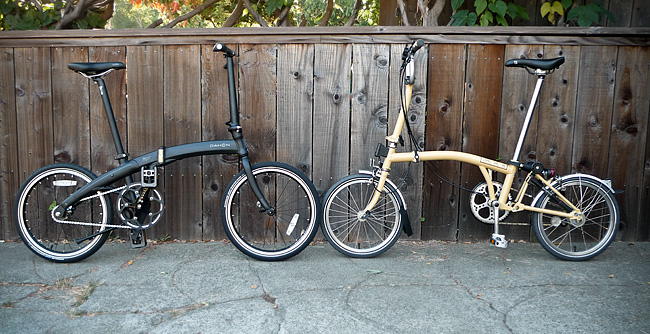 What I like about the Dahon Mu Uno (left):
styling/build: not flashy; matte black finish; 20-inch tires; double kick-stand; ruggedly constructed.
simplicity: no derailer or brake cables to worry about and a near perfect 62″ single gear.
ride: stable handling; more like a full-size bike when compared to the Brompton.
racks: none supplied, but accepts klickfix accessories.
And the drawbacks:
more conspicuous than the Brompton when folded and not as compact;
not designed to fold with attached fenders and racks;
while ruggedly built, it's doesn't wreak of craftsmanship like the Brompton (i.e. it feels more mass produced).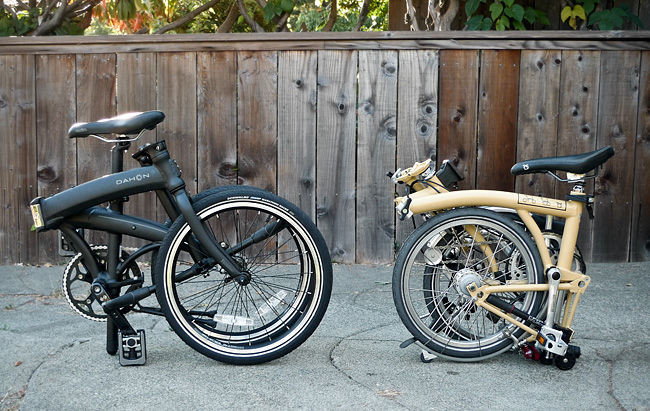 What I like about the Brompton (right):
quality engineering: extreme attention to quality and workmanship.
folding design: ingeniously compact; easier to take on airlines/buses/metros; and a design that incorporates fenders and a rear rack!
versatility: 3-speed internal gear hub with a perfectly spaced 48″, 64″, and 85″ set of gears; fenders and racks included on most models.
The drawbacks:
price (more than double that of the Mu Uno);
a few extra parts and a more complicated drivetrain make it feel more fragile than the Mu Uno with the potential for more maintenance and repairs;
rides less like a full-size bike compared to the Mu Uno (probably due to the smaller 16″ wheels); however, in normal use, you adjust quickly to the differences.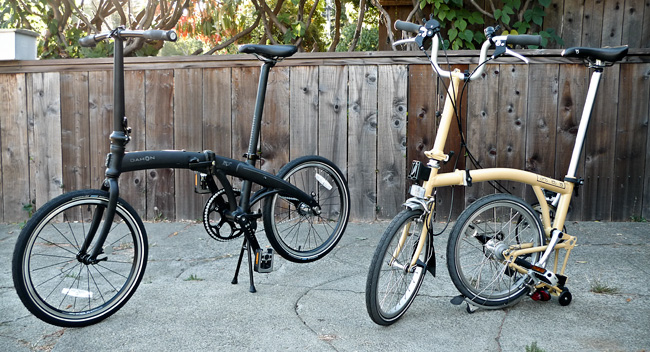 Conclusion: These are both appealing bikes.  If I just needed a simple and robust city bike for basic transportation in a relatively flat urban environment — the Mu Uno would be perfect.
I would think nothing of tossing around the Mu Uno or leaving it chained to a parking meter, but I would think twice about doing this with the Brompton (in this regard the Brompton's elegant craftsmanship is a bit of a mixed blessing, as it is with all fine bicycles).
In the end, the Brompton's versatile (yet still relatively simple) 3-speed gear range and ease of toting around (especially while fendered and on airlines) were the deciding factors for me.
For its first test, I brought the bike via airplane to Minneapolis in it's own suitcase. While it rained the whole time, the Brompton truly shined.
Since a trip to Seattle last fall, folding bikes have been on my radar. I made a silent vow that my next bike, whenever it comes, will fold-up for bus and ferry connections and general urban mobility.
This video got me excited about the Brompton:
Then I heard great things about the Bike Friday Tikit. And now, the latest bike on my radar is the Dahon Mu Uno. It's The Old Man and the Sea of folding bicycles — a minimalist masterpiece.  No gears. No cables. Back-pedal brakes.
I first read about it on design guru, Rob Forbes' site, Studio Forbes. Here's how to fold it: