Archive for the 'design' tag
Desire is too strong.
Three objects of admiration is maybe more accurate.
Really, this is just some cool stuff that caught my eye this week — stuff I'll probably never own — but stuff with clever design and craftsmanship that's fun to appreciate.
First of all a gorgeous bicycle rack and shelving unit made of natural wood and copper water piping:

See Method Studio for more details.
Next is the latest camera system from Leica — the T:


Leica prices are somewhat out of control. The cheapest lens for the new T system is the $1,800 18–56mm ƒ/3.5–5.6. See the dedicated Leica T site for more details.
Finally, a sleek, lightweight teardrop trailer with an expandable pop-top — the Alto R series: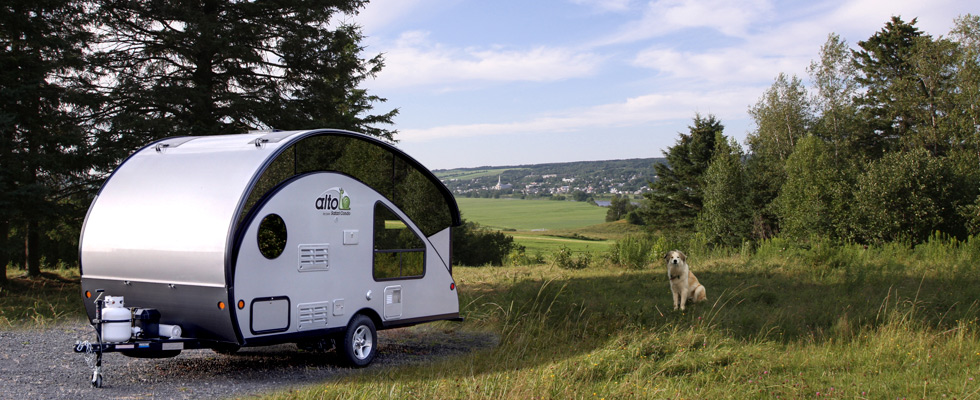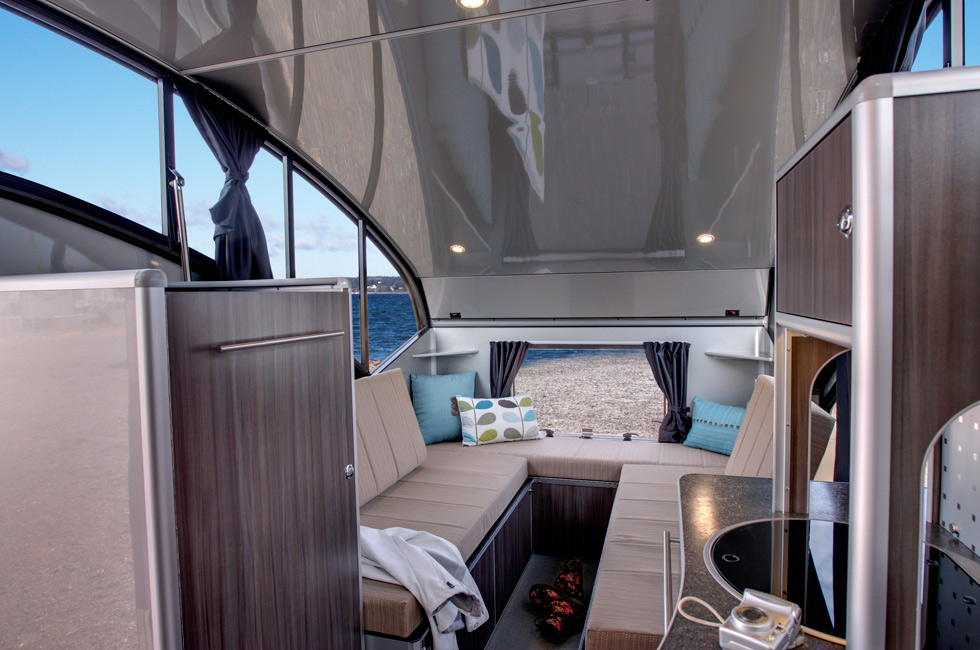 I'm not sure which is better this or the trailer designed by the NASA engineer I wrote about a few years ago. For more information about the Alto pop-top check out the manufacturer's website.
-Nathan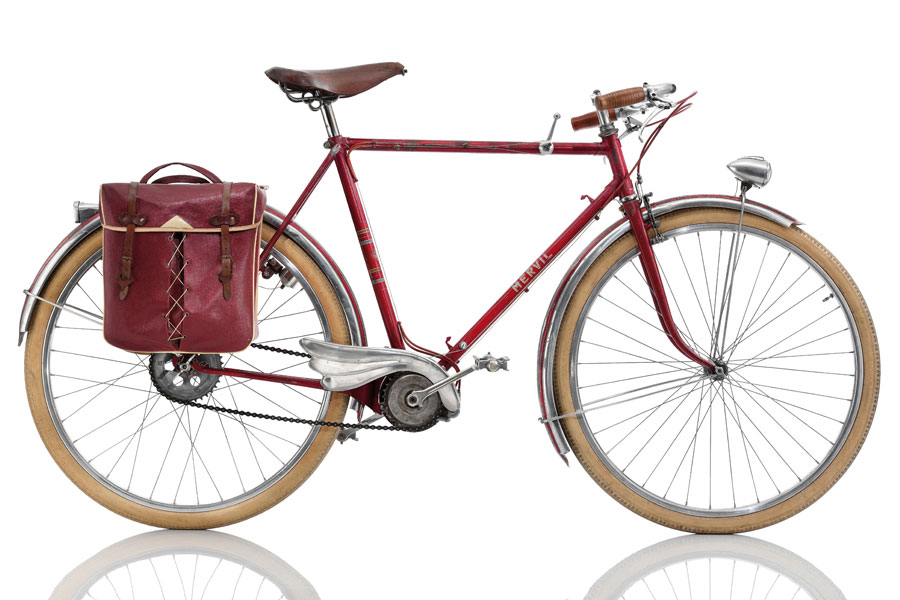 Michael Embacher is a passionate bicycle enthusiast and collector. He has a very slick website that showcases his collection. He also has a new book, Cyclepedia: a century of iconic bicycle design. Here's a blurb from the publisher, Chronicle Books:
An homage to the beauty of the bike, Cyclepedia showcases the innovations and legacies of bicycle design over the past century. Join longtime bike enthusiast and avid collector Michael Embacher for a tour of 100 bicycles, from the finest racing bikes and high-tech hybrids to the bizarrely specific (such as a bike designed to cycle on ice). Captivating photographs, detailed component lists, and anecdotal information illuminate the details that make each bicycle unique.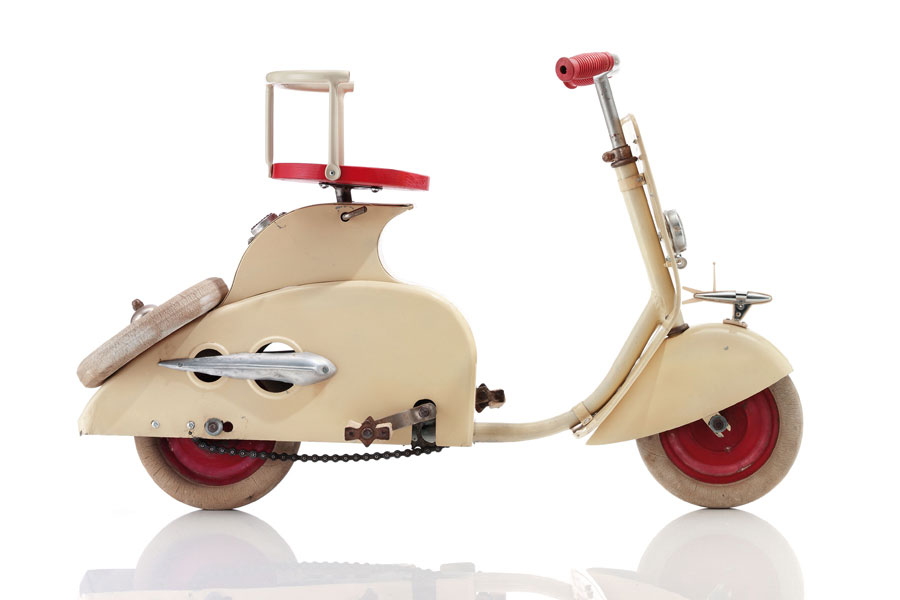 A brilliant concept: a bicycle disguised to look like a Vespa! This was produced by a French toy manufacturer (to capture the attention of children no doubt, but I'd buy one). See more details at the Embacher Collection.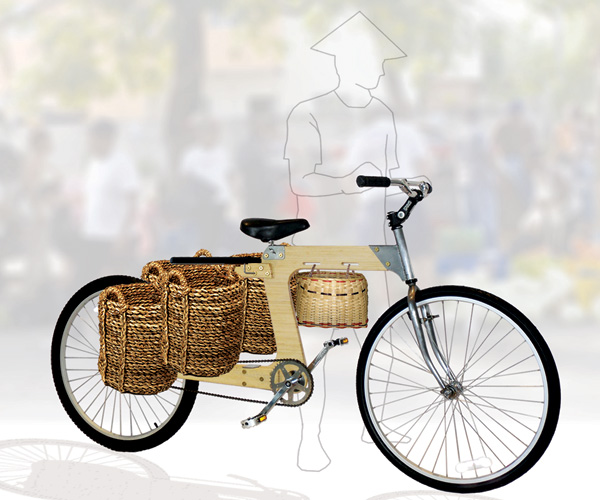 I discovered this project at the modern industrial design site, Yanko Design.
I can't speak to the practicality of doing away with the downtube — as far as riding stability and structural integrity are concerned — but this is a pretty cool concept.
The designer is Paulus Maringka, Auckland Institute of Technology. Read his academic abstract and/or download his entire 372 page trans-disciplinary design thesis or visit the Yanko Design site to see more pictures of the Greencycle.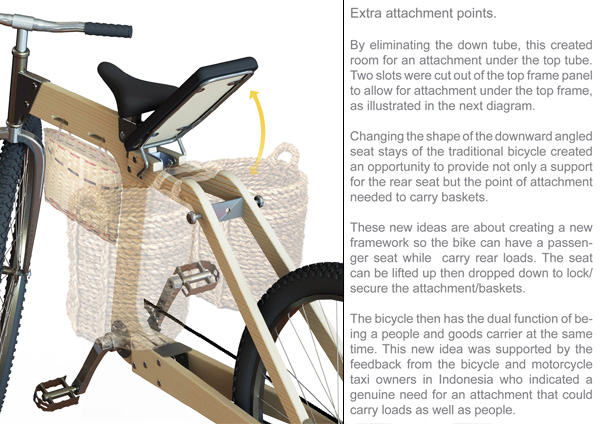 In the early evening, right before a rain, this small garden-park had a palpable feeling of serenity and harmony. Lingering here, I felt calm and more connected to nature — the plants, the stones, and the slight breeze.
Later, I associated this feeling with the Japanese concept of wabi-sabi and other aspects of Japanese garden design.
I'm sure Tucson is full of little parks like this; I just happened to stumble upon this one (which was completely empty for some reason).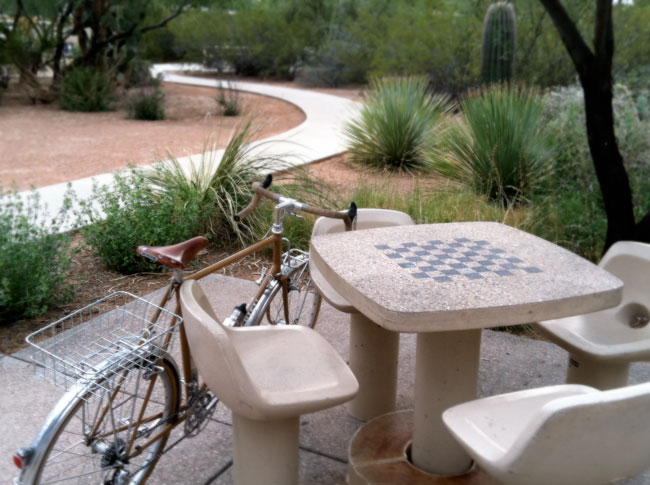 Love the outdoor chess board!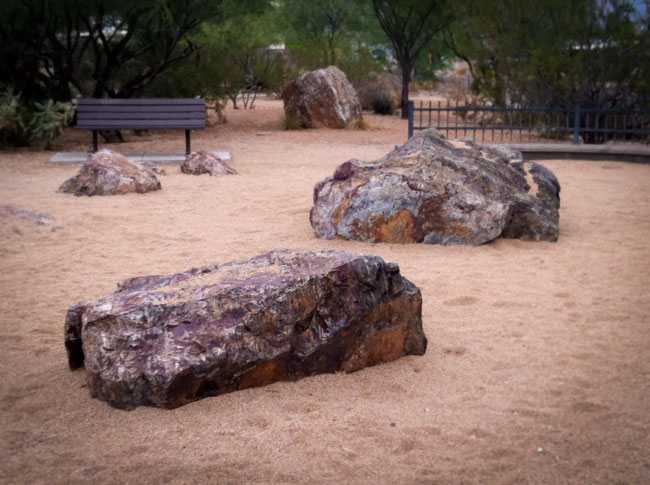 A zen rock garden — Tucson's own Ryoan-ji?
Many professionals would object to the word "zen" in describing a traditional Japanese dry rock garden.  The publisher of this delightful, bi-monthly journal is especially disdainful of the term.
Either way, the journal (I am a subscriber) is probably the best source of practical information on Japanese gardens and architecture around. Plus, it's very easy to read!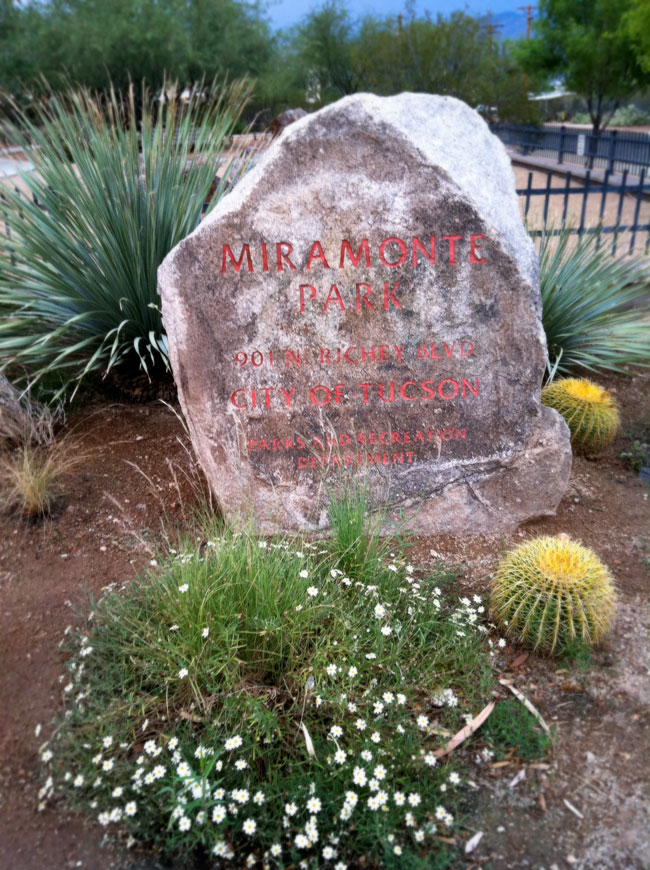 Let the wind speak. That is Paradise. — Ezra Pound, Canto CXX

Nathan
I want one of these Cricket Trailers, which are designed and built by an architect who worked on NASA's "habitation modules" — the small spaces where astronauts live!
Here's a stylish video with more interior shots of the Cricket, including views of the galley and the loo.
The photographer Alain Delorme has a wonderful series called Manufactured Totems, perhaps inspired by these images of overloaded Asian scooters.
His images remind me of the quirky Camper Bike.
I also posted my own contribution to this genre a while back.
Here are some notes about the Totem series as only a French Photography Historian could write them (the full test is available on Alain Delormes's website):
"The vertiginous height of the piles echoes the incessant expansion of the city itself. By updating the proposition of the Becher, Alain Delorme seems to create a parallel between these manufactured totems and the buildings in the background, which have become themselves contemporary sculptures. The urban space is permanently under construction, developing relentlessly. The skyscrapers invade the city and rise always higher, such as new totems, always more remarkable, always more impressing. Stratum by stratum, traditional China rubs shoulders with the contemporary industrial superpower. The race here is not only the one of the men in the city, but also the one of the city towards its future."
I recently discovered Brooklyn artist Kevin Cyr and his delightful Camper Bike.
From the artist's website:
Camper Bike, a functioning sculptural piece, built in April 2008. A stand alone piece and the subject of a series of paintings.
Here's what he said about the Camper Bike's origins in an article on a companion piece, Camper Kart.
"I was eating breakfast in a village outside Beijing when I suddenly had this bizarre feeling like I was camping," remembers Cyr. That feeling, combined with China's robust cycling culture, was the genesis for the creation of Cyr's first vehicle, "Camper Bike," in which he attached a fully functional 3-by-9-foot camper to a three-wheeled Chinese flatbed bike.
The iPad is here. What does this mean for bicyclists? Not much, actually. The image below is from a fake news story.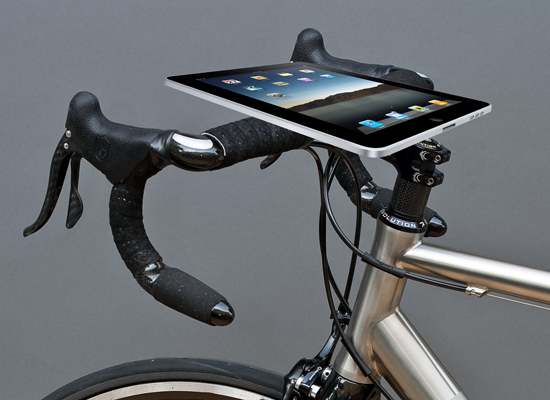 But here's a real iPhone app called Brakelights, which turns your iPhone into a rear light. Point the screen behind you (strapped to your backpack or saddlebag) and you're set. The app even knows when you stop moving and the screen then goes from solid to blinking red.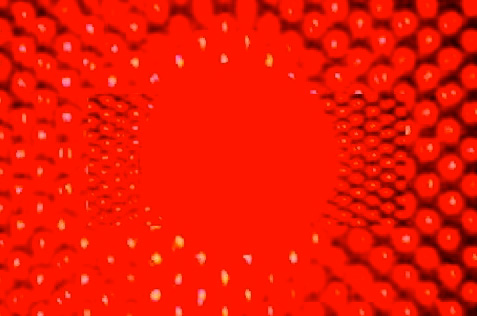 These bikes come from an urban design house in NYC — Areaware. The folding ifmode is quite elegant (and it's not a small-wheeler either; it's a full-sized bike). The Vanmoof uses solar energy for its lighting. As I said before: it truly is a golden age of cycling!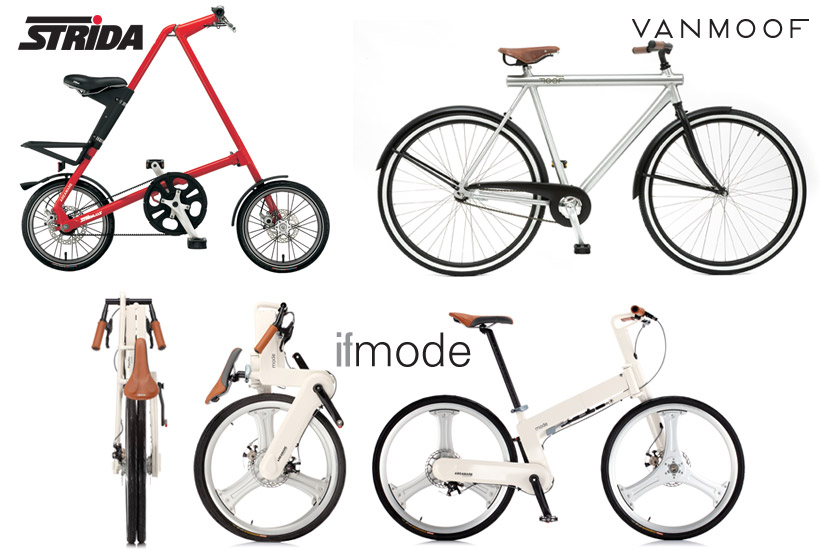 Since a trip to Seattle last fall, folding bikes have been on my radar. I made a silent vow that my next bike, whenever it comes, will fold-up for bus and ferry connections and general urban mobility.
This video got me excited about the Brompton:
Then I heard great things about the Bike Friday Tikit. And now, the latest bike on my radar is the Dahon Mu Uno. It's The Old Man and the Sea of folding bicycles — a minimalist masterpiece.  No gears. No cables. Back-pedal brakes.
I first read about it on design guru, Rob Forbes' site, Studio Forbes. Here's how to fold it:
The Dark Ages are behind us and a new Renaissance or Golden Age of cycling is clearly afoot.
The number of people making bike frames, trailers, and custom racks grows day by day. Bike kitchens and co-ops proliferate. Advocates and urban planners are winning battles for better infrastructure and bike sharing programs. Tire and parts manufacturers are reproducing (and improving upon) classic designs. Urban bicycling revolutionaries are re-imagining and reforming societal structures. A few great magazines and hundreds of inspiring blogs are fueling the interest and passion of all involved.
There's also a cambrian-like explosion occurring in bicycle morphology.  Not too long ago one's options for buying a new bicycle were limited to either a high-tech racing bike or a hardcore mountain bike — with little elegance or aesthetic appeal in either choice.
Now, there's still racing and mountain bikes, but there's also: touring, camping, and randonneuring bikes; city and porteur bikes; single speeds and fixies; utility and cargo bikes; commuting bikes; country bikes; and beach cruisers (what am I leaving out? Mixtes! and a huge selection of Folding bikes!). Then there's all the incredibly beautiful vintage bikes (like this mixte porteur) that live on and on.
It's truly a great time to be a cyclist!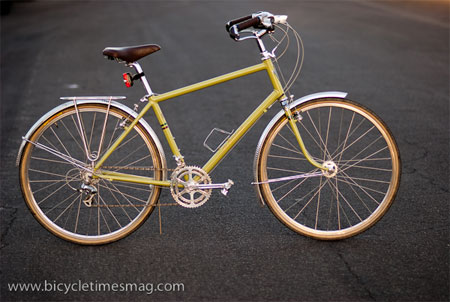 Electra's Ticino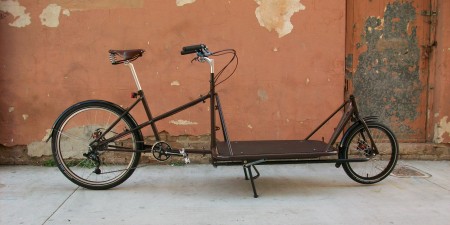 CETMA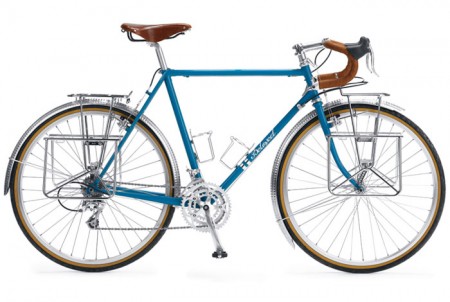 Beloved Cycles