Archive for the 'fauna' tag
The Central Park Effect.
This quote from the film (starting at 1:01 on the video clip below) addresses a frequent stereotype aimed at those who enjoy this pastime.
"There's really no way to look cool. You've got your binoculars up. You're looking at something that nobody else is looking at. And everyone else is looking at you and thinking, you know, 'what a dweeb'."
The Big Year. It got poor reviews, but I really loved it. (I hear most real birders hated it).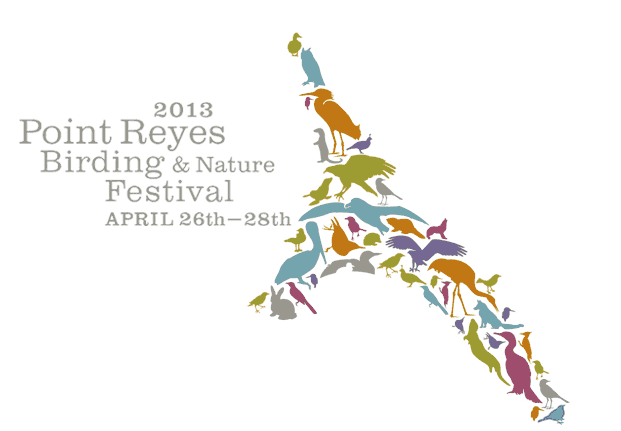 The 4th annual Pt. Reyes Birding and Nature Festival is going on this weekend.
As a novice birder, I settled on a beginner's 3-hour bird walk through the meadows and forests near the Pt. Reyes visitor center off of Bear Valley Road. Rich Cimino, with 45-years of birding experience, lead the walk. (Rich also runs a company, Yellowbilled Birding, specializing in small group, birding trips, in the western US.)
The most exciting sightings for me were the Purple Finch and Winter Wren. The latter has one of the most complex songs of any bird (listen on this page). The Winter Wren can be quite elusive and difficult to spot. Rich said it takes some California birders many years before they see one!
Here's my list of the birds I spotted:
California Quail
Turkey Vulture
Red-tailed Hawk
Nuttall's Woodpecker
Great Horned Owl (heard, not seen)
Stellar's Jay
Western Scrub Jay
American Crow
Common Raven
Winter Wren
American Robin
Wilson's Warbler (heard, not seen)
The previous day's schedule had a workshop called Birding by Bike at Bolinas. Here's an excerpt from the on-line class description.
Whether you are a beginning birder or have been at it for decades, bicycling adds a whole new dimension to the pursuit and study of birds…Bolinas has a rich diversity of habitats and there is no better way to experience those qualities than by bicycle. As we move through the landscape we will be birding by ear, listening for the voices of returning migrant breeding and resident species alike…With so many habitats all mashed together, participants will take advantage of the opportunity to visit at least seven distinct habitat types and learn a bit about the plant communities therein. Being the height of spring, bird birdsong and bird detectability will be at their peak. As it happens, bird diversity is also at its spring peak during this period. The group will make frequent stops on our "migration" to search out as many species as possible.
I'm not completely on-board with mixing these two activities. I feel the same about SUP yoga — each one (yoga and stand-up paddle-boarding) already seems whole and complete on its own.  Combining the two risks lessening the other, don't you think?
The wind settled down for my ride home, but approaching Rodeo Beach it was gusty!
This body of water is Rodeo Lagoon and on the other side of that massive sand bar is the Pacific Ocean. For the most part, the two bodies remain separate. But on occasion (usually in winter) tidal storm surges let in ocean water, which keeps the lagoon rather brackish.
This "lake" is a productive ecosystem that supports endangered species like the brown pelican and a family of river otters that feed on them!
Check out this graphic that details: How otters take down pelicans.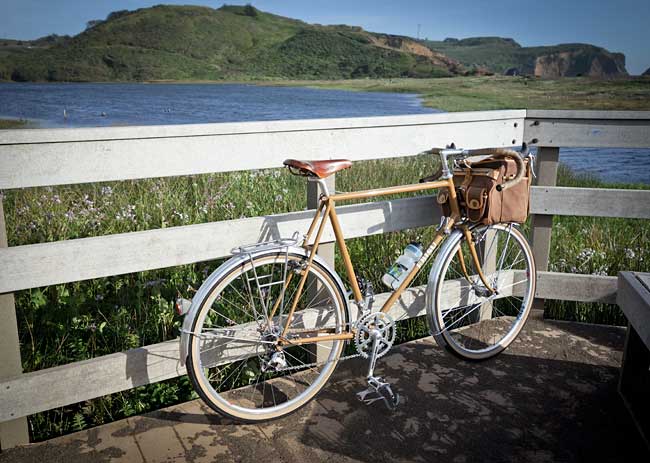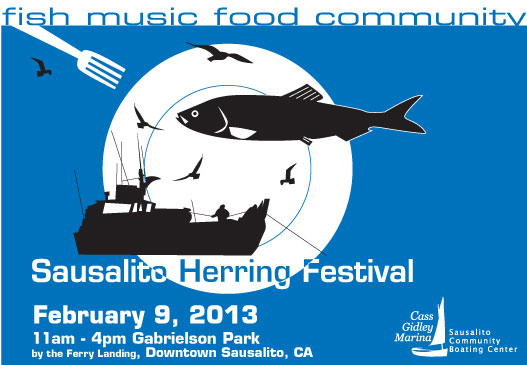 I rode my Brompton down the street to meet some friends at the 1st annual Herring Festival, but I couldn't believe they ran out of all their herring by 1pm!
I did manage to sample the grilled herring on a skewer and the pickled herring (I preferred the pickled herring).
One of my favorite places to eat in Sausalito, Fish, was on hand, as were others, to help raise funds for one of the town's community boating centers, Cass Gidley Marina.
During the afternoon, I also spoke with a CA fisheries biologist who filled me in on this local, commercial fishery — it seems we have at our doorstep a truly sustainable fishery.  The season started in January and is open through mid-March.  Last year's catch was more than 1,600 tons of fish.
Interestingly, the primary product is the herring roe, which is sold to the Japanese. In Japan, herring roe is called Kazunoko.
I was excited to learn all this because in recent weeks I've been seeing awesome displays of bird life (and a few sea otters looking fat and content) out in the harbor. I captured a bit of this spectacle in this photograph.
Now I know what all the fuss was about — the little Pacific herring (Clupea pallasii).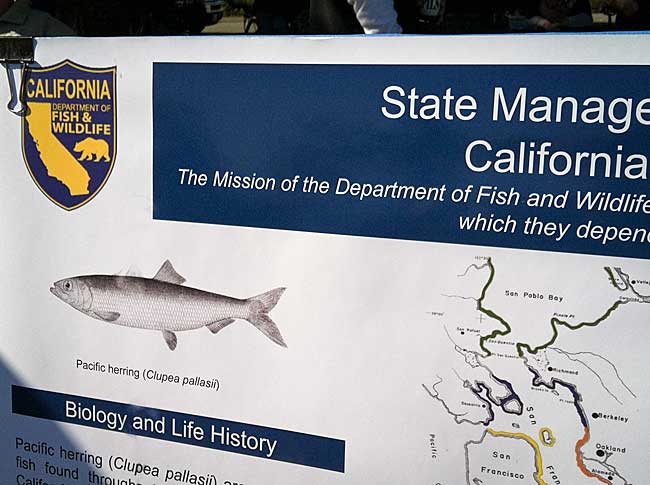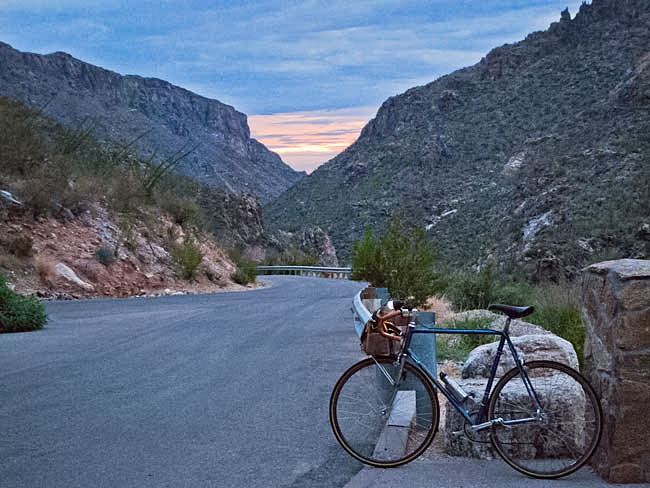 Show on map
This is the end of Sabino Canyon's paved road. Mosquito's are biting my forearms and shoulders. Twilight  is descending (note: for a twilight ride overlooking the Pacific Ocean see this post).
As I'm heading home, about halfway down the mountain, the light is 85 percent gone. Coasting slightly downhill at about 10-15 mph, I suddenly notice a shape in front of my wheel. Without thinking, I swerve. Actually, there wasn't enough time to swerve; rather it was just a quick flick of the wrist and handlebars — first right, then left.
I immediately look back over my left shoulder and see a snake falling to the ground, as if recoiling from a near vertical strike.
The part of my brain that processes information informs me that the sensation I felt against my leg a fraction of a second ago was the rattlesnake defending itself against what it perceived as a large, warm-blooded creature (that is, me) bearing down on it.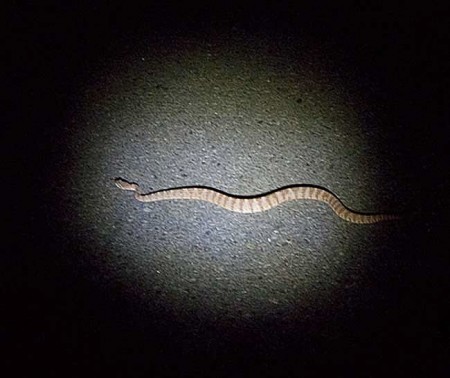 I stopped my bicycle; went back up the road 20 feet; directed my headlight to illuminate the scene; and snapped this picture!
The encounter reminded me of one of my favorite pieces of writing — Snaketime — an essay originally published in the WildEarth Journal by Charles Bowden (re-printed in this book, which as of August 2011 had copies available for $.01).
Here's an excerpt where Bowden suggests how a snake perceives the world:
For the snake a few things are obvious: I am large, and this is certain because of my footfall. She can hear the footfall of a mouse. I am rich in odor. She can pick up the faintest scents, identify them, and follow a single strand as clearly as if it were signage on an interstate highway system…And I am irrelevant unless I get too close. She will ignore me if I stay six feet away. She will ignore me if I become motionless for 180 seconds.

If I violate the rules of her culture, she will work through a sequence of four tactics. First, she will pretend to be invisible and hope I do not see her. If that fails, she will try to flee. If that fails, she will rattle in hope of frightening me away. And finally, if I am completely ignorant of simple courtesy and get within a foot or so of her, she will attack me…

She herself is cultured. In her lifetime, she will attack maybe twenty or thirty or forty times. She will never attack any member of her own species. She will never be cruel. She is incapable of evil.
–Charles Bowden, from the essay Snaketime
Nathan
I found this beautiful, nearly 6 inch long, praying mantis in a container plant on my back patio.
Since reading Laurens van der Post's A Mantis Carol, and learning the Bushmen of the Kalahari regard them as manifestations of God, I always approach these creatures with a special reverence. In the Islamic world, they are also important religious symbols. Plus, their subtle movements evoke meditation and mindfulness.
I like to think this little creature's visit was a reminder to have more subtle awareness of my life and to not get too caught up in the day's chaos.
What does this have to do with bicycling?
Well…for me riding a bike is good mindfulness practice: It helps me to regain peace of mind after a hard day and helps me to observe my everyday world with a somewhat greater sense of clarity.
For whatever reason, certain images never got posted during 2009. So this is some year-end housekeeping.
This shot is from the crest of the hill on Sir Francis Drake Blvd. just before descending into the town of Olema.
The turnaround point of my ride: the mouth of the Bolinas Lagoon.
(For a cool aerial perspective of this spot, click the geotag under the image then click the satellite map and zoom to taste!)
A pesky cyclotouriste with a camera (now at sea level having descending from Bolinas ridge) causes a Snowy Great Egret to make haste.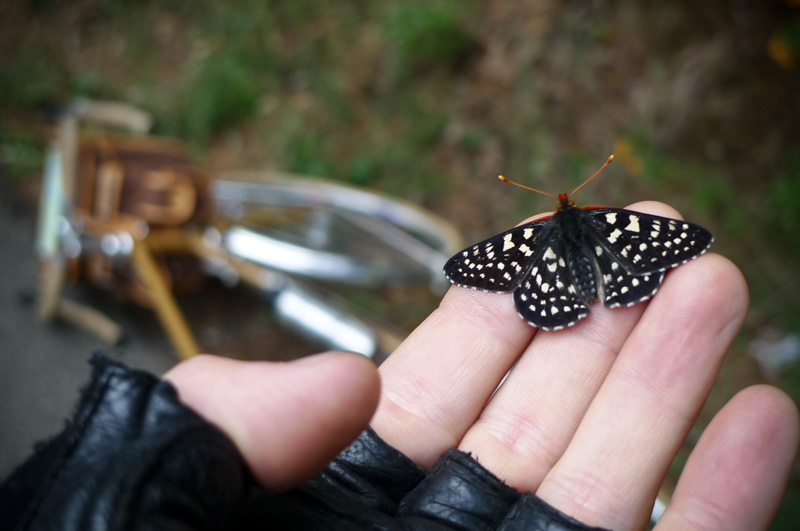 This fellow was just hanging out in the middle of the road. I don't know how I spotted him (I guess I was just looking in the middle of the road.)

Show on map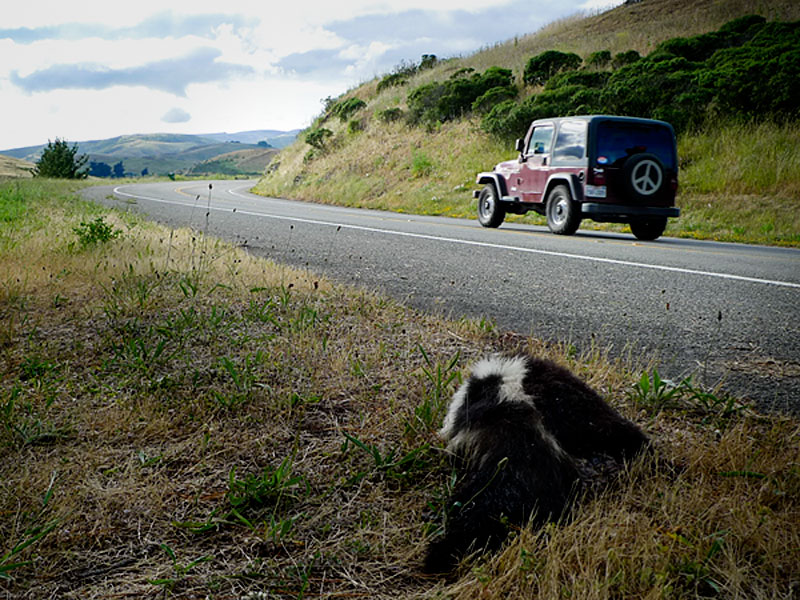 A couple weeks ago it was a small fawn (click here for that post) now a skunk.
I placed this guy off the road near a tree and covered him loosely with some sticks. Because the Marin County sky is filled with Turkey Vultures I have hope he will be recycled (if vultures can stand the smell, I don't know).
And speaking of the often misunderstood vulture, I'm reminded of the final line from poet Lew Welch's Song of the Turkey Buzzard: "to keep the highways clean, and bother no being."
What's a trip to Nicasio without an image (or two) of the local church, some cows, and a hint of the baseball diamond in the middle of the town square?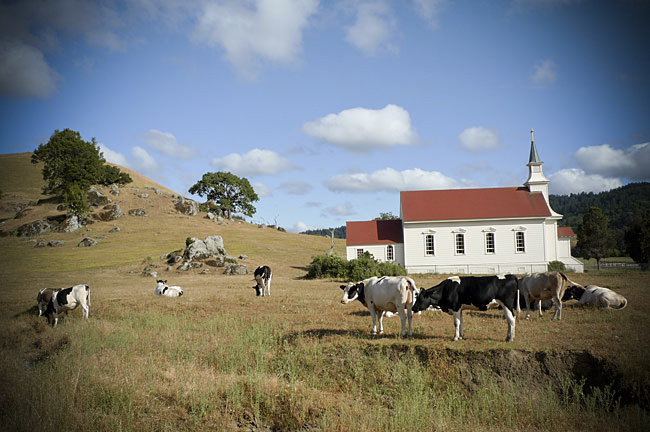 Show on map
For some, this may be an unpleasant image. But death is all around us and today it could not be denied. I saw the dead fawn as I was returning home from my familiar Fairfax-to-Alpine Lake ride. I made a quick u-turn to return to the spot and was able to remove the small creature from the road and perform an ad hoc burial. I fashioned a cross from some branches held together with vines.
I'm reminded of the book, Apologia, by the great writer Barry Lopez.

Show on map