Archive for the 'Guu-Watanabe' tag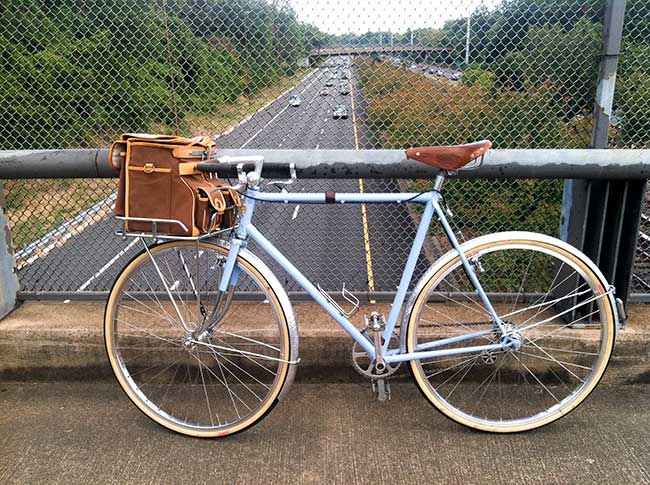 Show on map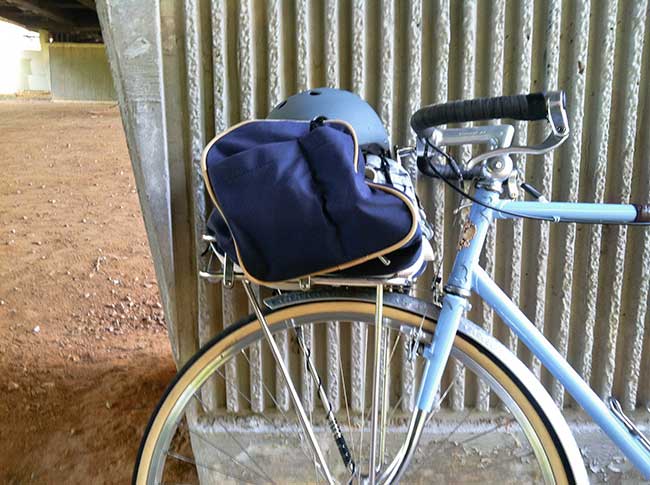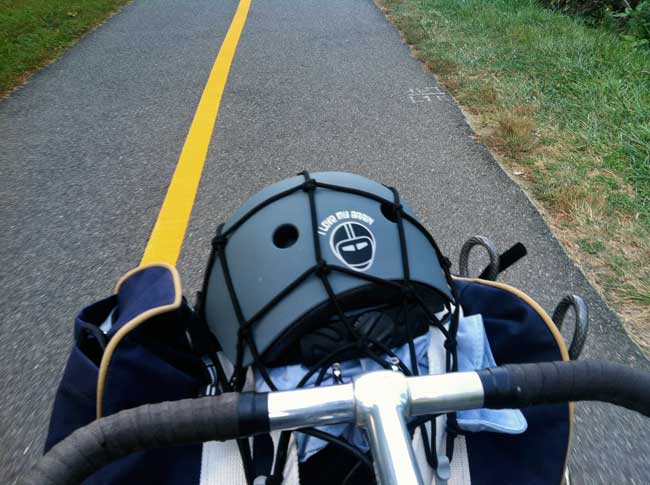 Here's my Guu-Watannabe bag (and a duffle bag from Wharf clothing and wares) attached to the large porteur rack of my newest bike.
The pictures were made along some of the bike trails around Arlington and Falls Church, VA.

Show on map
I saw a random picture of a handmade Guu-Watanabe bag back in 2006 and thought it was the most elegant design I had ever seen. (I urge you to spend some time exploring the design options now available on their website).
Shortly after seeing one of these bags, I tracked down the maker, Watanabe Shoichi, in Tokyo and together (with limited common language skills) we designed the bag for my Ebisu, emailing measurements and drawings back and forth until we had the proportions just right. I believe I was his first customer outside of Japan.
I'm still delighted with my purchase. It was — and still is — impossible to get a bag this size. It is much bigger than either the Ostrich bag or the Berthoud and it fits the proportions of my 59cm 650B frame just right, as I think is very clear in this photo.
The only flaw — if you can even call it a flaw — are the straps and metal buckles (a slightly fussy or showy detail that has no place in classic randonneuring designs). I would have preferred simple elastic and hook closures  (and I notice that Shoichi now uses this type of closure on his current line), but otherwise it is perfect.

Show on map
Long overdue, here is the official introduction to the companion to my Guerciotti.  Heavily influenced by the designed of French cyclotouring machines of the 1940s, 50s and 60s, I commissioned this 59cm bike from Jitensha Studio in Berkeley.
I told Hiroshi, the proprietor, I wanted a versatile bike for light touring and brevets; I wanted the option of carrying 10-20 lbs. upfront on low-riding front racks; and, I wanted the frame based around the 650B wheel size (and 38mm tire width).
The build included both new and vintage parts including a SON front generator hub powering the headlight, integrated front and rear racks (including detachable low-rider pannier racks) and Honjo fenders, Brooks Team Pro TI saddle, Simplex retrofriction downtube shifters, TA cyclotouriste cranks, and Shimano Ultegra derailers. A Berthoud decaleur is used with the front handlebar bag, which was custom ordered from the Guu-Watanabe in Tokyo. I believe I was their first customer from outside Japan (more on that story here).
Now that I've been riding the bike for some time there are inevitably small tweaks I would consider: slightly more geometric trail so it handles better unloaded thereby making it more of an all-around bike (this would require a new fork), indexed shifters (to go with the 8-speed Shimano cassette) or a 6-speed freewheel (to go with the current Simplex shifters), and maybe some slight changes to the gear ratios (currently 47×34 front and 13-27 rear). I'm also eagerly awaiting a true 38mm wide tire from Grand Bois as a replacement for the Panaracer Col de la Via which actually measure 2mm less than 38mm.