Archive for the 'National Gallery of Art' tag
As promised, a few observations about the Dutch paintings exhibit currently on view at the de Young Museum.
Here are my six takeaways:
The light from within. When I walked into the opening room of the exhibit I gasped — audibly — shocked by the sensory perceptions and emotions that flooded in as I first cast my eyes on the landscape paintings that radiated an inner glow. The light from within these paintings was so palpable I actually began to question my own experience, rationalizing that the museum's sophisticated lighting had something to do with it.
Presentation matters. The de Young did a superb job with the the overall design and display of the exhibit. How the paintings were arranged, the size and flow of the rooms, and even the space between paintings and their height from the floor, all seemed perfect. I've seen Vermeer paintings at the Metropolitan Museum in NY and Vermeer paintings at the National Gallery in Washington, DC. This kind of art has never looked as good as it does here in San Francisco.
I prefer "old" art to "modern" art. A huge generalization, but so much of modern art seems designed to provoke or to extol things like irony, cynicism, and even ugliness. Yet these paintings inspired and uplifted me and that is the best justification for art in my opinion.
My appreciation grows with age. My capacity to appreciate and be affected by this kind of art has truly deepened over time. My life experiences and accumulated wisdom (at least what there is of it) allows me to see and feel deeper than I could when I was in my 20s, for instance. This may not be anything revelatory, but it was a big takeaway for me.
On masterpieces. Is there such a thing? Are they overrated? Some of the "greatest hits" from the masters are now devalued cliches. Derivatives and crude, poorly reproduced facsimiles show up in pop culture, in digital media, or on billboards. So I stood in front the actual physical object of Girl with a pearl earring looking for a long time to decide for myself if it is, indeed, a masterpiece. The answer: Yes it is. By the way, so too is Rembrandt's Portrait of an elderly man, which is also part of the show.
Fewer is better. I prefer small exhibits to large exhibits, and this is a relatively small exhibit. In fact, a long time ago I stumbled upon a useful practice after spending many grueling hours at the Louvre in Paris. This simple principal has guided me ever since: Never spend more than 45 minutes in a museum, 30 minutes would be even better. It's much more satisfying to look intensely for 30 minutes, rather than to look superficially for 1-2 hours. That's my advice. Plus, you can always return another day. Return I will because I didn't have time to see all Rembrandt's pencil drawings and etchings.
I don't know why, but I went in with low expectations and, instead, came away pleasantly surprised.
Overall rating: Five stars!
The show runs through June 2nd.
-Nathan
Just outside the main entrance to the National Gallery of Art.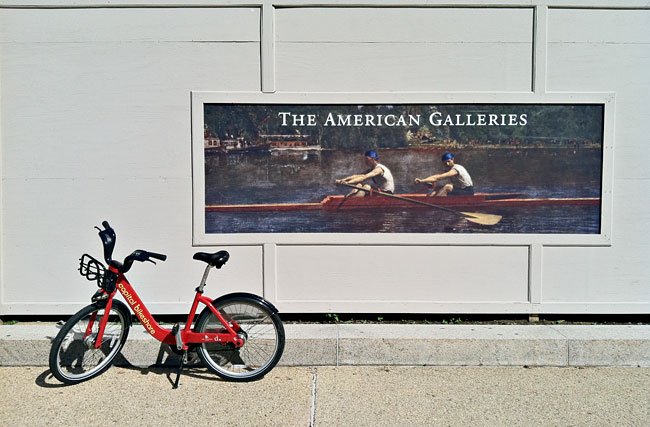 It's always worth a visit here if only to experience the museum's four paintings by Vermeer and Salvador Dali's "The Sacrament of the Last Supper".
I'm not sure if it's true, but I heard that Dali required this painting to be displayed alone, in it's own viewing room.
The museum has honored the request to some degree, by putting it in a mezzanine, stairway-like area by itself…but I'm not sure this genuinely honors the spirit of Dalil's wishes.
And the master of light, Vermeer, I've now learned used a camera obscura in his artistic process. When the reflected light of a scene was projected onto a viewing screen, the device would selectively blur certain areas (as does the human eye) and identify precise areas of bright or specular highlights (e.g. the pearl necklaces in the jewelry case below).
Vermeer probably analyzed the camera obscura results to help render his sublime paintings — thus, painting with light!