Archive for the 'poetry' tag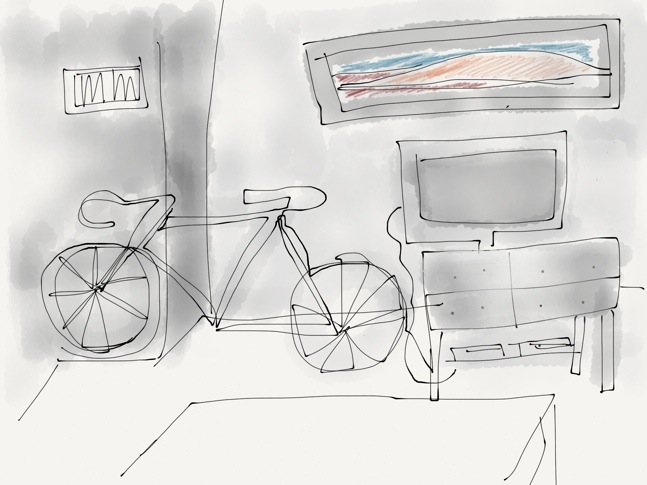 Show on map
(sketch made with Paper53 app on iPad)
My ebisu, like a greyhound straining at the start, yearns to run free.
But instead she sits in an apartment, leaning up against the wall, gathering dust, through the long, cold winter — while I ignore her.
She whispers to me: why don't we go out exploring the way we once did?
I change the subject. Or pretend not to hear.
I have many, oh so many reasons (read excuses), why it cannot be. Through it all she doesn't complain. But her disappointment is palpable. And for that I cannot blame her.
I think one day it will be different. So I say, "one day it will be as it once was". She is cheered by the news. But I know it is a lie, not in the spirit behind the words, but in the actual words.
For there is no such thing as: it being as it once was.
And although we cannot go back to how it once was, we must always know there will be new springs, new summers. And that yes, one day, this long dark winter will cease.
The sun will rise high overhead. The ice will melt. New life — tindered with joy and longing — will tremble, cry out, and reach up to embrace the very apex of the universe.
And together we will have new experiences that we never could have imagined.
-Nathan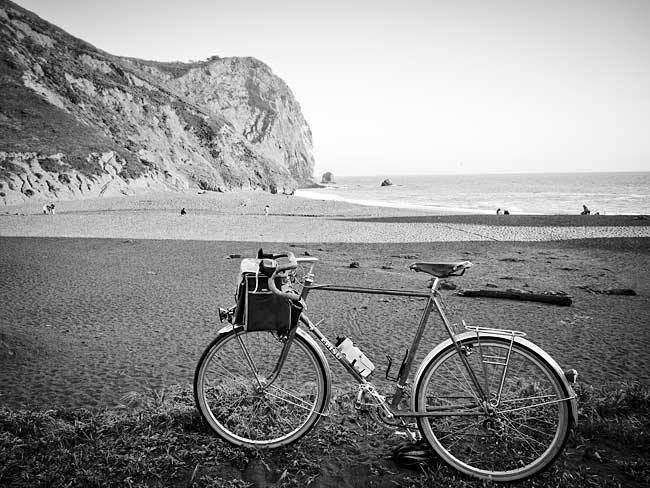 Show on map
In the dream,

we till the loamy soil

and work the byways and flyways

of pacific salmon

and monarch butterflies.

Days flow like cycling migration patterns of hummingbirds and

humpback whales.

— nourished by seal pup carrion and wildflowers.

Lew is right. There is no place else to go,

but remember that rascal Chuang Tzu.

Waking up he says,

"Maybe my life is only a butterfly's dream."
-Nathan, May 9, 2013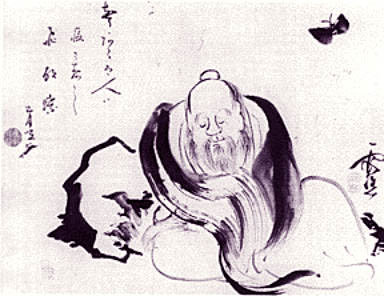 I'm not exactly sure what this graffiti artist is trying to communicate. Perhaps, it's that war = destruction? (since the opposite of creation is destruction).
But speaking of language, the December 24th issue of The New Yorker magazine had a curious article by Joshua Foer about an amateur linguist named John Quijada. When he wasn't working at the Department of Motor Vehicles, Quijada spent his spare time (extending over 25 years) engineering a new language and grammar system combining what he believed were the best aspects of all the world's languages.
Here's a quote from the beginning of the article:
In his preface, Quijada wrote that his "greater goal" was "to attempt the creation of what human beings, left to their own devices, would never create naturally, but rather only by conscious intellectual effort: an idealized language whose aim is the highest possible degree of logic, efficiency, detail, and accuracy in cognitive expression via spoken human language, while minimizing the ambiguity, vagueness, illogic, redundancy, polysemy (multiple meanings) and overall arbitrariness that is seemingly ubiquitous in natural human language."

Ithkuil has two seemingly incompatible ambitions: to be maximally precise but also maximally concise, capable of capturing nearly every thought that a human being could have while doing so in as few sounds as possible. Ideas that could be expressed only as a clunky circumlocution in English can be collapsed into a single word in Ithkuil. A sentence like "On the contrary, I think it may turn out that this rugged mountain range trails off at some point" becomes simply "Tram-m?öi hhâsma?p?uktôx."
This is really quite odd.
Ithkuil seems to be a language devoid of nuance, implication, metaphor, and for that matter: poetry!
-Nathan
The coastal fortifications (as seen in the image above) from a time when nation-states confronted each other with crude, 20th century explosives and projectiles are hard to miss as you bicycle through the Marin Headlands.
These gun batteries are now quiet, but our world still does not embrace Martin Luther King's practice of non-violent resistance or Mahatma Gandhi's ethos of satyagraha.
King was influenced by Gandhi, who, according to the author Thomas Weber (Gandhi as Disciple and Mentor, Cambridge University Press, 2004), would quote the poet Shelley at his mass rallies in India.
So in honor of Martin Luther King Day, here are a few stanzas from the English Romantic poet, Percy Bysshe Shelley.
Stand ye calm and resolute, Like a forest close and mute, With folded arms and looks which are Weapons of unvanquished war.  And if then the tyrants dare, Let them ride among you there, Slash, and stab, and maim and hew, What they like, that let them do.  With folded arms and steady eyes, And little fear, and less surprise Look upon them as they slay Till their rage has died away  Then they will return with shame To the place from which they came, And the blood thus shed will speak In hot blushes on their cheek.  Rise like Lions after slumber In unvanquishable number, Shake your chains to earth like dew Which in sleep had fallen on you- Ye are many — they are few  
–Percy Bysshe Shelley (from The Masque of Anarchy)
This photo from Sunday's ride has a certain Wes Anderson/Steve Zissou feel to it, I think.
It's also one of my favorite geotag locations. So make sure you click on the icon under the picture to see the location on a map.
Whenever I'm standing on rocky outcroppings like this looking out onto the Pacific Ocean, I think of the words of the Beat poet Lew Welch.
Here's the last two stanzas from his glorious poem, THE SONG MT. TAMALPAIS SINGS:
This is the last place. There is nowhere else to go.

Once again we celebrate the
Headland's huge, cairn-studded fall
into the Sea.

This is the last place. There is nowhere else to go.

For we have walked the jeweled beaches
at the feet of the final cliffs
of all Man's wanderings.

This is the last place
There is nowhere else we need to go.

-Lew Welch (1921-1976)
Have a Happy New Year Everyone!
-Nathan