Archive for the 'review' tag
I narrowed it down to two folding bikes. What follows is a mini-review.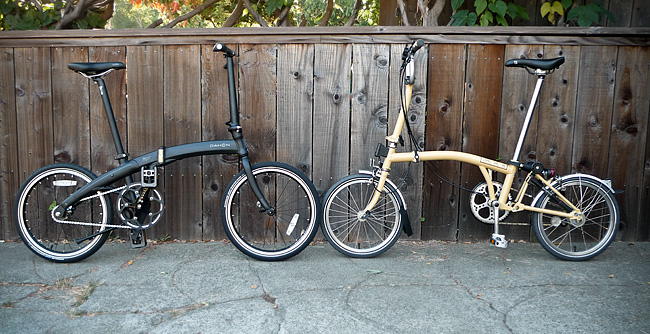 What I like about the Dahon Mu Uno (left):
styling/build: not flashy; matte black finish; 20-inch tires; double kick-stand; ruggedly constructed.
simplicity: no derailer or brake cables to worry about and a near perfect 62″ single gear.
ride: stable handling; more like a full-size bike when compared to the Brompton.
racks: none supplied, but accepts klickfix accessories.
And the drawbacks:
more conspicuous than the Brompton when folded and not as compact;
not designed to fold with attached fenders and racks;
while ruggedly built, it's doesn't wreak of craftsmanship like the Brompton (i.e. it feels more mass produced).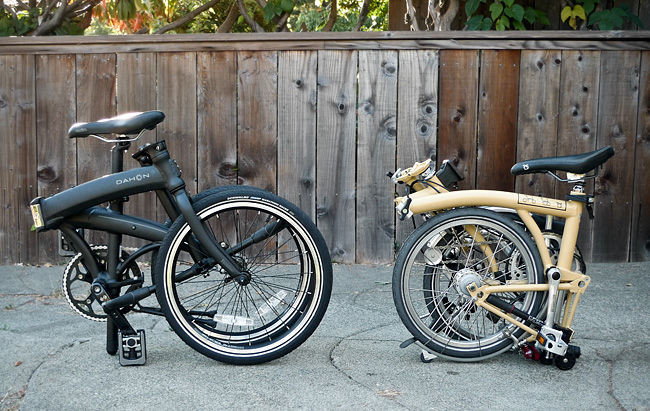 What I like about the Brompton (right):
quality engineering: extreme attention to quality and workmanship.
folding design: ingeniously compact; easier to take on airlines/buses/metros; and a design that incorporates fenders and a rear rack!
versatility: 3-speed internal gear hub with a perfectly spaced 48″, 64″, and 85″ set of gears; fenders and racks included on most models.
The drawbacks:
price (more than double that of the Mu Uno);
a few extra parts and a more complicated drivetrain make it feel more fragile than the Mu Uno with the potential for more maintenance and repairs;
rides less like a full-size bike compared to the Mu Uno (probably due to the smaller 16″ wheels); however, in normal use, you adjust quickly to the differences.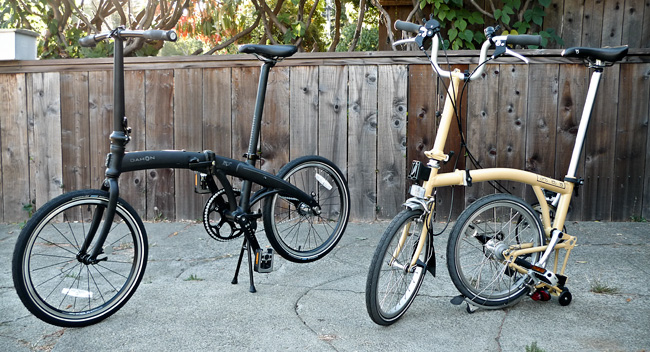 Conclusion: These are both appealing bikes.  If I just needed a simple and robust city bike for basic transportation in a relatively flat urban environment — the Mu Uno would be perfect.
I would think nothing of tossing around the Mu Uno or leaving it chained to a parking meter, but I would think twice about doing this with the Brompton (in this regard the Brompton's elegant craftsmanship is a bit of a mixed blessing, as it is with all fine bicycles).
In the end, the Brompton's versatile (yet still relatively simple) 3-speed gear range and ease of toting around (especially while fendered and on airlines) were the deciding factors for me.
For its first test, I brought the bike via airplane to Minneapolis in it's own suitcase. While it rained the whole time, the Brompton truly shined.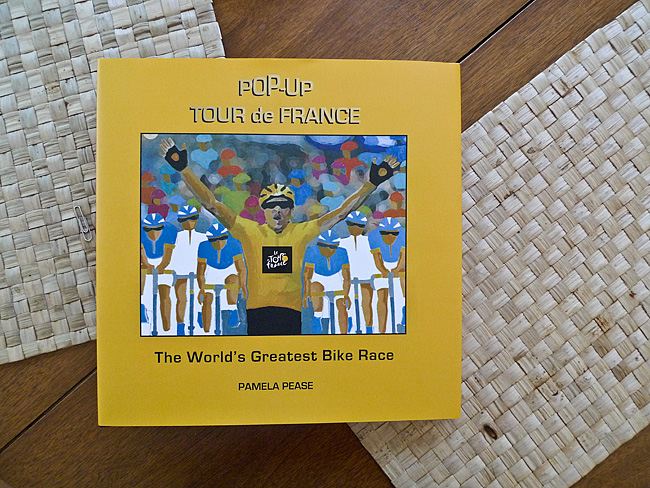 With the Tour de France underway, I'm rising early to catch the end of each day's stage. The race seems wide open this year, although defending Champion from Spain, Alberto Contador, looks well-positioned with the important mountain stages coming up.
Anyhow, I recently came across this book (actually, the publisher sent it to me to review). It's quite charming. I really like the glossary which includes some phrases that were new to me (e.g. lanterne rouge or red lantern refers to the rider who finishes in last place for the whole race).
I also really like the complete list of Tour winners going back to 1903 with the teams and countries they raced for juxtaposed to a pop-up map of central Paris with the Champs-Elysees, Place de la Concorde, and Rue de Rivoli all on display.
The text also includes insights like these:
More than any other sport the Tour de France has its own culture. In the midst of fierce competition, the Tour follows some unofficial rules of etiquette that are not found in other sports. For instance:

If a rider loses time because of a fall or collision, it is unacceptable for other cyclists to use that misfortune to gain an advantage for themselves.
Attacking during a meal break is taboo.
If the race passes through a riser's home village, as a sign of respect he is permitted to ride ahead to greet family and friends.

In celebration of Bastille Day…it is considered polite to allow a French rider to win the stage — as long as it does not affect the overall outcome of the race.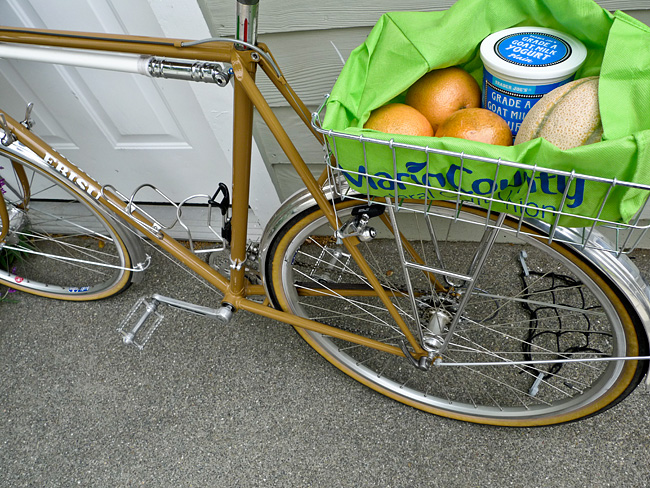 The Ebisu's rear basket is loaded with supplies (grapefruit, rustic cantaloupe, and goat's milk yogurt) to add to a Mother's Day brunch held at my brother's house.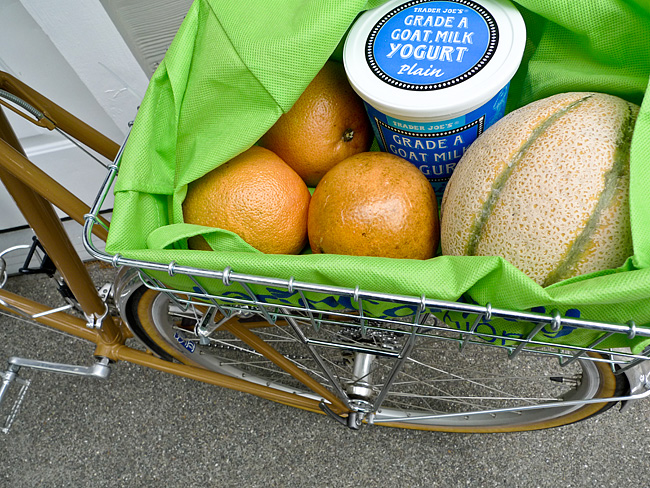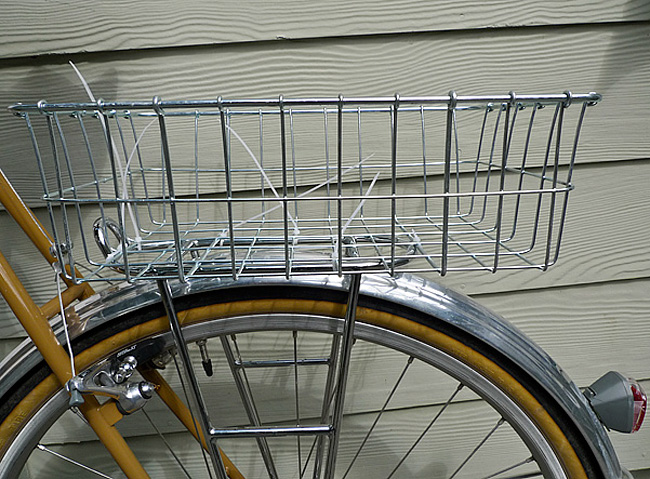 The basket is made by Wald and it's attached to the rear rack with plastic zip-ties. I usually anchor the corners and then add a few more ties until it can't move or slide the slightest bit. For a clean look snip off the zip ties close to the rack. (Here, I was too lazy and left the excess.)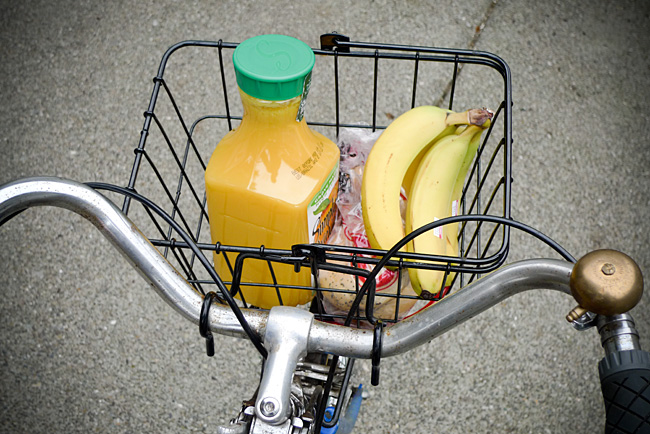 Mini-Review: This is Wald's model 114 basket attached to my Nishiki. There is no fork or brake bolt hardware to deal with; it stays attached with curved pressure points resting below the headset and with hooks around the handlebars. So for around $20 and two minutes of work you've got a basket (granted it's not particularly elegant or permanent). Still, I've severely overloaded mine and it performed really well.
A standard grocery sack will almost fit, but not quite (If that matters the model 133 may be the better choice) so it's not good for big hauls — a six-pack, a carton of eggs and some bread, that sort of thing works best. The other day it was overflowing with veggies — leeks, cauliflower, broccoli, carrots, cabbage, some shallots — for making a blended Portugese-style soup. This photo was made after a morning breakfast run.
A lift-up handle releases the basket from the its mount so you can carry it into the store or around the market.