Archive for the 'Route Map' tag
Overall, this is an incredible 15-mile ride. The loop has views that tourists come from a world away to take-in; roads in very good condition with a bike shoulder for much of the way; and, interesting and varied terrain.
If this ride were a restaurant, it would earn a 3-star on the Michelin scale!
Beginning at sea level in downtown Sausalito and cresting at the top of the Marin Headlands near Hawk Hill, I was surprised the elevation gain was only 800 feet. It felt like much more. That's barely a third of the way up Mt. Tam (elevation 2,571′)!
Here's a map and elevation chart extracted from the gpx file created by the gps logging device I sometimes carry with me.
Here's the specific route: 11.6 miles (as always, use the buttons to change the map type or zoom in or out)
A pleasant ride on Sunday and some happenstance led to some encounters with several old and new friends.
I first met my buddy Steve, who I know from Berkeley grad school days. We casually pedaled, vaguely northward, chatting most of the way as we rode. After turning off Shady Lane in Ross and passing through San Anselmo we rode by The Bicycle Works. There we saw Jelani Bertoni, who was curbside, making preparations of some sort. He informed me that that afternoon there was a big party to celebrate the 3rd anniversary of this cool little non-profit.
Then another Bicycle Works star — Heather — stopped in on her bike at a yard sale Steve and I were checking out just on the edge of Fairfax.
And finally, a big shout out to Gino and his girlfriend Starla (of Teddergreen Bicycle Fitting Services). Gino and I had exchanged some emails, but had never actually met in person. However, these two were gracious enough to stop and say hello (after seeing my Ebisu on the side of the road) as they cruised south for some adventures out in the Marin Headlands.
In terms of the route, there are a few different options. But in my opinion, this is the best way to ride from Sausalito to Fairfax if your concern is not speed, but fewest cars and most bike-ped paths:
This is a great after work ride since my day finishes on the east side of town.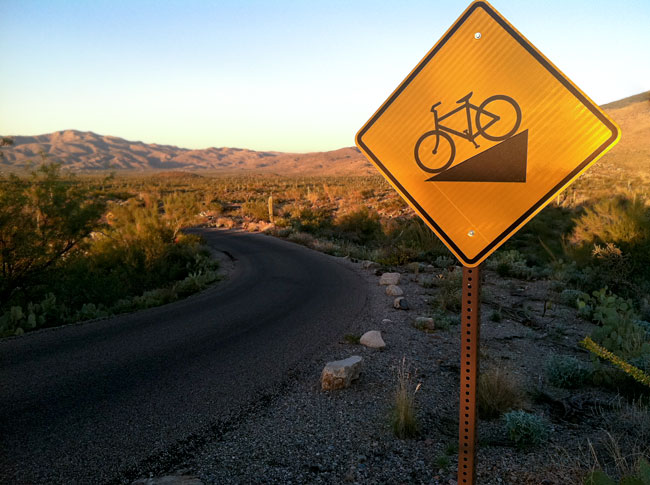 The short, very steep descent immediately after you enter the park is a recipe for a wipe-out if you're not expecting it. (Just beyond the shade in the above image the road plummets and makes a sharp right hand turn at the bottom!)
There's a parking lot at the Sahuaro Baptist Church on Old Spanish Trail and Houghton, which turns this ride into a short 12-mile loop. Starting the ride at the church means not having to deal with streets like Broadway during the rush hour.
Note to self: starting at my house — rather than the Sabino trail head —  would make this an interesting 30 mile ride.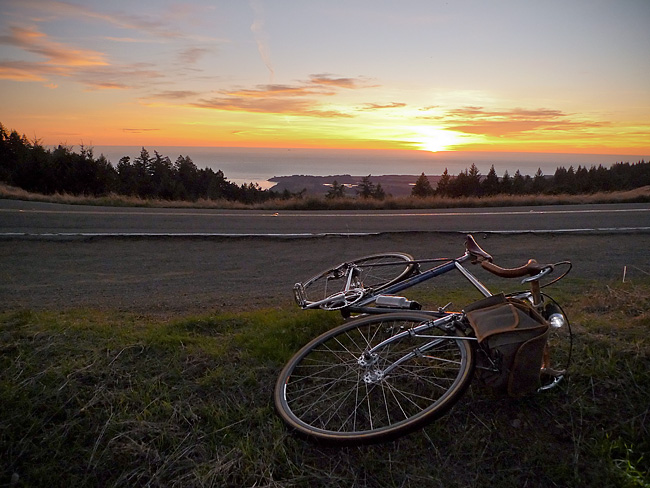 Show on map
Northern California just had a glorious little heat wave. This last gasp of Indian Summer resulted in hot sunny weather with temperatures in the 70's, and even 80's, over the week-end.
And for some reason, I got it into my mind late Sunday afternoon that I had to ride until I could get a view of the Pacific Ocean.
The easiest way to accomplish this goal was a 25 mile round-trip with about 2,600′ of vertical climbing.
Here's a route map and a one-way elevation profile from the ride:
The spit of land in the above image (just past the line of trees) comprises the town of Bolinas and the Pt. Reyes pennisula.
More pictures and a short ride report to follow.
One really appreciates elevation gains/losses when on a bicycle. To wit, I've traveled this stretch by automobile dozens of times and on all those occasions I perceived the route as being perfectly flat.
Anyhow, this stretch of Highway 1 connects the small west Marin towns of Olema and Bolinas. You travel over rolling hills and past park land and old ranches while following the San Andreas earthquake fault along the valley floor. (I wrote a little about this natural history and geology in an earlier post).
Here's a gps file of the ride to Angel Island. The mileage on the elevation profile is one-way. And the point where the pink line ends on the upper map is where my gps data logger ran out of batteries. It wasn't a bad place for this to happen, however, as by that time the route was already nearly fully logged and delineated.
Remember you can change map types or zoom in or out to taste, using the Google map control buttons.
The short, steep climb followed by the exhilarating descent always clears my head.
The purple line marks paved roads. The green line marks the fire road connecting Ridgewood Rd. in San Rafael to Fawn Dr. in San Anselmo.
Google Maps today added the option to get Bicycling directions (in addition to Walking, By car, and By public transit). This comes after more than 51,000 cyclists signed an on-line petition urging them to do so.
Google explains how the new feature works here.
For some reason these maps cannot be embedded yet in web pages, but above are some screen shots I made of the new interface and the map generated when I made San Francisco the destination.
Google engineers employ some fancy algorithms to deal with the problem of steep slopes and hills:
Our biking directions are based on a physical model of the amount of power your body has to exert given the slope of the road you're biking on. Assuming typical values for mass and for wind resistance, we compute the effort you'll require and the speed you'll achieve while going uphill. We take this speed into account when determining the time estimate for your journey, and we also try hard to avoid routes that will require an unreasonable degree of exertion. Sometimes the model will determine that it's far more efficient to make you ride several extra blocks than to have to deal with a massive hill.
Does it work as advertised?
For the route to San Francisco it missed some smaller bike paths (e.g. the one behind the College of Marin along the canal). Overall, it seemed to make good, safe choices and no blatantly dumb ones.
However, for a shorter trip to San Rafael, Google had me riding down the Miracle Mile rather than on Greenfield Avenue, which is really, really dumb.
At the very least, this beta version is a useful starting point for getting bicycling directions (and it will certainly become more reliable over time as users report problems).
If you're cycling up to Mt. Tam or over the ridge and you want to get off, stretch your legs, and hike, this is a nice side trip. The trail follows a steep canyon with waterfalls, all the way up to Laurel Dell and beyond (potentially to the summit of Mt. Tam).
A visit to the Civic Center farmer's market in San Rafael (open every Thursday and Sunday year-round) makes for an enjoyable little 13 mile loop ride starting from Fairfax. Bring a bike with a large front basket for all your market goodies.
Riding to San Rafael (via San Anselmo) is straightforward. But upon entering San Rafael you must pick your way through downtown to Lincoln Ave. without the benefit of a dedicated bike lane. I usually cruise down 4th St. to Lincoln, which leads to a path that goes under Highway 101 and provides access to the Frank Lloyd Wright designed Civic Center.
The fun part of this ride is making it into a loop — something impossible in a car because there's no road connecting the Terra Linda neighborhood of San Rafael with San Anselmo/Fairfax.  But a narrow paved trail (at the end of Freitas Parkway) connects to the Sleepy Hollow neighborhood making this loop possible, provided you're traveling by foot or bike.
This short-cut which starts around the 10-mile point is very steep (as you can see in the elevation profile), but relatively short (and I'm often tempted to walk the bike.)
Because it's so close to my house, this is my "3x a week, and it still never gets old" ride. It's usually what I do when I don't have a destination in mind, but am itching to get out on the bike.
The route can also be incorporated into other rides (a long loop out to the coast and Highway 1 or a Panoramic Highway-Central Marin loop)
If I want to build strength and go fast I'll ride my Guerciotti. If I'm feeling a little lazy, I'll load the Ebisu's big handlebar bag full of snacks (some olives, maybe a little salami and cheese, some watered down red wine, and an apple) and go at a more leisurely pace, adding mileage by exploring some of the fire roads around the lake.
What makes it so interesting is the variation and scenic beauty. During the roughly 17 mile round trip you're almost always climbing or descending; it's rarely flat. In fact, in the first 3 miles there's nearly 1,000 feet of elevation gain. This is followed by a long descent and then several more (yet easier) climbs and descents all the way to the lake.
The road curves its way through the foothills of Mt. Tamalpais with only 2 or 3 straight stretches and the terrain you pass through includes Redwood forests, scenic overlooks, and lots of water at the end. Plus, there are few cars to contend with even on week-ends.
What's not to love?
Check out here, here, here, and here for some images made along this roadway.