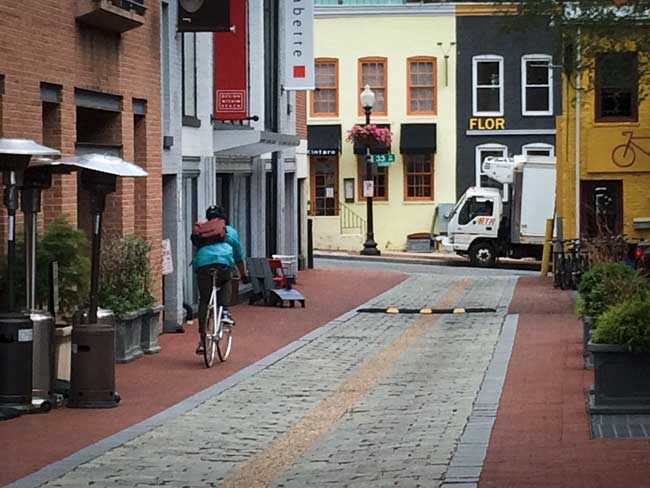 Wherever I go alleys draw me in. I'm not talking about creepy, dirty alleys.
No, the visceral appeal of certain alleys or small streets comes from their aesthetically correct, pedestrian-friendly, human-scale. The lack of powerful gasoline motors constantly churning is a big part of it.
Cady's Alley is a little street in DC that I love from an architectural and urban design perspective. The emphasis is because I'm not sure how I feel about it from a community development perspective.
The space feels geared to a very exclusive, corporate, brand name, retail shopping experience. Urban revitalization and planning can expose many thorny issues relating to social equity and civic participation.  So I want to be clear that what I'm singling out for praise about Cady's Alley is something very particular: the actual feeling of the physical space.
In short, if we compare the feeling of Cady's Alley to that of M Street (running parallel one block away) it passes the Mirror-of-the-Self Test outlined by the visionary architect, Christopher Alexander in his book The Phenomenon of Life:
"Comparing A and B, which one makes me feel the most wholeness in myself, which allows me to come closest to my own life, which makes me experience life most deeply?".  That is, when architecture is functioning properly "its space is awakened to a very high degree. It becomes alive. The space itself becomes alive."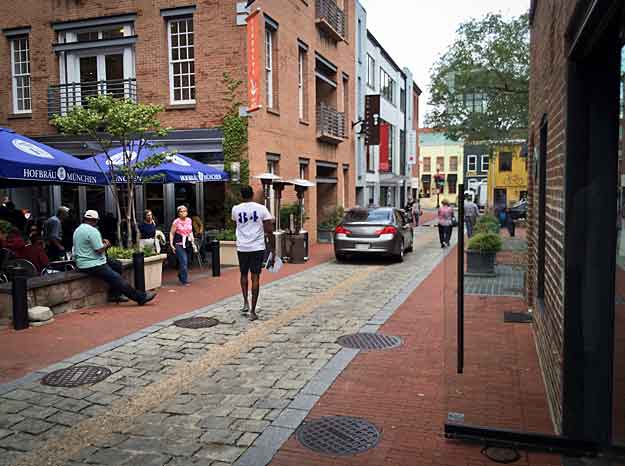 Note: DC recently released a comprehensive survey that maps all the historic alley ways in the city. Click on The DC Historic Alley Buildings Survey if you're curious.
Nathan
Leave a Reply