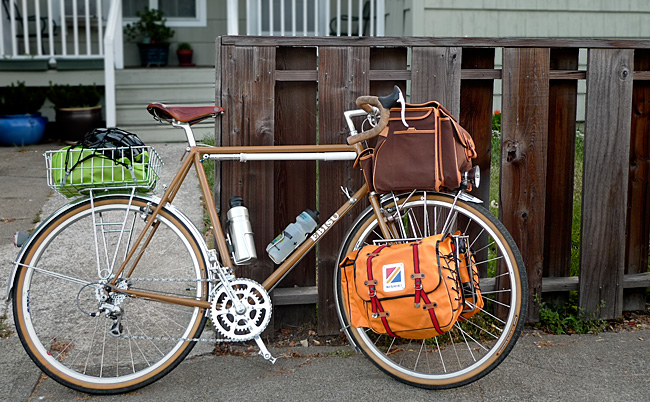 A hastily arranged portrait of my fully-loaded Ebisu just before setting out (around 6:30am) for the trip to Santa Cruz.
From Fairfax it is almost exactly 100 miles, one way. My brother and I decided to make the trip in a day.
A few years ago, I covered the same distance, but took two days stopping to camp on the beach near Half Moon Bay. This time there would no camping and I would either pedal back after a rest day or catch a ride back to the Bay Area from our friend in Santa Cruz.
Despite it being just a long day ride, I attached pannier racks to my existing front rack and packed like it was a short tour. For clothes, I had wool riding pants, an extra pair of pants and a short-sleeved collared shirt for my day off the bike, a wool t-shirt, a wool pullover, 2 pair of wool socks, a rain/wind layer, a wool beanie, a baseball cap, and (non-wool) underwear. I pedaled in Adidas Sambas and also packed a pair of Rainbow flip flops and a swim suit for the Santa Cruz boardwalk.
As far as equipment, I brought a miner's headlamp, two spare tire tubes, plastic tire irons, a bunch of zip ties, a bicycle multi-tool as well as a small selection of allen and other wrenches (to help with roadside repairs that might otherwise be difficult with just the multi-tool), a small digital camera, and a cell-phone and charger. I also brought a few toiletries in a small pouch: shampoo, sunscreen, and tooth brush.
For food, I packed 4 PB&J's, 4 hard-boiled eggs, a mango, 2 apples, and 2 oranges. Plus, two water bottles.
Fully-loaded, the bike weighed in at around 55 lbs. I think the bike itself (with full fenders, racks, rear basket, lighting, and a handlebar bag) weighed around 30 lbs., which means I was carrying 25 lbs of STUFF. That seems like a lot of weight considering there would be no camping.
Think how heavy my bike would get if I added cooking, cleaning, and eating gear, extra food, a tent, and a sleeping bag!
Read Part II here
2 Responses to 'Ride Report……Heading to Santa Cruz'
Leave a Reply