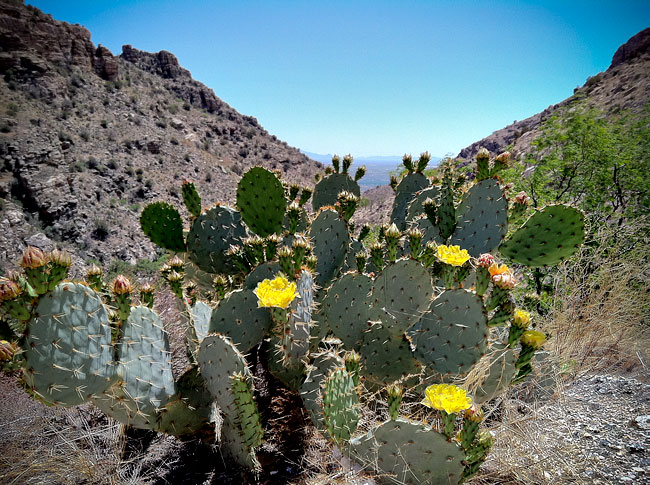 My Mt. Lemmon ride was rather ill-planned, meant only as an exploratory trip to see what this mountain is all about.
It began on a Sunday afternoon, fueled by a morning capuchino and cinnamon roll from Cartel Coffee Lab (which was excellent and made me wish I had snapped a picture for an espresso review — click here for the review archives…but I digress).
Getting off to a late start (about 12:30 with the sun already directly above), I parked at the Safeway on Tanque Verde and Catalina Highway, 2-3 miles away from where the road begins to steepen. I wore wool shorts, some puma shot-putting shoes, a cotton tank-top with a lightweight, long-sleeve polyester shirt over that, a scarf-like buff around my neck, and zinc oxide sun protection on my face. I put a vietnamese-style baguette sandwich in my handlebar bag and a full water bottle in my downtube cage.
I felt great the first 7 miles as I climbed the initial few thousand feet. With each switchback the valley began fading away. I remarked to myself that this was the most comfortable I've felt on a bike since coming to Tucson: few cars, scenic views, and to me, the satisfying rhythm of a long, hard hill climb (which is what I was used to in California).
Just after making the above picture of this prickly pear cactus, the sound of rapid gunshots rang out from a pickup truck directly across the road. I quickly ascertained the pistoleros were not aiming their bullets at me, but I still felt vulnerable. I didn't linger.
As I covered this initial ground,  I guzzled water at a rate that naively assumed I could fill-up at the numerous official campgrounds en-route (e.g. at mile 6, 12, 18 etc.). So I rolled into the Molino Basin Campground — at around 1:30pm and well into the heat of the day — with a nearly empty water bottle. It was only then that I learned there would be no more water until the Palisades ranger station (more than 14 miles ahead and 4,000 feet above me).
I gamely rode another mile or so, but began to tire. The hot and extremely windy conditions made for tough riding. At times, it felt as though I was barely moving at all as I hammered my lowest gear into 30-mph gusting headwinds.
The opportunity to take a rest and eat something arrived in the form of the Gordon Hirabayashi recreation site. My energy was mostly spent and I was out of H2O. I ate half a sandwich and thought that this would be the end of my climb….
…TO BE CONTINUED in PART II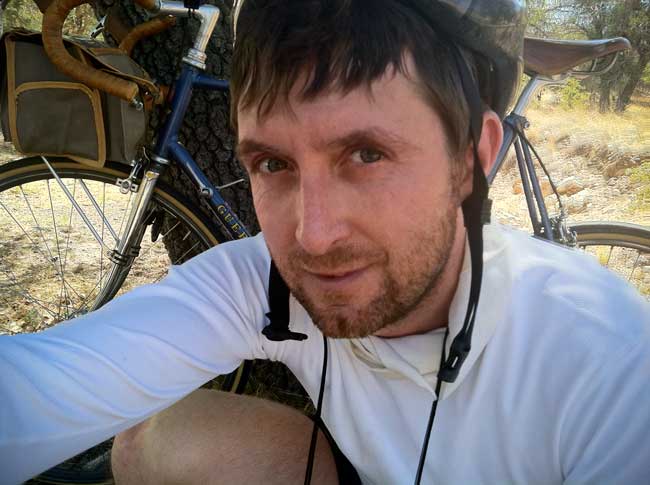 Tired, thirsty, and hunkered down in a small patch of shade.
2 Responses to 'Ride Report……Toward the Summit of Mt. Lemmon, Part 1'
Leave a Reply