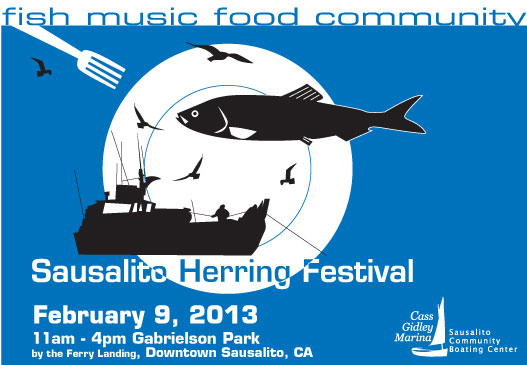 I rode my Brompton down the street to meet some friends at the 1st annual Herring Festival, but I couldn't believe they ran out of all their herring by 1pm!
I did manage to sample the grilled herring on a skewer and the pickled herring (I preferred the pickled herring).
One of my favorite places to eat in Sausalito, Fish, was on hand, as were others, to help raise funds for one of the town's community boating centers, Cass Gidley Marina.
During the afternoon, I also spoke with a CA fisheries biologist who filled me in on this local, commercial fishery — it seems we have at our doorstep a truly sustainable fishery.  The season started in January and is open through mid-March.  Last year's catch was more than 1,600 tons of fish.
Interestingly, the primary product is the herring roe, which is sold to the Japanese. In Japan, herring roe is called Kazunoko.
I was excited to learn all this because in recent weeks I've been seeing awesome displays of bird life (and a few sea otters looking fat and content) out in the harbor. I captured a bit of this spectacle in this photograph.
Now I know what all the fuss was about — the little Pacific herring (Clupea pallasii).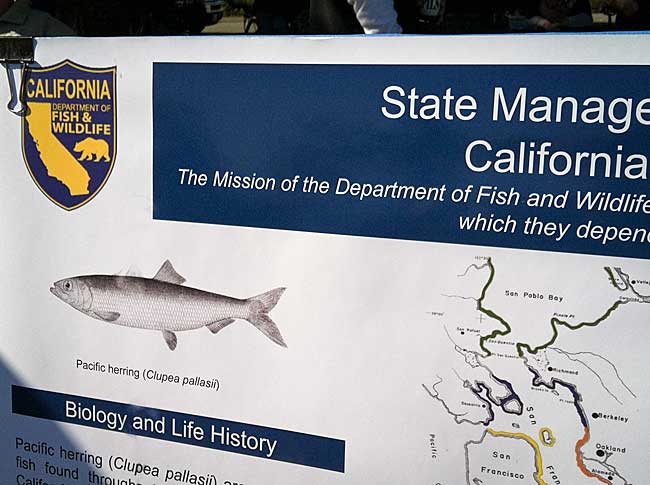 Leave a Reply