I studied journalism and environmental sustainability as a grad student at UC Berkeley. Then I reported on environmental issues for NPR's Living on Earth and worked for various environmental NGO's. Since starting this blog I've joined the US Department of State as a Foreign Service Officer.
But in terms of my bicycling life, here's the important stuff: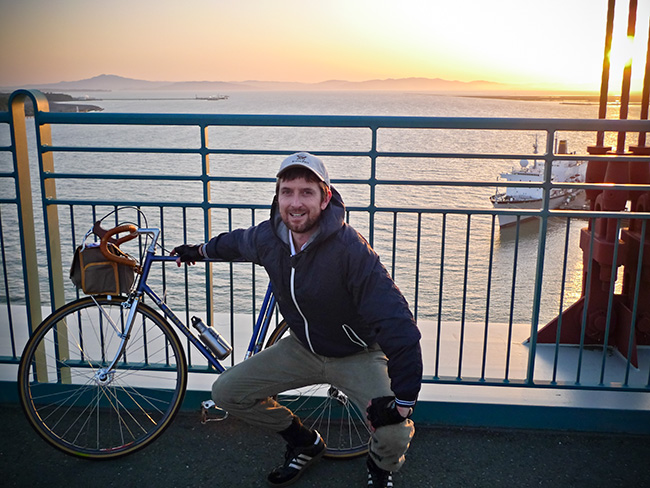 • age 5, I'm given my first bike soon replaced by a brown Schwinn with a banana seat and sissy bars, then a Huffy thunder road.

• inspired by the movie Breaking Away, I chase semi-trucks on the highways of upstate NY on my Motobecane ten-speed. Still in high school and living in Santa Fe,  NM, I compete in road races and explore the high desert and Sangre de Cristo mountains on my trusty Guerciotti.

• while in college, I suffer flat after flat on my supple sew-up/tubular tires traveling the glass strewn rolling hills of Maryland and Washington DC.

• riding through wet El Nino winter storms on a Hoo Koo e Koo mountain bike, I make the daily commute to the UC Berkeley campus.

• touring California's coastal Hwy 1 in the summer of 2006, my brother and I ride from the Bay Area to San Luis Obispo pitching our tent in Santa Cruz, Monterrey, Big Sur, and San Simeon.

• minutes after borrowing a bicycle from a hotel in Vietnam, in 2008, I am promptly run over by a speeding motor scooter in an intersection like this.

• finally living in a house with a garage (in Fairfax, CA–a great biking town about 20-30 minutes from the Golden Gate Bridge), I grow my stable of bikes to four and launch The Friday Cyclotouriste.

• a 16-month detour to the Sonoran desert and Tucson, AZ tests my capacity to bicycle and blog in furnace-like temperatures and a mostly automobile-centric landscape.

• UPDATE 7/2012: bicycling, and blogging in the San Francisco Bay Area once again and residing in one of its most picturesque cities: Sausalito, CA.

• UPDATE 7/2013: exploring the Washington DC/MD/VA area's scenic byways, while waiting for my first foreign posting abroad.

• UPDATE 7/2014: landed in Ulaanbaatar, Mongolia, perhaps the most inhospitable bicycling city on earth. See this video for proof. Expect a lot of off-topic posts the next year or two!
-Nathan
2 Responses to 'about ME'
Leave a Reply