#1 Velocio (aka Paul de Vivie) b. 1853. The spiritual father of cyclotouring.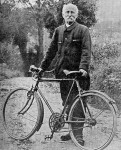 Velocio used his bicycle to demonstrate the great truths. Velocio's influence grew, not because of his exploits on the bicycle, but because he showed how these exploits will shape the character of a man. Velocio was a humanist. His philosophy came from the ancients who considered discipline the cardinal virtue. Discipline is of two kinds: physical and moral. Velocio used the physical discipline of the bicycle to lead him to moral discipline. Through the bicycle he was able to commune with the sun, the rain, the wind. For him, the bicycle was the expression of a personal philosophy. For him, the bicycle was an instrument in the service of an ideal. For him, the bicycle was the road to freedom, physical and spiritual. He gave up much, but he found more……Velocio–the cyclists of the world salute you.
Read the full story from Best of Bicycling first published in 1970, here. Also, you can find a discussion of his cycling commandments here.
#2 Thomas Stevens b. 1854. The first person to circle the globe by bicycle (and check out his bicycle!). His route began in San Francisco.
#3 Frank Lenz b. 1867. The sixth to attempt to circle the globe by bicycle (he actually traversed more of China and southeast Asia than did Stevens), but paid with his life in the deserts of eastern Turkey. (Read more about his story here.)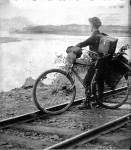 #4 Greg Lemond b. 1961. Not a cyclotouriste, per se, but he was the first American to win the Tour de France (in 1986) and challenge the world's greatest riders including France's Bernault "the Badger" Hinault. Lemond was shot in a hunting accident and nearly died yet came back to win the Tour two more times. In 1989, he won by making up a seemingly insurmountable 50 seconds in the final stage to beat Laurent Fignon by 8 seconds, the slimmest margin in race history.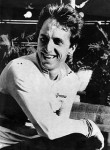 Leave a Reply