SUMMARY (64 out of 100 points): Priscilla's espresso is sort of the mirror image of the Station House Cafe in Pt. Reyes where the crema was great, but the espresso was overly voluminous. Here, I was served a perfectly-sized cup (drinkable in 5-10 sips) just like one gets at the counter of a French brasserie. Yet the crema was nearly non-existent; a cup of thin, black liquid…Alas, my quest for the perfect espresso continues.
On a positive note, like a lot of the places I've reviewed there is some great outdoor seating and the food looked delicioso. Lots of people were chowing down on good looking pizza and fresh local oysters (from Hog Island or Drake's Bay).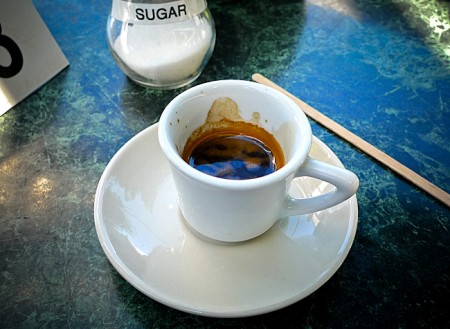 Show on map
Taste (3/5)
Crema (0/5);
Serving size  (5/5);

Presentation (4/5);
Eco-friendliness (4/4)
Click below for the rest of the review:

Taste: Three stars. About average, a little gritty, due to some loose grounds that probably shouldn't have been there.
Crema: No stars. There simply wasn't any crema, just an oily film. To quote Walter from the Big Lebowski: "Mark it Zero, Dude."
Serving size: Five stars. Magnifique! Just like the way I remember from Suresnes.
Presentation: Four stars. A simple ceramic cup and saucer, sugar on the side. Very nice. A spoon would have been appreciated.
Eco-friendliness: Four stars. Organic grounds and reusable cup deserve a high rating.
(If you haven't already done so check out The Friday Cyclotouriste's espresso rating system).
Leave a Reply