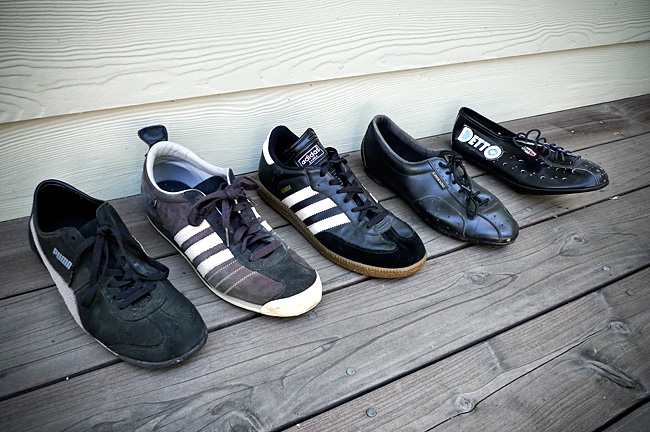 If you're looking for a comfortable, good-looking, all around touring-type shoe: good luck! It was easy to find great cycling shoes meeting this description in the 70's and 80's. Today, it is nearly impossible.
For many, many years I remained faithful to my Italian-made Detto racing shoes (pictured on the far right) in conjunction with toe clips and leather straps even though clipless pedal systems have been standard for at least the last 15 years. Actually, both these systems are quite awkward as soon as you try to do any walking (surely you've heard the clickity-clack sound of  bicyclists in a coffee shop). But having said that, these systems do make sense under certain conditions.
However, what's missing from today's marketplace is a moderately priced shoe–without cleats–that can be used for long distance riding that also allows you to blend in when you decide to park your bicycle and head to the cafe or farmer's market.
Some argue that the sole of a cycling shoe needs to be very stiff (most racing shoes, at least the ones I'm familiar with, have soles made of a solid wood-like material) so that the energy from the pedal stroke is not wasted or absorbed by the shoes.
For me, as speed and racing have given way to simply traipsing around the countryside, I've started experimenting using standard flat pedals (MKS touring) with more normal, everyday shoes with some shock absorption in the soles.  If the energy transfer from these shoes is any less efficient, it's not something I really notice. At least not after a couple minutes of hard riding.
The image shows a kind of evolution in my search for the perfect biking shoe. From left to right we have:
Detto racing shoes circa 1986 (my second pair). The first pair wore out and I found a "new" old pair on Ebay. No longer available.
Carnac touring shoes (made in England). Simple leather touring shoes with a very stiff sole. A great shoe no longer available. I'll probably sell these as they are a little too big.
Adidas Sambas. A very good all around riding shoe. The white strip is a little flashy in my opinion.
Adidas Chile '62. A remake of FIFA's popular futbol or soccer shoe. I'm not sure of their current availability. I rode down the coast to San Luis Obispo in these and liked them. The soles are covered with large rubber nubs that could create problems on some pedals, but the pattern happened to match up nicely with the pedals I was using and actually helped keep the shoe fixed to the pedal during the pedal stroke.
Puma Kugel. Probably my current favorite. Grant Petersen wrote about these in an old issue of the Rivendell Reader. The shoe was designed for shot putters. I believe these are also discontinued.
My current Holy Grail in terms of cycling shoes are Bata Bikers. I have a pair of Bata's (not the Bikers, however) that I purchased in Portugal, which I love, although they don't work for cycling. The Bata Bikers are not made anymore, but new-old-stock pairs do turn up. There's even a petition to get Bata to remake these classics.
Here's a final tip on biking shoes: if you find an all around cycling shoe you like, buy two or three pairs as they're sure to be discontinued.
5 Responses to 'Gear Gallery……Bicycling Shoes'
Leave a Reply