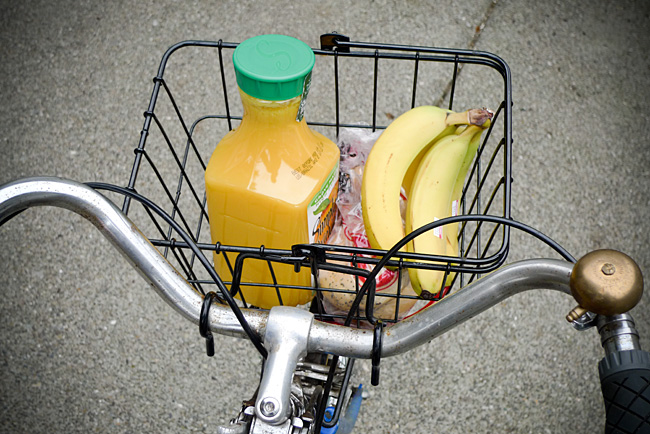 Mini-Review: This is Wald's model 114 basket attached to my Nishiki. There is no fork or brake bolt hardware to deal with; it stays attached with curved pressure points resting below the headset and with hooks around the handlebars. So for around $20 and two minutes of work you've got a basket (granted it's not particularly elegant or permanent). Still, I've severely overloaded mine and it performed really well.
A standard grocery sack will almost fit, but not quite (If that matters the model 133 may be the better choice) so it's not good for big hauls — a six-pack, a carton of eggs and some bread, that sort of thing works best. The other day it was overflowing with veggies — leeks, cauliflower, broccoli, carrots, cabbage, some shallots — for making a blended Portugese-style soup. This photo was made after a morning breakfast run.
A lift-up handle releases the basket from the its mount so you can carry it into the store or around the market.
2 Responses to 'Gear Gallery……Wald Grocery Basket, a mini-review'
Leave a Reply