Archive for the 'Brooks' tag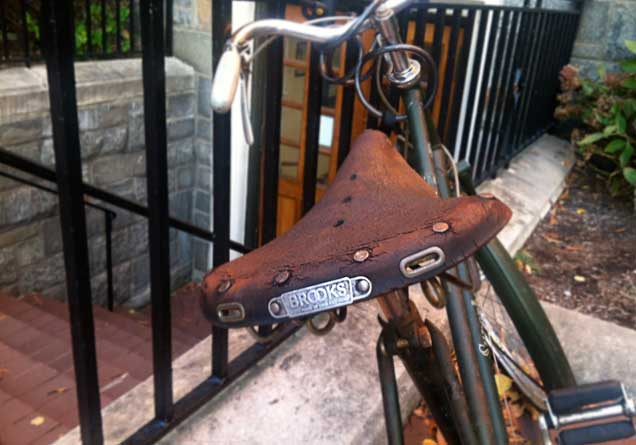 I was on the Georgetown University campus this past Friday to attend a talk on Sufism by Pir Zia Inayat Khan (if you're curious check out his wonderful new book).
En route, this old Schwinn with a vintage Brooks saddle caught my eye. The saddle is disintegrating, but still serving its intended purpose — carrying its rider along life's unfolding, luminous path.
-Nathan
After writing the previous post on bicycle saddles, I discovered this video about the Brooks' manufacturing company over at The Velo Hobo. It's a quaint look at the company behind this iconic piece of cycling history. (Skip to the 7:23 mark of the video to see the very cartoon-like English guy in charge of leather chamfering. He's great).
When I built up my Ebisu I decided on a Brooks saddle, my first. I went all-out and purchased the Team Professional with titanium rails (figuring I'd save some weight) and by good fortune found a used version with nearly zero miles.
They say you need to break a Brooks in and indeed the leather softened up and took on a more comfortable quality after about 400-500 miles (though it has broken in a little unevenly from side-to-side. Sadly, I've heard talk that Brooks' quality is deteriorating).
Nonetheless, I love my Brooks saddle. I'm a convert.
My other saddle is a Concor, Selle San Marco from the early 80's (I double checked and although the wording has mostly worn away it is the coveted superleggera (Italian for Super Light) model — super comfy and still going strong after 25 years!
Seen from the back in this post, the Concor is the original saddle on my Guerciotti and usually stays there because I'm too lazy to switch the Brooks back and forth between bikes. But fairly frequently, I do switch them because as comfortable as the Concor is it just can't beat the Brooks in that category.