Archive for the 'hetre' tag
Is it sacrilege (or fickleness) to doubt my relationship toward my two primary bicycles: the Guerciotti and the Ebisu because each has something the other lacks?
I made some tweaks to my Guerciotti's set-up about seven years ago and ever since I've been pretending it's a randonneuring-style bike and the truth is it's really not. The Guerciotti is a racing bike with classic Italian geometry. It doesn't hold a front handlebar bag that well and although I've shoe-horned 28-29mm wide Grand Bois tires onto it, the bike's narrow clearances will not except fenders.
The bottom line: it's fast and really fun to ride, although a bit twitchy like an Alfa Romeo.
But most importantly the bike's super light tubing allows it to "plane" — an elusive (some say phantom) sensation whereby the frame's flexibility works in a sort of mysterious, mechanical harmony with the rider. Jan Heine, the publisher of Bicycle Quarterly, coined the term "planing" as it pertains to bicycle performance and has written about these subjects extensively.
My Ebisu, on the other hand, was purposely built to carry a loaded handlebar bag (it can even be set up with front panniers for a short tour) along with wide tires (up to 38mm wide) and fenders. But if I'm honest, the Ebisu is not quite as responsive and fun as my Italian racing bike. Continuing the car analogy, if the Guerciotti is an Alfa, the Ebisu is a Subaru Forrester.
So what are the underlying causes of these differences? I've pinpointed two:
Responsive shifts: the 9-speed cassette on the Ebisu makes manual friction shifting a fine, delicate operation. On the other hand, the Guerciotti drivetrain is based around a more direct, positive feeling, 6-speed freewheel. The difference is significant.
Planing: my Ebisu frame feels stiffer than the Guerciottti and it does not noticeably plane while riding. Understandably so. The Ebisu was constructed by master builder Hiroshi Iimura as more of an all-around bike capable of mid-to-light weight touring. But I do miss the feeling of riding my racing bike when I ride something else. The joy of pedaling hard and covering varied terrain is related — at least for me — to the stiffness of a bicycle's frame.
It took time, but I discovered my preference for a more flexible frame through trial and error after pedaling different kinds of frames many miles over northern California's hilly roads (and from reading Jan Heine's articles in Bicycle Quarterly).
My Ebisu is perfectly designed for its purpose and performs more the way I like when it's carrying extra weight. It seems that the additional weight (since I'm only 150-55 lbs.) causes the Ebisu frame to flex more than normal thus making the frame more responsive and lively when fully-loaded (as opposed to when it is ridden un-loaded).
Where does this leave me?
It means I need to find a bike close in design to the Ebisu, but with light, flexible, tubing like the Guerciotti. The only question is whether to base it around a 700cc 32mm tire or the highly-reviewed 650B 42mm Hetre tire?
Below are some images of bikes and makers which include the option of using super lightweight tubing in their designs.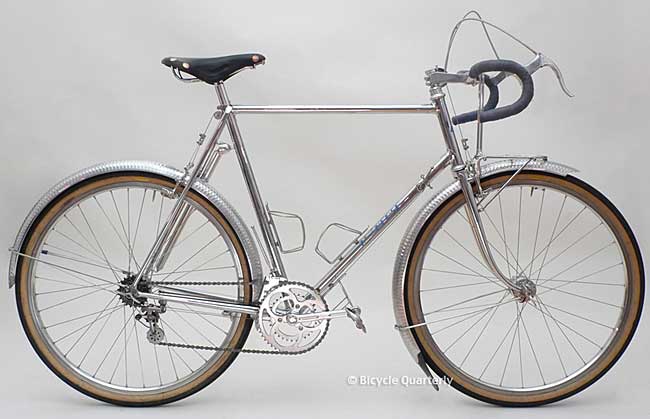 Jan Heine's custom Rene Herse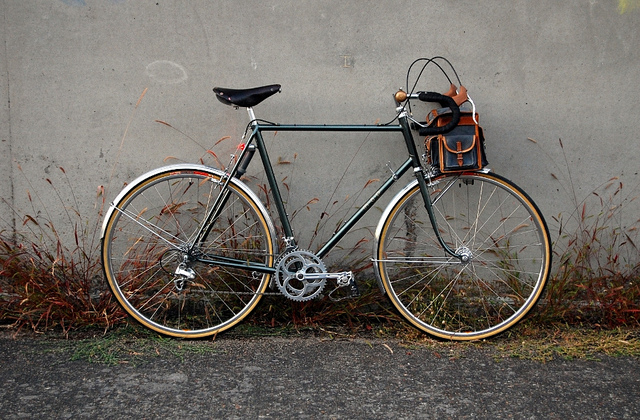 MAP bicycle in 700cc wheel size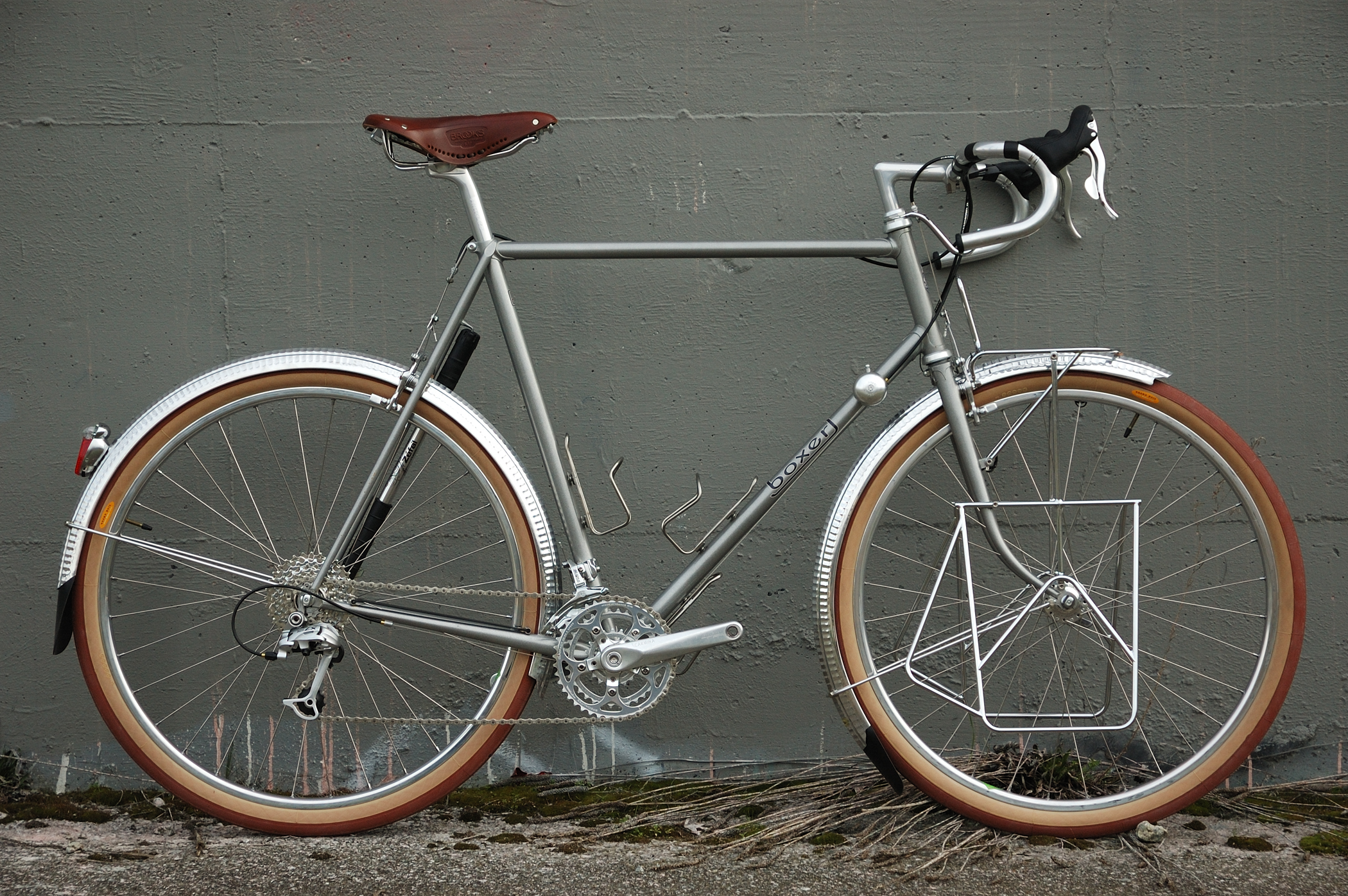 Boxer Bicycles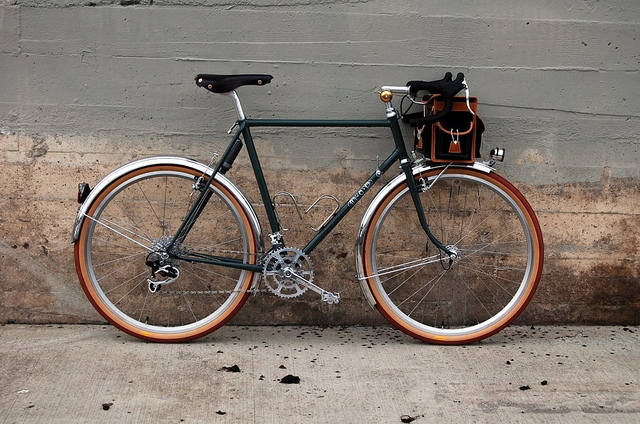 MAP bicycle in 650B wheel size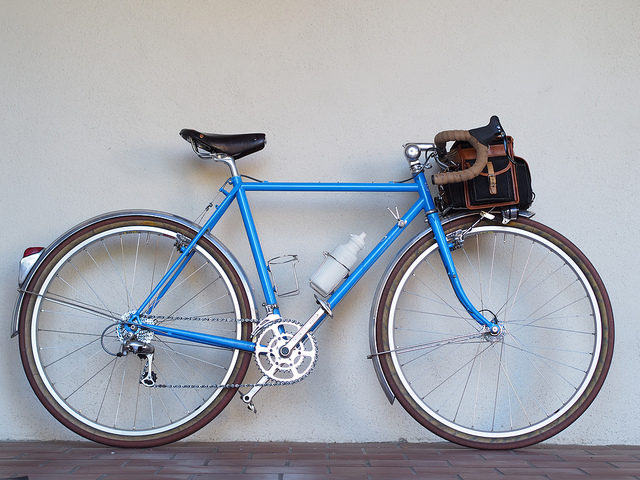 Box Dog's Pelican (a local Bay Area company).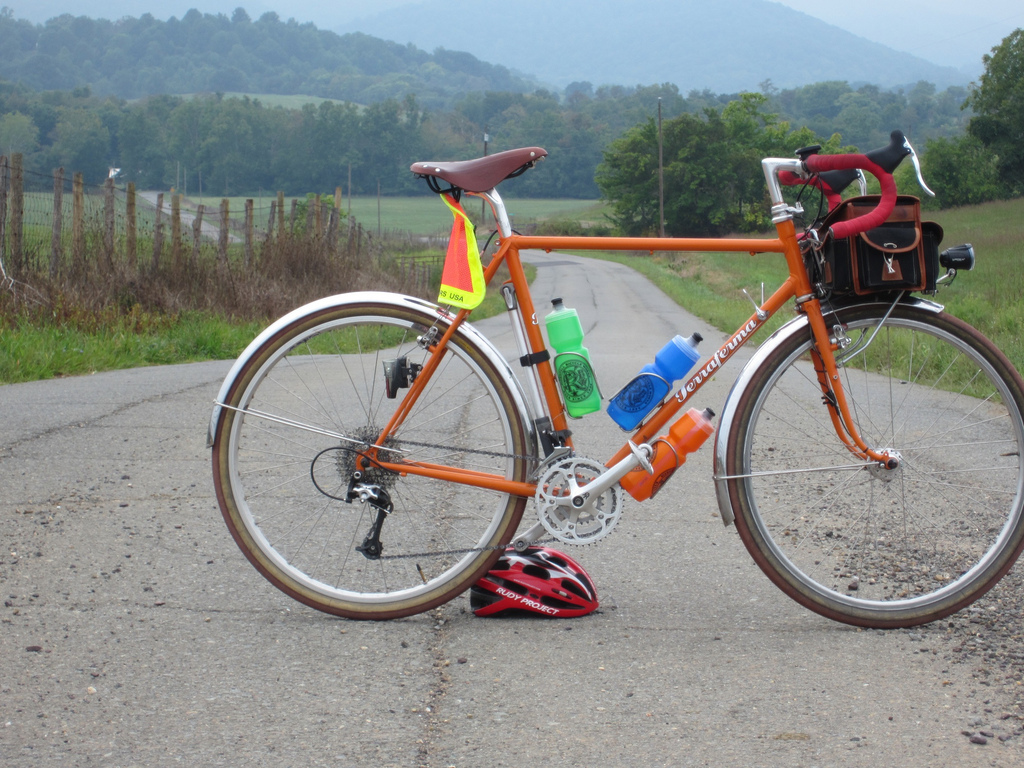 Terraferma Cycles (courtesy chasingmailboxes)