Archive for the 'Bata Bikers' tag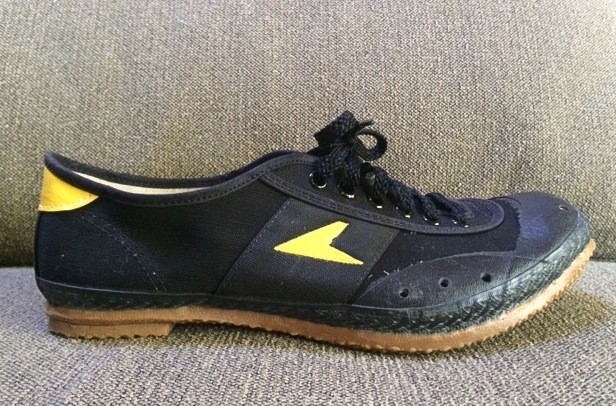 Bata Bikers are to classic, steel-framed, bike-loving cyclotourists:
+ what the Cape Buffalo is to Hemingway;
+ what the Grail is to the Arthurian knights;
+ what his beloved wife Mumtaz Mahal (and the Taj Mahal) is to Emperor Shah Jahan.
That is: Part obsession. Part devotion. Part unrequited longing.
Well…the elusive Bata Biker has finally arrived at The Friday Cyclotouriste world headquarters.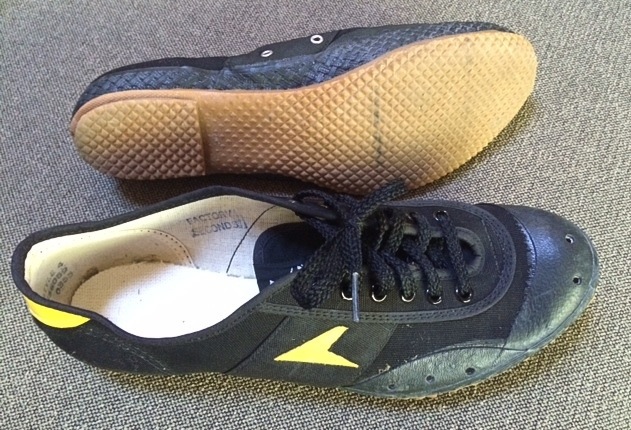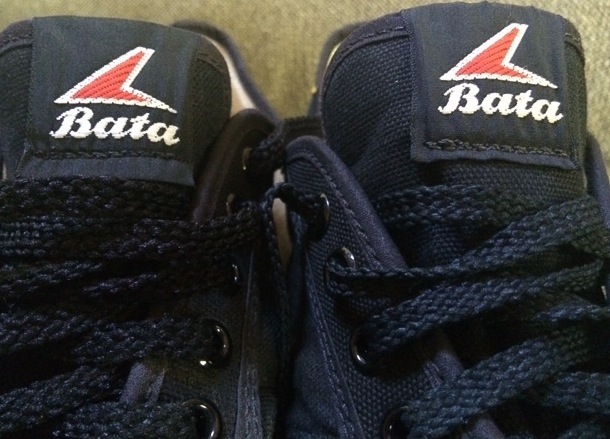 According to the analytics of this site, my posts on bicycling shoes are all in the top 10 of the most searched and the most viewed. In my first of these posts I mentioned the fabled Bata Biker shoe.
My most recent cycling shoe discovery was the ASICS Keirin, which I wrote about here.
Still, the classic Batas seemed like a perfect low-profile, lightweight, canvas bike touring shoe with semi-rigid soles for either flat pedals or pedals with toe-clips.
Yet they are impossible to find — anywhere. Bata ceased production sometime in the early 80s, I think.
Given this, when I recently saw a pair of unworn Bata Biker factory seconds in my size on eBay, I scooped them up.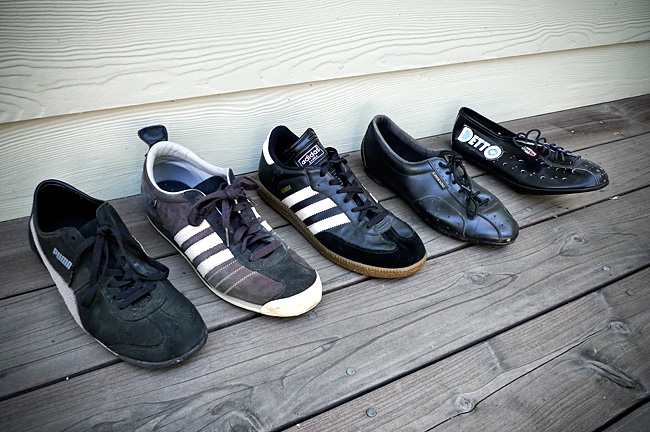 If you're looking for a comfortable, good-looking, all around touring-type shoe: good luck! It was easy to find great cycling shoes meeting this description in the 70's and 80's. Today, it is nearly impossible.
For many, many years I remained faithful to my Italian-made Detto racing shoes (pictured on the far right) in conjunction with toe clips and leather straps even though clipless pedal systems have been standard for at least the last 15 years. Actually, both these systems are quite awkward as soon as you try to do any walking (surely you've heard the clickity-clack sound of  bicyclists in a coffee shop). But having said that, these systems do make sense under certain conditions.
However, what's missing from today's marketplace is a moderately priced shoe–without cleats–that can be used for long distance riding that also allows you to blend in when you decide to park your bicycle and head to the cafe or farmer's market. Read the rest of this entry »