Archive for the 'Velocio' tag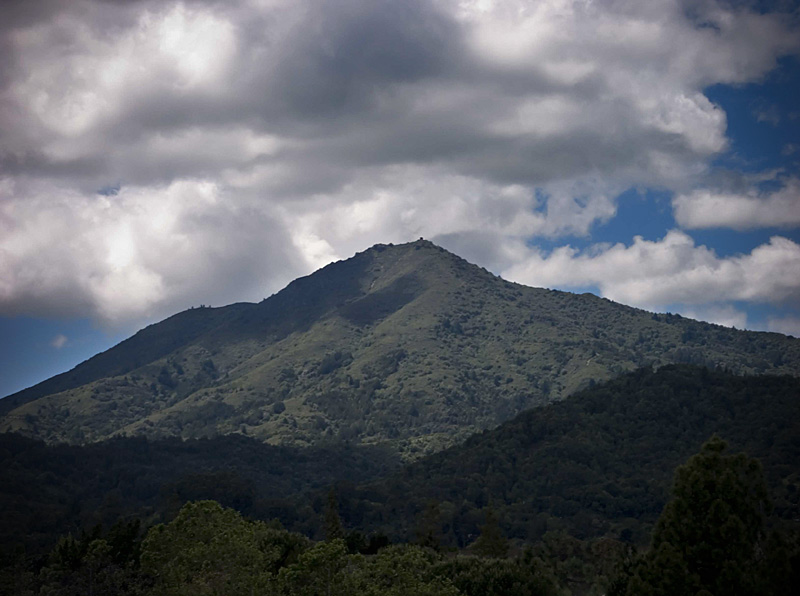 The recent post about Paul De Vivie inspired me to do something I'd never done before: bicycle from my house in Fairfax to the summit of Mt. Tamalpais. (Velocio's seventh bicycling commandment, or one interpretation thereof, is to never ride without a purpose — see Velosophy.)
So today, I gave myself this purpose.
I left about 12:30pm and returned about 5:30pm. A three hour climb to the summit; half-an-hour at the top; and an hour-and-a-half to ride back. The summit is about 2,500′ in elevation, but starting from Fairfax you gain and give up (and gain again) much more elevation over the 35 mile round trip. Roughly 6,000 feet of total climbing is actually involved.
I carried two water bottles, two peanut butter and jelly sandwiches, and a few ounces of cheese and salami, which provided for three food stops.
The weather was partly sunny with an occasional breeze, some light rain, and pockets of dense fog. I had wool knickers, a wool tee-shirt, a long-sleeve wool pull-over, a rain jacket, a neckerchief, a baseball cap, and a wool beanie to counter the variable weather.
It's mid-June but my cycling season is still young and I am not in great cycling shape yet so today —  I suffered. I also forgot to re-fill my water bottles at the summit forcing me to conserve less than half a bottle on the return.
At two points — the steepest section right before the summit and the last major climb on the return — I was assisted by, of all things, a strong tailwind giving me just enough of a boost to get me up and over.
I could not help but wonder if this beneficence was the work of Saint Velocio watching over me.
A new Hall of Fame page has been added to The Friday Cyclotouriste. Read about the inaugural members of this elite club.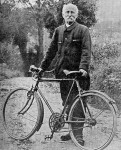 #1 Velocio (aka Paul de Vivie) b. 1853. The spiritual father of cyclotouring.