Archive for the 'FAIRFAX-to-SANTA CRUZ' Category
I wanted to bicycle out to the coast today, but a heat wave (103 degree F) made me rather lethargic. So here's a few unpublished images from my recent Santa Cruz trip.
My brother (pictured) and I like this image because of its enigmatic time and geography: The Macedonian coastline, early 1960s perhaps.
For the actual location, remember to click the geotag icon below the image and use the zoom and map tools (switching to the satellite map type and zooming in very close is always interesting).
His bike is a really nice, old lugged Trek. That's an Ostrich Bag on the front and a home-made pannier bag on the back.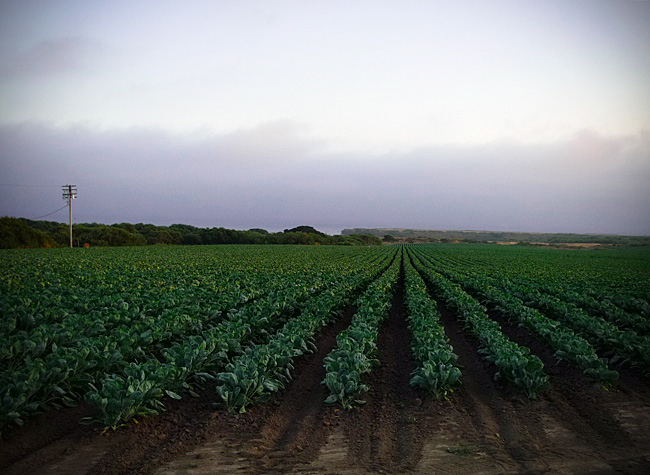 Show on map
This is where your brussel sprouts come from……and the last bit of farmland before entering Santa Cruz (just past Wilder Ranch State Park).
One of my knees was really killing me at this point (and by killing me, I mean it felt like I was being stabbed in the knee with two screw drivers). I later discovered I had stupidly pedaled 100 miles on a saddle that was set too high. Lesson learned.
The white sheen on the rocks? It's guano, in case you were wondering.
Looking northwest, past Devil's Slide along Highway 1.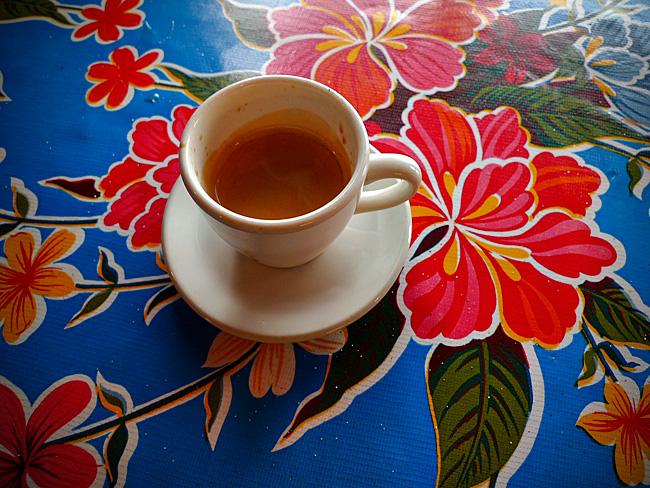 Show on map
SUMMARY (84 out of 100 points): Was it because of the 80+ miles of hard riding that preceded it or was this, in fact, a very good espresso in its own right? Separating the two is tricky (you know how everything tastes great when you're out hiking or camping–same thing with a bike ride of this length).
I have to say I think Whale City Bakery gets much right with its espresso. The presentation was acceptable. The crema was decent though not stellar (a little thin actually), but the flavor really shined through. I'm not one that easily identifies the acidity or flavor attributes (like floral, citrus, malt, etc.) of each cup. Nonetheless, the overall taste just seemed right–clean, balanced, yet also interesting.
Because I was curious the Barista retrieved the foil bag of espresso—apparently a local Santa Cruz purveyor, whose name I unfortunately failed to make a note of and have now forgotten.
Taste (5/5)
Crema (4/5);
Serving size  (4/5);

Presentation (4/5);
Eco-friendliness (4/5)

(If you haven't already done so check out The Friday Cyclotouriste's espresso rating system).
The route was prety straightforward. If you're not familiar with the Bay Area you should print out some maps, but we basically made our way from memory.
The trip breaks down roughly into three sections.
Mile 0-35: a mix of urban and suburban roads and bike paths which wind through Marin cities such as San Anselmo, Ross, Corte Madera, and Sausalito.  You cross the Golden Gate Bridge and head west toward the coast and climb Skyline Blvd. before enjoying a nice descent into the city of Pacifica.
Mile 35-50: the long climb outside of Pacifica past Devil's Slide offers some spectacular coastal views on the descent. Then it's mostly flat or gentle low rolling hills to Half Moon Bay (which is a good place to remember to eat something or at least stock up on food).
Mile 50-100: a lot of short steep hills in this section makes it difficult to maintain much momentum. Also there's no running water at the numerous coastal campsites, but Pigeon Point Lighthouse will let you use their hose spigot to refill water bottles. A few miles past the lighthouse is Gazos Grill in Pescadero, which will serve you a meal. Then there's Davenport (see my espresso review).  Finally, in the last 14 miles or so, the hilliness decreases as you roll past fields planted with brussel sprouts and begin to hit the outskirts of Santa Cruz. We crossed town, mostly on bike paths, to arrive at our friend's house near the boardwalk where we would stay for the night.
Note: the picture above is of my brother along the climb outside of Pacifica. It's steeper than it looks, the shoulder is quite narrow, and there's lots of truck traffic heading up to the construction project where a massive new tunnel is being built.
Read Part I here
It may not look so, but it was foggy, cold, and very windy this morning. I was comfortable only after putting a windbreaker over two wool layers.
Also, we found out the bike path on the west side of the Golden Gate Bridge is closed during the week.
Whoops!
This made entering and exiting the bridge a little more complicated.
Since we didn't eat breakfast. A picnic table by this Mill Valley park, 35 minutes into the ride, was our first stop.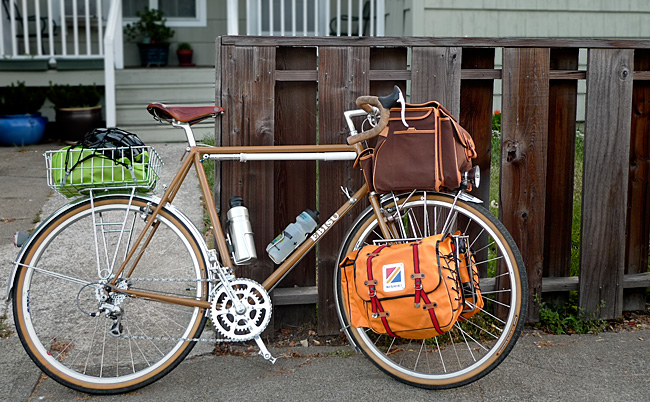 A hastily arranged portrait of my fully-loaded Ebisu just before setting out (around 6:30am) for the trip to Santa Cruz.
From Fairfax it is almost exactly 100 miles, one way. My brother and I decided to make the trip in a day.
A few years ago, I covered the same distance, but took two days stopping to camp on the beach near Half Moon Bay. This time there would no camping and I would either pedal back after a rest day or catch a ride back to the Bay Area from our friend in Santa Cruz.
Despite it being just a long day ride, I attached pannier racks to my existing front rack and packed like it was a short tour. For clothes, I had wool riding pants, an extra pair of pants and a short-sleeved collared shirt for my day off the bike, a wool t-shirt, a wool pullover, 2 pair of wool socks, a rain/wind layer, a wool beanie, a baseball cap, and (non-wool) underwear. I pedaled in Adidas Sambas and also packed a pair of Rainbow flip flops and a swim suit for the Santa Cruz boardwalk.
As far as equipment, I brought a miner's headlamp, two spare tire tubes, plastic tire irons, a bunch of zip ties, a bicycle multi-tool as well as a small selection of allen and other wrenches (to help with roadside repairs that might otherwise be difficult with just the multi-tool), a small digital camera, and a cell-phone and charger. I also brought a few toiletries in a small pouch: shampoo, sunscreen, and tooth brush.
For food, I packed 4 PB&J's, 4 hard-boiled eggs, a mango, 2 apples, and 2 oranges. Plus, two water bottles.
Fully-loaded, the bike weighed in at around 55 lbs. I think the bike itself (with full fenders, racks, rear basket, lighting, and a handlebar bag) weighed around 30 lbs., which means I was carrying 25 lbs of STUFF. That seems like a lot of weight considering there would be no camping.
Think how heavy my bike would get if I added cooking, cleaning, and eating gear, extra food, a tent, and a sleeping bag!
Read Part II here