Archive for the 'Pt. Reyes' tag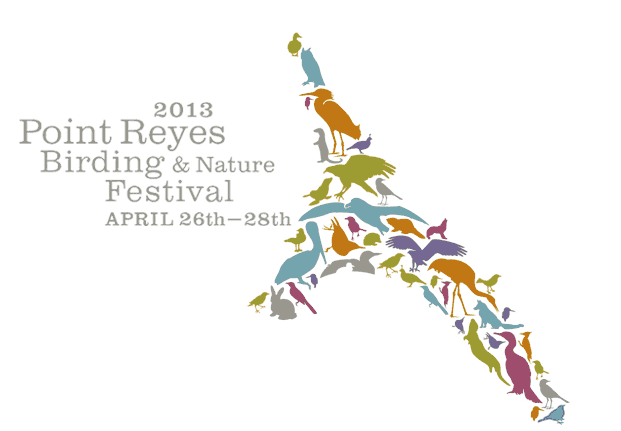 The 4th annual Pt. Reyes Birding and Nature Festival is going on this weekend.
As a novice birder, I settled on a beginner's 3-hour bird walk through the meadows and forests near the Pt. Reyes visitor center off of Bear Valley Road. Rich Cimino, with 45-years of birding experience, lead the walk. (Rich also runs a company, Yellowbilled Birding, specializing in small group, birding trips, in the western US.)
The most exciting sightings for me were the Purple Finch and Winter Wren. The latter has one of the most complex songs of any bird (listen on this page). The Winter Wren can be quite elusive and difficult to spot. Rich said it takes some California birders many years before they see one!
Here's my list of the birds I spotted:
California Quail
Turkey Vulture
Red-tailed Hawk
Nuttall's Woodpecker
Great Horned Owl (heard, not seen)
Stellar's Jay
Western Scrub Jay
American Crow
Common Raven
Winter Wren
American Robin
Wilson's Warbler (heard, not seen)
The previous day's schedule had a workshop called Birding by Bike at Bolinas. Here's an excerpt from the on-line class description.
Whether you are a beginning birder or have been at it for decades, bicycling adds a whole new dimension to the pursuit and study of birds…Bolinas has a rich diversity of habitats and there is no better way to experience those qualities than by bicycle. As we move through the landscape we will be birding by ear, listening for the voices of returning migrant breeding and resident species alike…With so many habitats all mashed together, participants will take advantage of the opportunity to visit at least seven distinct habitat types and learn a bit about the plant communities therein. Being the height of spring, bird birdsong and bird detectability will be at their peak. As it happens, bird diversity is also at its spring peak during this period. The group will make frequent stops on our "migration" to search out as many species as possible.
I'm not completely on-board with mixing these two activities. I feel the same about SUP yoga — each one (yoga and stand-up paddle-boarding) already seems whole and complete on its own.  Combining the two risks lessening the other, don't you think?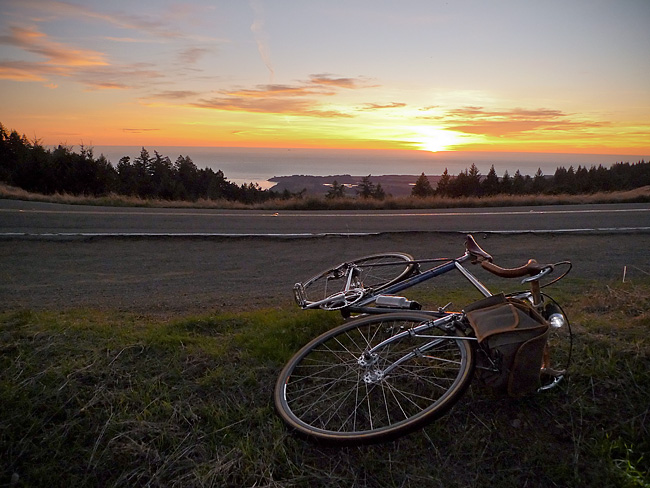 Show on map
Northern California just had a glorious little heat wave. This last gasp of Indian Summer resulted in hot sunny weather with temperatures in the 70's, and even 80's, over the week-end.
And for some reason, I got it into my mind late Sunday afternoon that I had to ride until I could get a view of the Pacific Ocean.
The easiest way to accomplish this goal was a 25 mile round-trip with about 2,600′ of vertical climbing.
Here's a route map and a one-way elevation profile from the ride:
The spit of land in the above image (just past the line of trees) comprises the town of Bolinas and the Pt. Reyes pennisula.
More pictures and a short ride report to follow.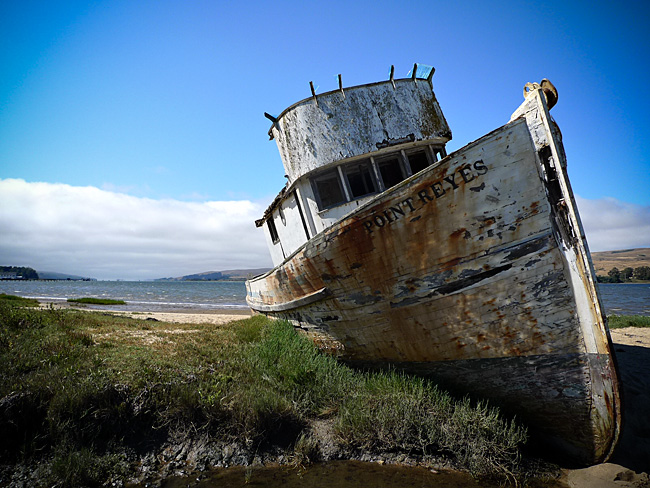 Show on map
I'm sure everyone who passes by this old wreck makes a picture; it's hard to resist.
The mouth of Tomales Bay and the mighty Pacific Ocean is identifiable by the small gap between land masses on the left side of the horizon.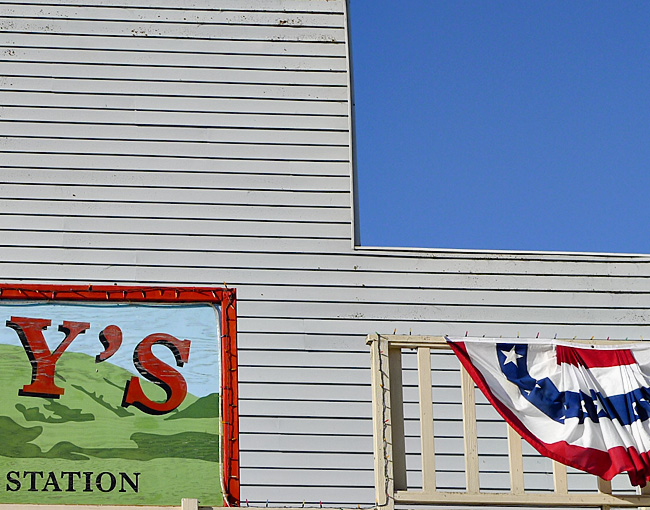 Here's a slightly abstract image for a change: July 3rd, Toby's Feed Barn (and sky), downtown Pt. Reyes Station.

Show on map


Are you getting bored with panoramas yet?
The novelty is starting to wear off for me, but they do give a pretty good sense of the landscape so I'll keep composing these whenever the inspiration strikes (and I'm still quite thrilled with my first try at this format, originally posted here).

Show on map
SUMMARY (64 out of 100 points): If only the Station House knew the proper size of a single espresso (a full shot glass is about right) they could have something here because the crema was very good (check out the color and the bubbles!) and the presentation was great. But the volume of espresso was so gigantic that all balance and harmony was lost.
Since the wind was howling, I took shelter indoors, but there's a very appealing outdoor patio with space to park bikes. So even if the espresso is flawed this place is still a natural stop if you're passing through Pt. Reyes Station and want a sit-down, restaurant experience.
Taste (4/5);
Crema (4/5);
Serving size  (1/5);

Presentation (3/5);
Eco-friendliness (4/5)
Click below for the Full Review: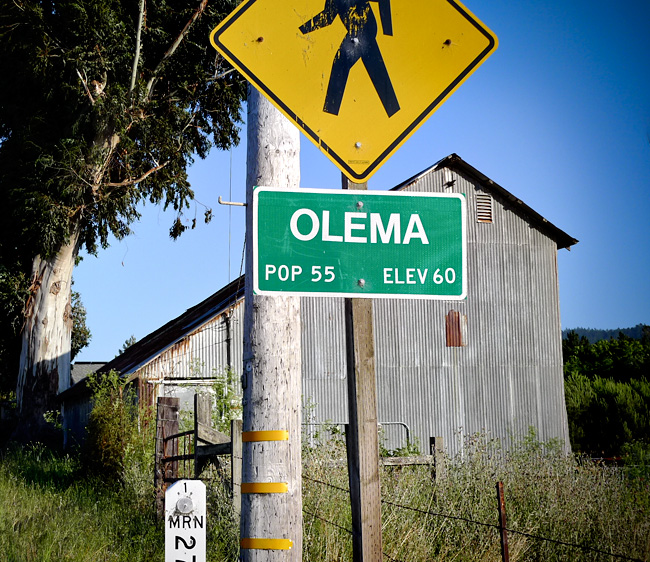 Olema is said to mean "Coyote" in the native coastal Miwok language. Long thought to be the epicenter of the 1906 San Francisco earthquake, the Olema Valley is where the Pacific and North American tectonic plates meet. So, geologically speaking, everything on the east side of the valley is in North America and everything on the west side is not (such as the Bishop Pine forest, behind and to the right of this barn).

Show on map