Archive for the 'Alpine Lake' tag
Last week-end, I packed a light lunch and took one of my favorite rides out to Alpine Lake in Fairfax.
The sun was bright and strong, but it was still very cool in the shade. So I wore a pair of wool knickers and two cotton t-shirts (one long-sleeve and one short-sleeve), which was perfect.
During the long downhill stretches — through the redwood groves where the cold air tends to chill you to the bone — I put on a light wind jacket. On cold days, I always keep an inexpensive one stuffed in my handlebar bag. Mine is a basic, clear plastic, no thrills jacket that cost less than $20, but is the difference between freezing on long descents or being comfortably warm.
As it turned out, the long-sleeve wool layer (that I forgot at home) wasn't even necessary.
These sunny, Northern California winter days are glorious!
-Nathan
I recently pedaled up to Alpine Lake and had the foresight to pack a little fruit and one of these spiffy stainless steel Japanese Suncraft knives.
As I bit into this juicy kiwi, I remember thinking:
How is it that I'm sitting here now and eating a tiny fruit that was harvested on the other side of the earth?
There was no judgment over the astronomical (one might even say grotesque) carbon footprint of my organic New Zealand kiwi – it was simply a sense of wonder that I live at a time in human history where such an act is even possible.
Note: After writing the above post I discovered that a "sense of wonder" is a recognized concept in science fiction literature. It's related to a "numinous" experience. Here's an excerpt from the Wikipedia entry:
The sense of wonder is related to, but not identical to, the concept of the numinous…the numinous, in this case, is the understanding that there is something not directly comprehensible, but large and entirely other, in the world. The sense of wonder, by contrast, is the understanding that there is something that one had not fully comprehended — or perhaps had not even recognized that there was something to be comprehended — until that point.
The Velo Hobo (aka Jack from North Carolina) was kind enough to spotlight me in one of his recent "featured rider" posts.
Initially, I told him I was a little embarrassed by the distinction. The cycling community is full of so many riders that are accomplishing amazing physical feats or doing other extraordinary things with bicycles. I felt a little inadequate in this regard. But I'll continue to do my part, whatever that may be. Thanks Jack!
And this reminds me. I've been remiss in acknowledging other blogging friends and supporters of The Friday Cyclotouriste to whom I am most grateful. They include:
All are amazing blogs. I encourage you to visit.
(P.S. The above picture, which I sent to Jack, was made with the camera on the ground using the 10-second timer on a recent Thursday evening ride up the hill near Alpine Lake).

Show on map
…NO OPEN FIRES, so says MMWD. Still, you can always ride a bicycle or go for a hike via the nearby Cataract Trail.  (p.s. thanks to the group from SF who shared water and some delicious grapes at this scenic little spot).
Just another beautiful northern California October day.
Because it's so close to my house, this is my "3x a week, and it still never gets old" ride. It's usually what I do when I don't have a destination in mind, but am itching to get out on the bike.
The route can also be incorporated into other rides (a long loop out to the coast and Highway 1 or a Panoramic Highway-Central Marin loop)
If I want to build strength and go fast I'll ride my Guerciotti. If I'm feeling a little lazy, I'll load the Ebisu's big handlebar bag full of snacks (some olives, maybe a little salami and cheese, some watered down red wine, and an apple) and go at a more leisurely pace, adding mileage by exploring some of the fire roads around the lake.
What makes it so interesting is the variation and scenic beauty. During the roughly 17 mile round trip you're almost always climbing or descending; it's rarely flat. In fact, in the first 3 miles there's nearly 1,000 feet of elevation gain. This is followed by a long descent and then several more (yet easier) climbs and descents all the way to the lake.
The road curves its way through the foothills of Mt. Tamalpais with only 2 or 3 straight stretches and the terrain you pass through includes Redwood forests, scenic overlooks, and lots of water at the end. Plus, there are few cars to contend with even on week-ends.
What's not to love?
Check out here, here, here, and here for some images made along this roadway.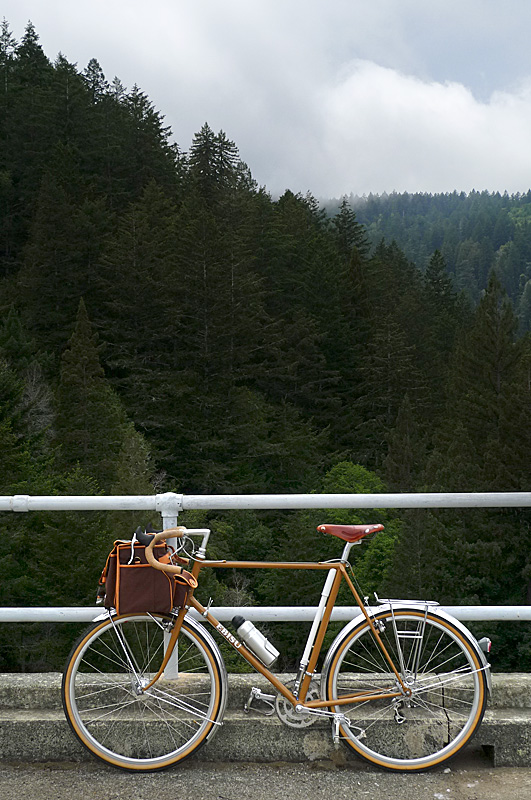 Lots of variation in terrain on the way to the summit — from oak-studded grasslands and chaparral to the misty Douglas fir and Redwood forests around Alpine Lake seen above.

Show on map