Archive for the 'Highway 1' tag
In light of yesterday's post, here's some calla lilies (Zantedeschia aethiopica) that I photographed several weeks ago growing along Highway 1 in Marshall, CA.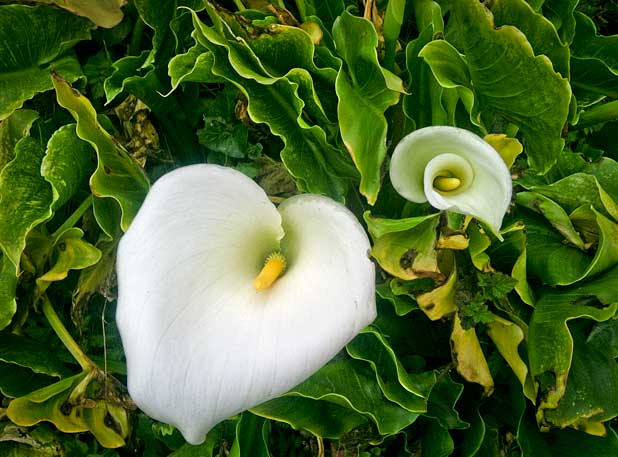 If people ask me my favorite town in Marin County, I answer Marshall.
I do it for the puzzled look I inevitably get since few people have heard of the little community that has a population somewhere between 50 and 400.
My second favorite? Dogtown, with a population of 30.
I suppose I miss living near the ocean because I recently found myself looking through these photos from a memorable one-day trip down Highway One to Santa Cruz made in the summer of '09.
My brother rode a classic Trek with city bars (see the final image below) and I rode my quasi-touring Ebisu, fitted with some snazzy Nishiki front pannier bags that I found on Ebay.
The photos are a couple years old, but looking at them gives me so much pleasure that I've decided to post them anyhow (and give them a nostalgic vignetting to account for their age).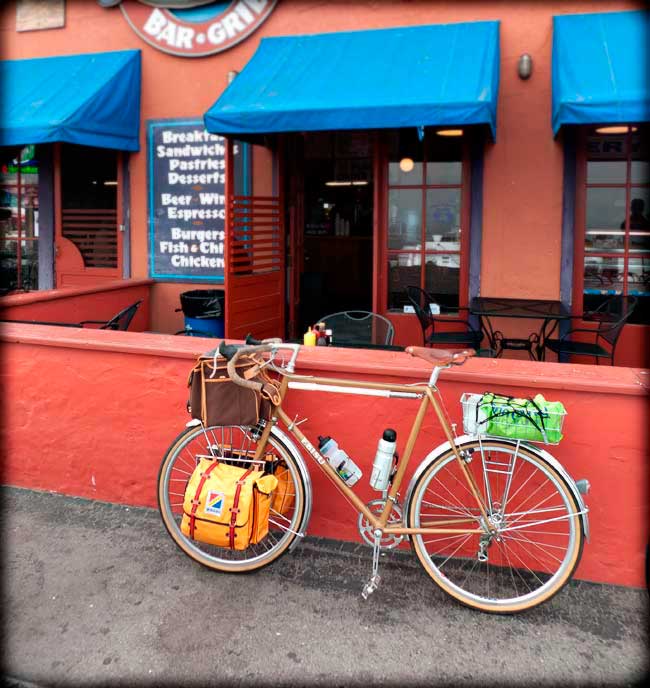 Food and coffee stop…yum yum!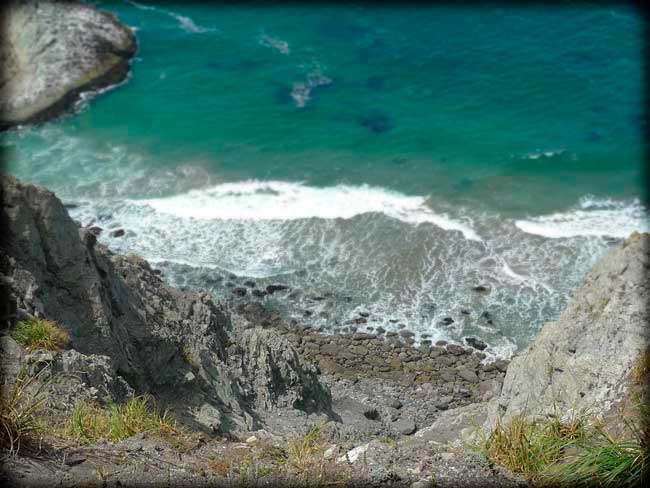 No bike lane; no shoulder; no looking down!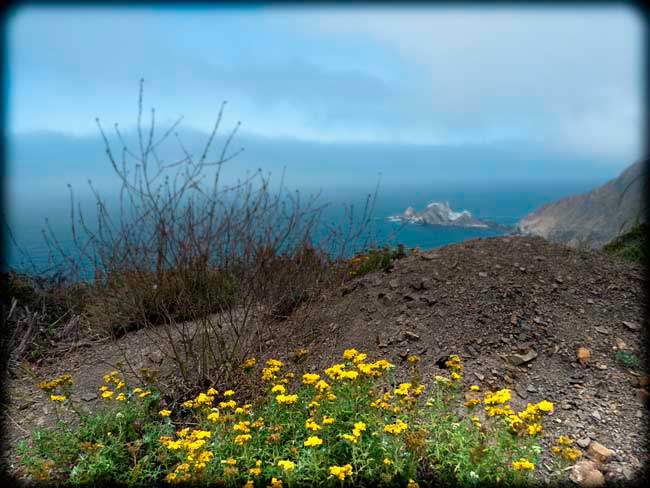 View to the northwest…the continent ends.
This is the last place. There is nowhere else to go.
Human movements,
but for a few,
are Westerly.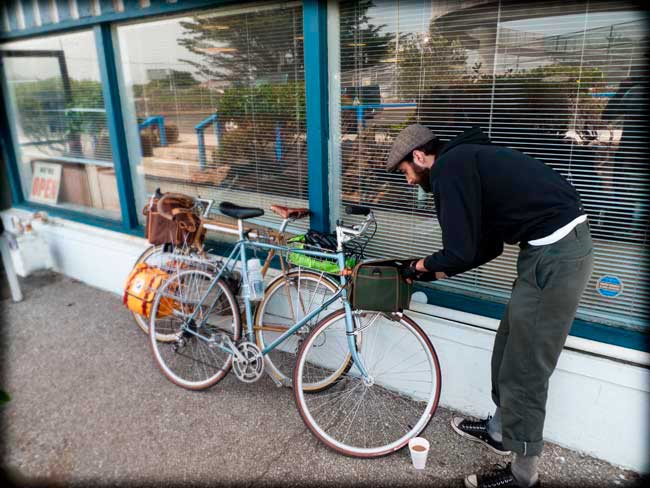 More food; more coffee.
Nathan
The specimen below is probably the largest Eucalyptus I've seen. These trees are native to Australia and were originally planted in California — I'm guessing — as wind breaks for ranches and farms. They are quite draught resistant, making them extremely productive trees in this climatic zone. Plus, they smell really good!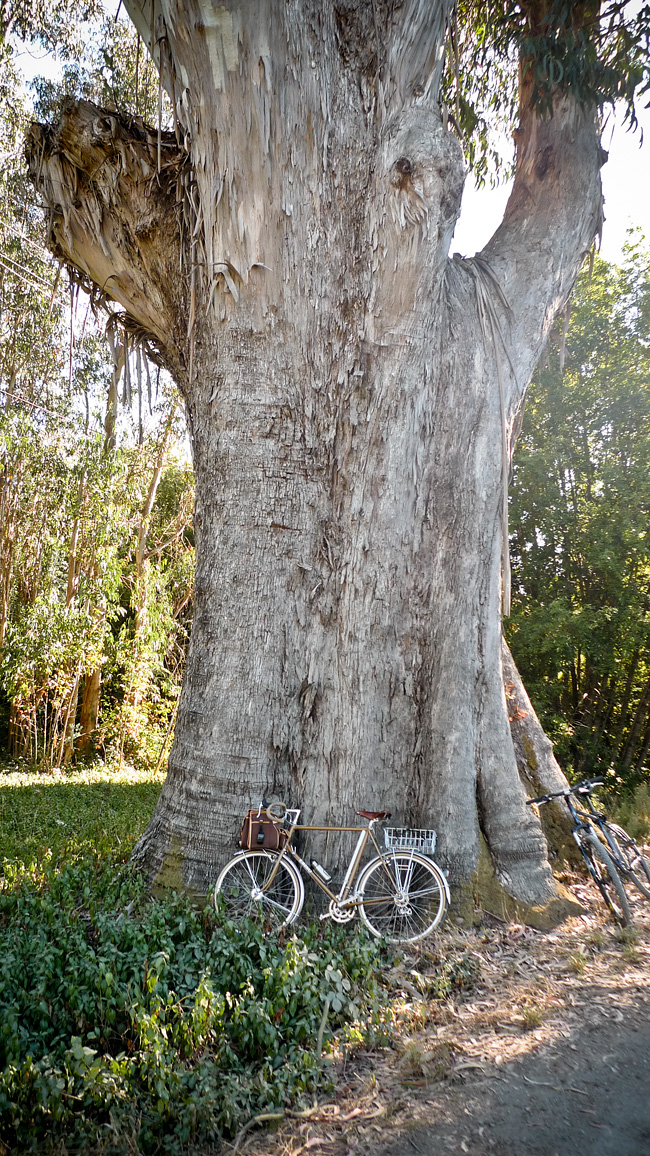 Just outside of Olema lies the Vedanta Retreat center.
I pedaled up the entry driveway past what they call the Vivekananda Bridge. There really was a palpable sense of peace and calm, maybe because for the last 37 years this has been a place "…where spiritual seekers of all faiths may meditate and study away from the disturbances of urban life."
Here's a synopsis of Vedanta philosophy from the Vedanta Society of Northern California's website:
The basic teaching of Vedanta is that the essence of all beings and all things–from the blade of grass to the Personal God–is Spirit, infinite and eternal, unchanging and indivisible. Vedanta emphasizes that man in his true nature is this divine Spirit, identical with the inmost being and reality of the universe. There is, in short, but one reality, one being, and, in the words of the Upanishads, "Thou art That."

Vedanta declares that one can realize God in whatever aspect one wishes, and, further, that one can realize him directly and vividly in this life, in this world. Such realization constitutes spiritual freedom and contains in infinite measure the fulfillment of all man's ideals and aspirations; it is indeed the true purpose of human life.

Vedanta holds that all religions lead to the same goal. Further, Vedanta reveres all great teachers and prophets, such as Sri Krishna, Lord Buddha, and Jesus Christ, and respects their teachings as the same eternal truth adapted to the needs of different times and peoples.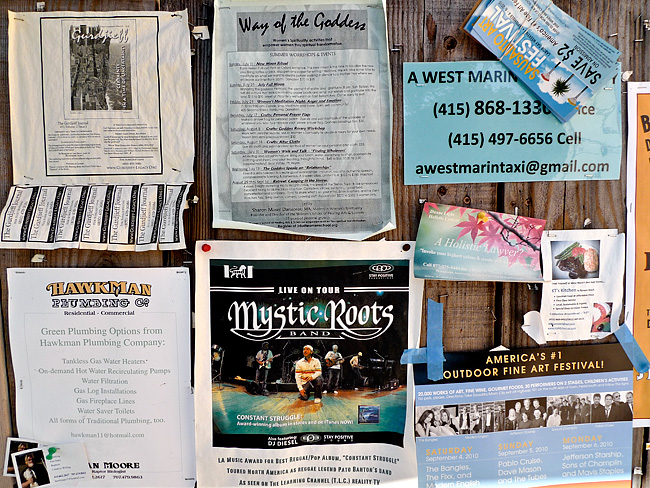 Show on map
A typical Marin County bulletin board: "Holistic Lawyer", "Way of the Goddess", "Mystic Roots Band", "Gurdjieff" and a plumbing contractor.
Sir Francis Drake Blvd. is eponymously named after the English explorer, pirate, slaver, and planet circumnavigator (Sir Francis Drake, b.1540-1596) and was once slated to become a four-lane highway known as CA Route 251:
…However, the development and freeway planning were stopped due to concerns about fragile ecosystems that urbanization would have damaged or destroyed….There was another problem though: the plan put the entire area on the San Andreas Fault. The decision to not redevelop West Marin made the freeway unnecessary, and it was therefore scrapped (from the Wikipedia entry)

One really appreciates elevation gains/losses when on a bicycle. To wit, I've traveled this stretch by automobile dozens of times and on all those occasions I perceived the route as being perfectly flat.
Anyhow, this stretch of Highway 1 connects the small west Marin towns of Olema and Bolinas. You travel over rolling hills and past park land and old ranches while following the San Andreas earthquake fault along the valley floor. (I wrote a little about this natural history and geology in an earlier post).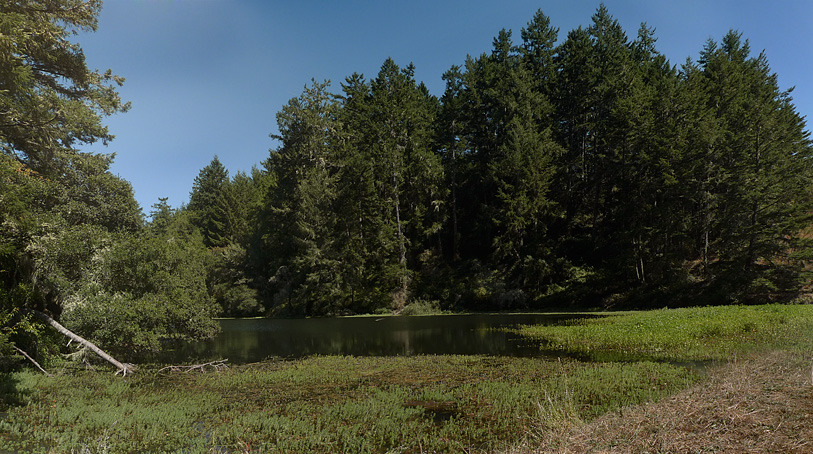 I discovered a new swimming hole this year. Just in time, as Northern California's Indian Summer (usually Sept-Oct) finally ushered in some genuinely hot weather.
Last year's End of Summer post described another popular swim hole: the Inkwells.
The new spot is about a 15-mile roundtrip from the town of Olema, with mostly rolling hills and the occasional volley of cars skimming by pretty close as there is no shoulder for protection along Hwy 1.

Show on map
Highway 1:  looking across at the approximate spot where the sign signaling the way to Bolinas (to the left) would be standing if the locals didn't keep tearing it down to discourage outsiders from visiting.
I wanted to bicycle out to the coast today, but a heat wave (103 degree F) made me rather lethargic. So here's a few unpublished images from my recent Santa Cruz trip.
My brother (pictured) and I like this image because of its enigmatic time and geography: The Macedonian coastline, early 1960s perhaps.
For the actual location, remember to click the geotag icon below the image and use the zoom and map tools (switching to the satellite map type and zooming in very close is always interesting).
His bike is a really nice, old lugged Trek. That's an Ostrich Bag on the front and a home-made pannier bag on the back.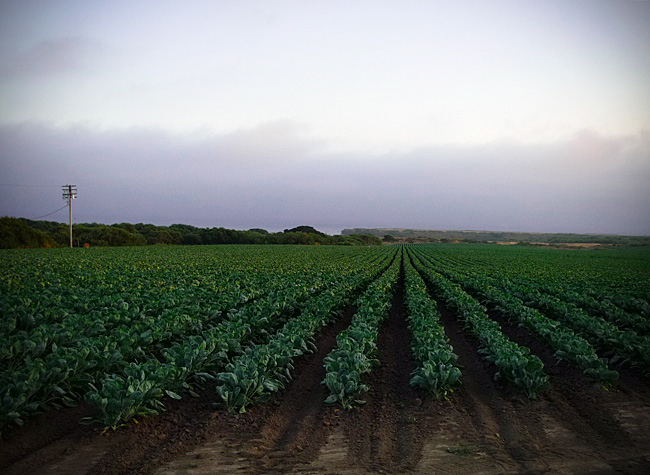 Show on map
This is where your brussel sprouts come from……and the last bit of farmland before entering Santa Cruz (just past Wilder Ranch State Park).
One of my knees was really killing me at this point (and by killing me, I mean it felt like I was being stabbed in the knee with two screw drivers). I later discovered I had stupidly pedaled 100 miles on a saddle that was set too high. Lesson learned.
The white sheen on the rocks? It's guano, in case you were wondering.
Looking northwest, past Devil's Slide along Highway 1.