Archive for the 'Mt. Tamalpais' tag
Since my previous post highlighted this marsh, I thought I'd share a B&W image made with an old Fuji S2 digital camera. The view is from deep in the marsh looking west toward Mt. Tam across tussocks of Pampas Grass (Cortaderia selloana). Over the course of a couple weeks, I made a series of images in this area last spring. This was one of my favorites.
It's Spring…the hills have never been greener!
Great views from the ridge, some extending to downtown San Francisco. Lots of dog walkers and hikers — not many bicyclists up here, though.

Show on map
Lagunita (the Spanish word for 'little lake') is the oldest and smallest lake in the watershed. It is also the highest in elevation (notice it's relationship to the summit of Mt. Tam in the background).
Once you ride up here there's a lovely little path circling the lake (see my route map).
But calling Lagunitas a lake is a bit of a misnomer: Lagunitas is really a man-made reservoir. One of seven reservoirs providing 75% of the county's water supply.
The future of this supply is threatened, according to MMWD:
Our analyses show that current water supply will be insufficient to meet projected demand. This shortage would become severe in the event of a serious drought…We can get through one or possibly two dry years, but we would not be able to adequately supply our community in a longer drought.
Yikes!
Luckily, someone is paying atention. The intrepid little non-profit, Sustainable Fairfax is once again taking the lead:
Water project staff and volunteers will be approaching every business, school and resident in Fairfax to see "How Far We Can Go" to reduce our water use through technology and behavior. The idea is to focus intensively on one community to increase water conservation to see if that is an effective model resulting in long-term water savings.
(Note: It was too dark when I arrived to get a satisfactory image. The above shot of Lake Lagunitas was made this past summer…yes, fishing with a permit is allowed.)
Last evening the rain let up and I made the quick trip up to Lake Lagunitas. The ride is short, steep, and so very scenic (about 8-10 miles roundtrip with 800′ of elevation gain).
It's the sort of ride to take when there's only about an hour of sunlight left in the day. By this time, everything is quieter and water district rangers have shooed away the remaining visitors in automobiles.  Only us bicyclists — and the various critters that emerge to forage at this magical time — are left to watch the fading of the light.
While I was off my bike (camera in hand) a small posse of mountain bikers appeared clucking "Hoo Koo E Koo" as they pedaled by.

Show on map
There's a lot of cloud cover, but the East Bay is just visible on the far horizon. Mt. Tamalpais is the third peak from the right with Bon Tempe Lake right below.
(I combined five images to capture the whole panorama. Here's my favorite example of this technique: Nicasio reservoir.)
I couple weeks ago I posted my first panoramic image.  I'm still intrigued by the photomerge feature of Adobe CS3.

Show on map
Out of deference to Chief Marin, the defeated Coast Miwok leader, I did not "summit" Mt. Tam (that is, I didn't walk the final 100 yards up the path to the fire look-out) as legend has it the early Indian inhabitants avoided the peak.
The view is still epic.  This is a cropped section from the full image. Notice downtown San Francisco jutting out into the bay (and the fog trailing in from the west) just above the head of the woman in the yellow parka standing on a newly constructed viewing platform.

Show on map
Here are a few views of Tam as one gets progressively closer to the summit.
From the Meadow Club above Fairfax the peak is visible in the far distance (image one). But following this route it goes out of view (with one or two fleeting exceptions) until the last few miles when the summit is once again in view (as seen in images two and three).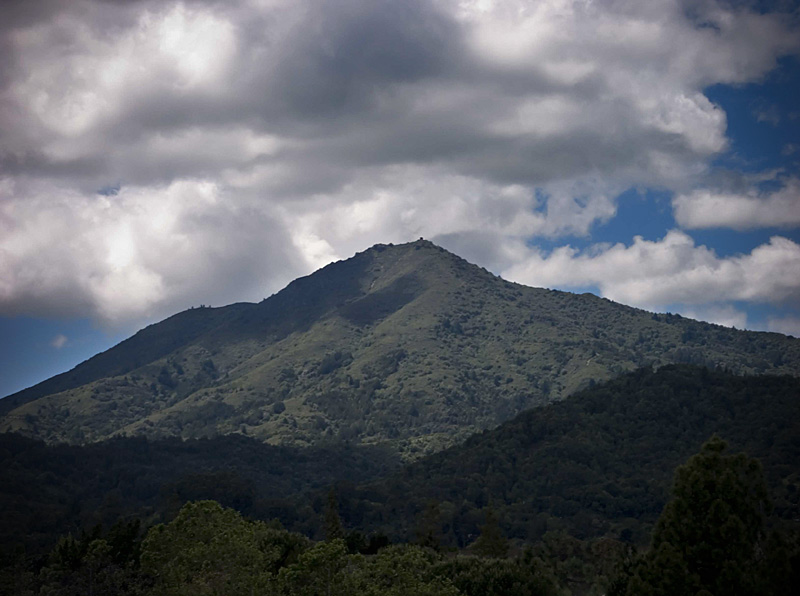 The recent post about Paul De Vivie inspired me to do something I'd never done before: bicycle from my house in Fairfax to the summit of Mt. Tamalpais. (Velocio's seventh bicycling commandment, or one interpretation thereof, is to never ride without a purpose — see Velosophy.)
So today, I gave myself this purpose.
I left about 12:30pm and returned about 5:30pm. A three hour climb to the summit; half-an-hour at the top; and an hour-and-a-half to ride back. The summit is about 2,500′ in elevation, but starting from Fairfax you gain and give up (and gain again) much more elevation over the 35 mile round trip. Roughly 6,000 feet of total climbing is actually involved.
I carried two water bottles, two peanut butter and jelly sandwiches, and a few ounces of cheese and salami, which provided for three food stops.
The weather was partly sunny with an occasional breeze, some light rain, and pockets of dense fog. I had wool knickers, a wool tee-shirt, a long-sleeve wool pull-over, a rain jacket, a neckerchief, a baseball cap, and a wool beanie to counter the variable weather.
It's mid-June but my cycling season is still young and I am not in great cycling shape yet so today —  I suffered. I also forgot to re-fill my water bottles at the summit forcing me to conserve less than half a bottle on the return.
At two points — the steepest section right before the summit and the last major climb on the return — I was assisted by, of all things, a strong tailwind giving me just enough of a boost to get me up and over.
I could not help but wonder if this beneficence was the work of Saint Velocio watching over me.