Archive for the 'sabino canyon' tag
I recently came across this little movie (made in 2011-12 when I was living and bicycling in Tucson, AZ).  This was my second crude attempt at shooting video from a moving bicycle. My first attempt can be seen here.
The music is from the eclectic French musician Manu Chao. Here's his official website.
The setting is Sabino Canyon — an incredible little jewel in NW Tucson replete with waterfalls and riparian ecosystems.  The paved walking and biking pathway ends 4-5 miles up the canyon at which point there are only unpaved, steep switchback trails leading into the wild Santa Catalina mountains.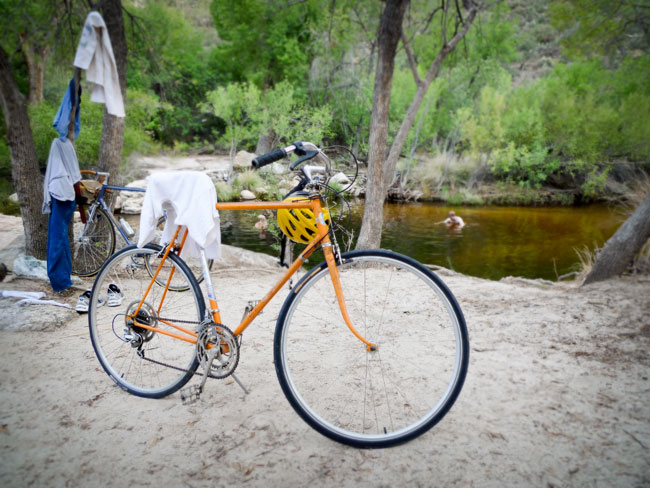 I love a good swimming hole, but until recently had no idea they could exist in Tucson in the middle of the summer!
Incredibly, just two weeks ago this creek was nearly dry. But our last big monsoon sent water cascading down the canyon slopes, which filled up various pools along Sabino Creek, and made many of them suitable for swimming.
[Note: I'm not Geo-tagging this image in order to keep the location a bit of a mystery. However, if you're curious and want to read a post from the archives — I did reveal the location of another superb swimming hole near my old home just north of San Francisco.]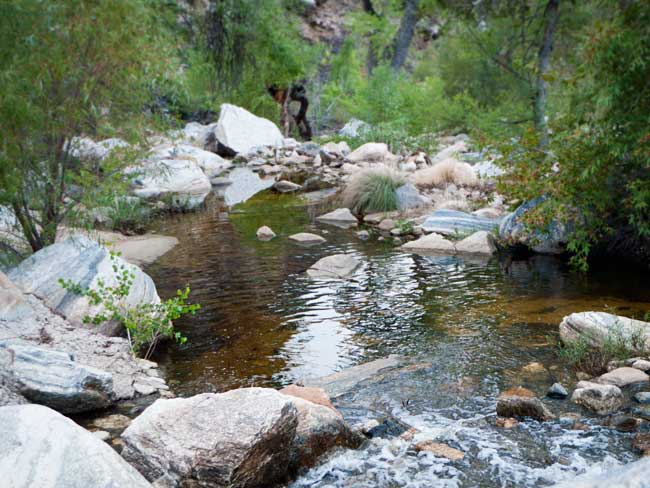 Nathan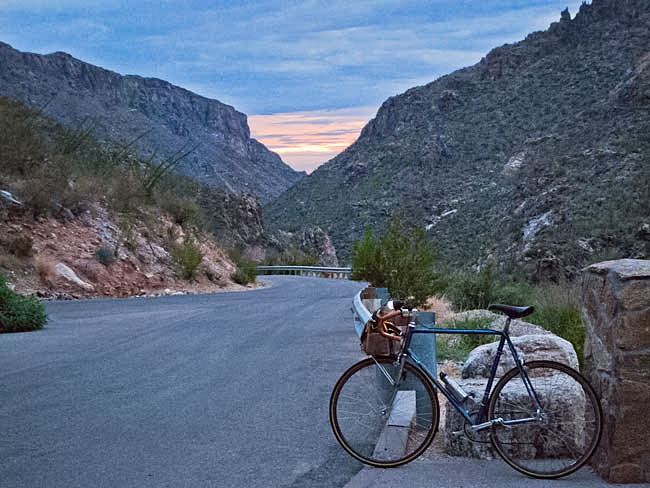 Show on map
This is the end of Sabino Canyon's paved road. Mosquito's are biting my forearms and shoulders. Twilight  is descending (note: for a twilight ride overlooking the Pacific Ocean see this post).
As I'm heading home, about halfway down the mountain, the light is 85 percent gone. Coasting slightly downhill at about 10-15 mph, I suddenly notice a shape in front of my wheel. Without thinking, I swerve. Actually, there wasn't enough time to swerve; rather it was just a quick flick of the wrist and handlebars — first right, then left.
I immediately look back over my left shoulder and see a snake falling to the ground, as if recoiling from a near vertical strike.
The part of my brain that processes information informs me that the sensation I felt against my leg a fraction of a second ago was the rattlesnake defending itself against what it perceived as a large, warm-blooded creature (that is, me) bearing down on it.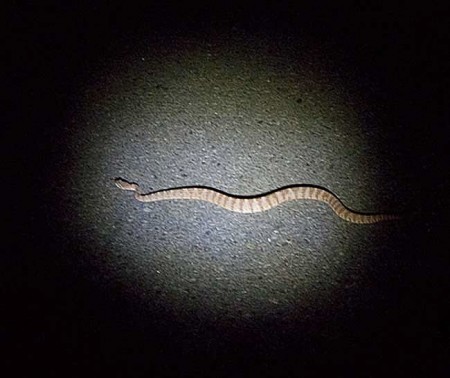 I stopped my bicycle; went back up the road 20 feet; directed my headlight to illuminate the scene; and snapped this picture!
The encounter reminded me of one of my favorite pieces of writing — Snaketime — an essay originally published in the WildEarth Journal by Charles Bowden (re-printed in this book, which as of August 2011 had copies available for $.01).
Here's an excerpt where Bowden suggests how a snake perceives the world:
For the snake a few things are obvious: I am large, and this is certain because of my footfall. She can hear the footfall of a mouse. I am rich in odor. She can pick up the faintest scents, identify them, and follow a single strand as clearly as if it were signage on an interstate highway system…And I am irrelevant unless I get too close. She will ignore me if I stay six feet away. She will ignore me if I become motionless for 180 seconds.

If I violate the rules of her culture, she will work through a sequence of four tactics. First, she will pretend to be invisible and hope I do not see her. If that fails, she will try to flee. If that fails, she will rattle in hope of frightening me away. And finally, if I am completely ignorant of simple courtesy and get within a foot or so of her, she will attack me…

She herself is cultured. In her lifetime, she will attack maybe twenty or thirty or forty times. She will never attack any member of her own species. She will never be cruel. She is incapable of evil.
–Charles Bowden, from the essay Snaketime
Nathan
Note to self: starting at my house — rather than the Sabino trail head —  would make this an interesting 30 mile ride.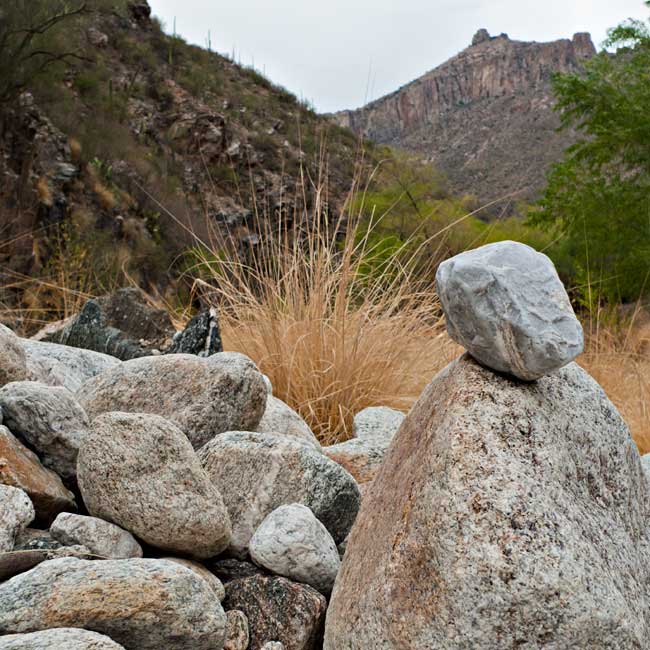 This small stone cairn caught my eye, perched in the middle of a mostly dry Sabino Creek.
The creek corridor is full of ash, cottonwood, willow, sycamore, and other riparian species. When the creek is running — as a result of snow melt and rainwater flowing down from the Catalina Mountains — Tucson's underground aquifer is re-charged.
Sabino Creek also feeds the Rillito River, which feeds the Santa Cruz River, which feeds the Gila River, which feeds the mighty Colorado River, which in turn feeds the Sea of Cortez (or Gulf of California).
The hydrologic cycle comes full circle when this water returns to Tucson in the form of summer monsoons and winter rains, and flows down Tucson's Sabino Canyon once again — a wondrous ebb and flow 10 million years in the making.
Nathan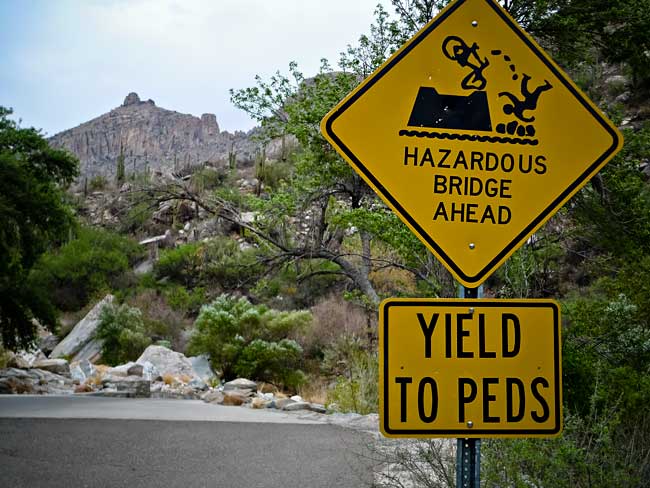 This trail leads to all kinds of hiking possibilities in and around the Santa Catalina Mountains and Mt. Lemmon. The road is paved for about 4 miles, then ends, after crossing Sabino Creek 7-8 times along the way.
Nathan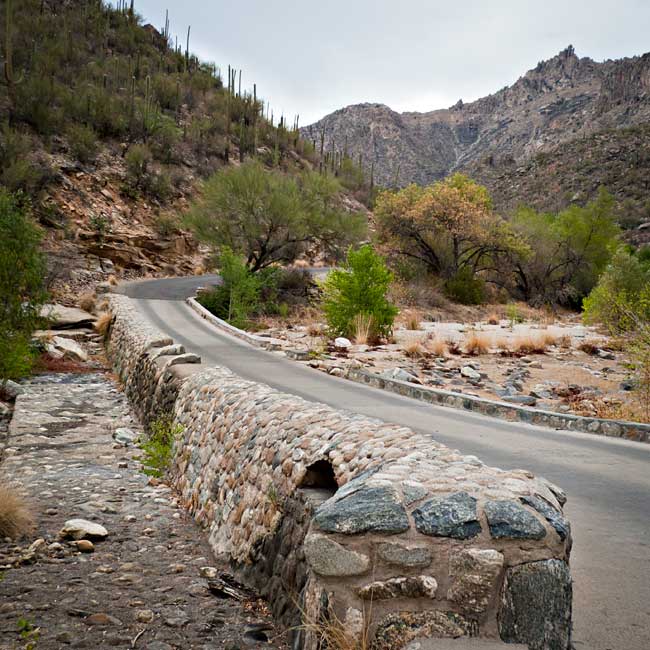 Show on map